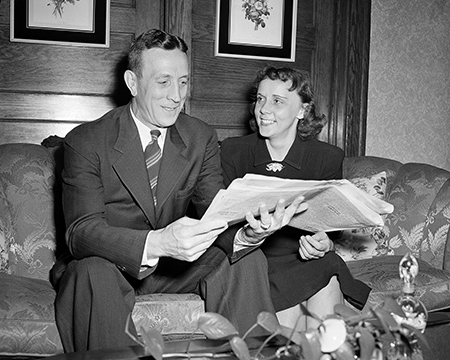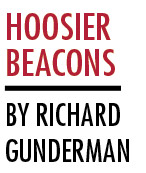 The man some say was the greatest coach in the history of American sport was born in Hall, Indiana. Over a span of 12 years in the 1960s and 1970s, his UCLA men's basketball teams won 10 NCAA championships, a record 88 consecutive games and seven consecutive titles.
John Wooden was born in 1910 and played basketball at Martinsville High School, where he was named All-State three times. At Purdue University, he was the nation's first three-time consensus All-American.
As a professional basketball player, Wooden once sunk 134 consecutive free throws. After serving in the Navy, he taught English and coached high school basketball and baseball. He then became basketball coach at Indiana State University before moving to UCLA.
When he arrived, his teams were playing in a third-floor gymnasium that could seat only a few thousand spectators, less than half the size of the Martinsville High facility. Wooden converted a losing team into conference champ in his first year.
Wooden attributed his success in both coaching and life to lessons his father shared with him when he graduated from grade school. These came in the form of a seven-point creed, which Wooden kept with him on a wallet-size card throughout his life.
■ Be true to yourself. To Wooden, success meant not winning basketball games but "knowing that you did everything you could to be the best you could be." This meant knowing what you are truly capable of and developing it to the fullest extent possible.
■ Make each day your masterpiece. Wooden focused on the fundamentals, which meant being totally immersed in the immediate task at hand—passing, rebounding, shooting, and so on. Only by being present in each moment can a long life amount to something.
■ Help others. Wooden's favorite professional basketball player was one he never coached, John Stockton. Though a fine all-around player, Stockton remains the NBA's all-time assist leader. He did more than any other player to bring out the best in his teammates.
■ Drink deeply from good books. Wooden always thought of himself more as a teacher than a coach, and he quoted frequently from his reading. In his later years, his small home was filled not with trophies but with good books.
■ Make friendship a fine art. Long after retirement, Wooden was interviewed by a sportswriter who discovered that the coach knew the careers and current family circumstances of 172 of the 180 players on his championship teams—benchwarmers and stars alike.
■ Build a shelter against a rainy day. The first person to be elected to the Basketball Hall of Fame as both a player and coach, Wooden knew from his own defeats and injuries that winning could never be guaranteed. The important thing was to know you had done your best.
■ Give thanks for your blessings every day. Wooden saw the basketball court as a microcosm of human life. By teaching his players that gratitude is the best form of celebration, he prepared them to lead worthy lives.
In many ways, Wooden was a quintessential Hoosier. He relished the beauty of excellence on the basketball court. Yet basketball was not his life. A man of deep faith, he celebrated his championships by going to church and taking his grandchildren out for ice cream.
When Wooden died in 2010 at 99, one of his star centers, Bill Walton, said of him, "He never talked about winning and losing but about the effort to win. He never talked about plays but about character." Wooden's genius was to recognize that what matters most in both sports and life is not winning but excellence.•
__________
Hoosier Beacons pays tribute to Indiana's bicentennial by telling the stories of famous Hoosiers. It appears every other week. Gunderman is chancellor's professor at Indiana University.
Please enable JavaScript to view this content.