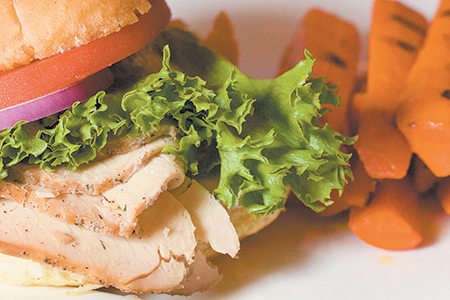 I don't think I'm alone in assuming that a place called Rooster's Kitchen (888 Massachusetts Ave., 426-2020), would have chicken somewhere in its culinary mix. Why else would it put the bird in its name and on the signage?
Then again, when I paid my first visit to the Mass Ave restaurant The Eagle earlier this year, I had no expectation that eagle would be on the menu. So maybe I'm not being fair.
In the hands of owner Ross Katz, formerly of RAM Restaurant & Brewery and Sun King Brewing, this newcomer taking over the spot famously occupied by R Bistro has kept the low-key ambience of its predecessor (but, alas, hasn't kept up its attached garden). Staffed with a friendly crew and a fairly simple, homey menu, it's got some work to do but it's off to a decent enough start.
Our meal started out well, too, with an overflowing basket of Pork Rinds ($5). Its lesser cousins might be declasse when purchased at a quickie mart and chomped by the handful, but crafted by the kitchen staff here, these crispy, warm, pork-fat treats are addictive. Unlike bagged rings that splinter, these start to melt in your mouth. We took our server's advice and dipped them in Frank's Hot Sauce for greater pleasure.
Bubbee's Turkey ($11) stacked a thick pile of herb-roasted turkey breast with lettuce, tomato, mayo and red onion on Cornerstone brioche to create a sandwich worthy of a day-after-Thanksgiving feast. When your menu is one-third sandwiches, finding the right bread pairing is essential. Rooster's Kitchen's wise choice in the bread department makes me optimistic about the restaurant's other efforts, which include roasted pork shoulder and pork loin, house-cured Canadian bacon, and grilled-cheese variants.
Build Ya Own Mac 'N' Cheese ($13) is a promising idea, but more work needs to be done to find the right balance. It's fun to wrestle with the choices—your macaroni gets blended with bechamel and Rooster's signature cheese blend, then you add a meat, two veggies and a crust. But our result was merely adequate, more creamy than cheesy, and with a paucity of pork shoulder, which was diced into tiny bits that didn't offer any flavor. Even with a Cheddar Ritz crust, the mac 'n' cheese was dominated by the carrots we opted for as our veggie choice, creating a balance we weren't quite looking for.
The Neanderthal section of the menu, where you can opt for a meat and two sides ($14), sounds like it's packed with dare-you entrees. Here, a reasonable portion of Braised Brisket was moist, a tad salty and slightly fatty in a good way. The 6-ounce helping was devoured quickly. Charred Carrots were prepared almost perfectly (working better on their own than in the mac 'n' cheese). Pan Roasted Red Potatoes could have benefited from a side of sour cream instead of ketchup.•
Please enable JavaScript to view this content.