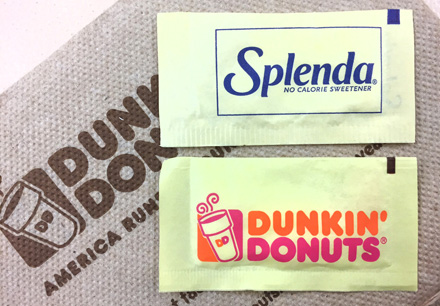 The Carmel-based company that owns the Splenda sweetener brand says Dunkin' Donuts is deceiving customers into thinking its donut shops offer Splenda when they actually offer a Chinese-made knockoff product.
Heartland Consumer Products LLC, which bought the rights to Splenda last year, filed a trademark-infringement suit this week against Canton, Massachusetts-based Dunkin' Brands Inc. and Dunkin' Donuts Franchised Restaurants LLC. The suit was filed in U.S. District Court in Indianapolis.
According to the lawsuit, Dunkin' Brands ended its business relationship with Heartland in April. At that time, the legal complaint says, Dunkin' stopped buying Splenda brand sweetener and started using "Chinese-made, off-brand sucralose" instead.
Dunkin' Donuts stores offer customers low-calorie sweeteners in three different colored packets: yellow, blue and pink. None of the packets includes a brand name, and all three packages indicate that the product is manufactured for Dunkin Brands by Chicago-based Merisant U.S. Inc. 
But, Heartland alleges, Dunkin' is still leading its customers to believe that the yellow packets of sweetener in its stores are Splenda brand. Splenda also uses yellow packets to package its sweetener.
Heartland says it looked into the issue by sending investigators to more than 70 Dunkin' Donuts stores around the country and having them ask for Splenda sweetener.
"Investigators revealed that a clear majority of stores affirmatively represented, through their agents or employees, that non-Splenda sucralose sweetener was instead Splenda brand sweetener," the suit says.
The suit also alleges that Dunkin' uses off-brand sucralose sweetener in its baked goods but tells customers the products contain Splenda.
Heartland said it has also received "numerous" complaints from Dunkin' customers. 
"Customers have complained that the sweetener added to their Dunkin' Donuts products results in a funny taste, or that they are otherwise not certain what sweetener Dunkin' Donuts is giving them," Heartland's complaint says.
This hurts the Splenda brand, Heartland says, because it makes consumers question the quality of the Splenda product. 
Splenda was introduced in the U.S. market in 2000. Based on Nielsen Co. research, Heartland says, Splenda is the most popular brand of low-calorie sweetener in the U.S., with 32 percent of the market share. Splenda's U.S. net trade sales this year are expected to be $163 million.
Heartland is asking the court to find that Dunkin' committed trademark infringement, false advertising and dilution through "knowing and intentional unauthorized use" of the Splenda name. 
Heartland also asks the court to prohibit Dunkin' from using the Splenda name in any way; from representing that it uses Splenda products; and from offering any sweeteners except for Splenda in yellow packets. 
Heartland is seeking damages including the costs of corrective advertising; defendant's profits; court costs and other damages. The suit does not specify a dollar amount that Heartland is seeking.
"When customers ask for Splenda no-calorie sweetener, they expect to get what they are asking for in their cup of coffee," a Heartland representative said in a written statement provided to IBJ. "This lawsuit is to ensure that when a customer asks for Splenda no-calorie sweetener by name, that is what they are getting. Only Splenda no-calorie sweetener is made in America, guaranteeing it is of the highest quality. We are optimistic this dispute can and will be resolved between the parties."
Heartland's legal representative in the case is Indianapolis attorney Jonathan Polak. Dunkin' has not yet filed a legal response in the case.
Dunkin' Donuts declined to discuss the matter with IBJ because of the pending litigation.
Please enable JavaScript to view this content.