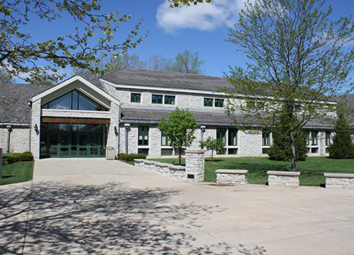 Federal prosecutors have reached a so-called deferred prosecution agreement with Park Tudor School, a move that spares it from felony prosecution for failing late last year to accurately and promptly report an inappropriate relationship between the school's former basketball coach and a 15-year-old female student at the school.
Under deferred prosecution agreements, a prosecutor agrees to grant amnesty in exchange for the defendant's agreeing to fulfill certain requirements. In this case, those include continuing to provide employee training on child abuse and operating under the oversight of an independent monitor.
If the private, north-side school fails to live up to its commitments, the U.S. Attorney's Office could proceed with prosecution for concealment of a felony.
The 10-page deal made public Tuesday afternoon is the latest fallout from an inappropriate relationship that then-basketball coach Kyle Cox initiated with the student last September. Cox—who joined the school in 2009 and led it to 2A championships in 2014 and 2015—was charged in February with trying to entice a student into a sexual relationship. After reaching a plea agreement, Cox was sentenced in July to 14 years in prison.
The deferred prosecution agreement—signed by U.S. Attorney Josh Minkler and Park Tudor board chairman Thomas Grein—said that Matthew Miller, Park Tudor's head of school at the time, caused a "materially false report" on the inappropriate relationship to be submitted to the Department of Child Services on Dec. 15.
In particular, the report "omitted key facts and circumstances related to the sexually explicit communications" between Cox and the girl, including that Miller was aware of the existence of explicit images and videos the girl had created at Cox's request.
In a telephone call with DCS over speaker phone that day, a DCS official asked school officials whether any pictures were exchanged. Even though Miller knew the answer was "yes," he was silent when another school official indicated she "had no information on that," the agreement says.
The same day, Miller sent a confidentiality agreement to Cox under which Park Tudor would release a statement that the coach had resigned, and in return Cox would agree not to communicate with Park Tudor students or to discuss the reason for his resignation.
The next day, Miller authorized Park Tudor's outside counsel at Ice Miller to negotiate a confidentiality agreement with the parents of the girl.
Further, according to the agreement, on Jan. 21 Miller made false and misleading statements about the matter to Indianapolis Metropolitan Police Department Detective Laura Smith.
Two days later, Miller committed suicide.
According to a 30-page criminal complaint filed by federal investigators, Cox had begun sending sexually explicit messages to the girl in September 2015 and tried to arrange for her to visit his home in Fishers for sexual activity while his wife and children were away in mid-December.
The agreement notes that Park Tudor has fully cooperated with investigators since Feb. 5 and that the school hired former federal Judge John Tinder to independently monitor it. With Tinder's guidance, "Park Tudor has implemented revised and improved policies and procedures to address and better protect the children who attend Park Tudor," the agreement says.
In an interview with IBJ, Minkler added: "After Kyle Cox was arrested, Park Tudor certainly turned around and took a 180-degree different approach and was completely cooperative." Minkler said another factor prosecutors considered when opting for a deferred prosecution agreement was that the only Park Tudor administrator implicated is dead.
Minkler added: "I want to stress to you or anybody that Park Tudor was not given special treatment because it is an exclusive, private school." He said the steps the school has taken to protect students from future incidents of misconduct could serve as a template for other schools.
In a statement issued Tuesday afternoon, Park Tudor emphasized that no one beyond Miller was implicated in the federal investigation or a separate internal inquiry led by Barnes & Thornburg partner Larry Mackey. "Nevertheless," the school said, "we recognize that the school made mistakes in relation to the Kyle Cox matter, and we regret those mistakes."
Tim Horty, a spokesman for the U.S. Attorney's Office, said the federal investigation continues.
Michael Blickman, an Ice Miller partner serving as outside counsel for the school when the Cox investigation began, was not immediately available for comment Tuesday.
Minkler would not say whether Blickman was under investigation. But he said Miller and the outside counsel did not follow the law after the father of the girl on Dec. 14 showed them sexually explicit images contained on a laptop, then allowed them to keep it overnight to review the materials.
During that time, Blickman took the laptop to his law office and copied the materials onto a thumb drive. The laptop was returned to the father the next day.
"Clearly, when you take over possession of that, the only proper thing to do is turn that over to law enforcement," Minkler said, noting that investigators ultimately had to get a search warrant to obtain the laptop.
"That is not the way it should happen," Minkler said.
In its statement, Park Tudor said: "Park Tudor's response, through the actions of Matthew Miller and the school's then legal counsel, was inappropriate and not what we expect from our school. Nor is it what we will tolerate going forward."
The school added: "We cannot undo the past. But we hope that our ongoing efforts and commitment to strengthening our student safety polices will both contribute to the healing process and continue to rebuild trust in our school."
Please enable JavaScript to view this content.