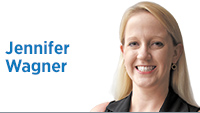 I didn't get to see my kids the morning after Donald Trump beat Hillary Clinton to become the 45th president of the United States.
I had to catch an early flight for a work event in New York City, the place where Trump and his running mate, Indiana Gov. Mike Pence, had declared victory just a few hours earlier, shocking pundits and effectively ending the practice of political polling as we once knew it.
When she went to bed the night before, my nearly 9-year-old daughter was confident she'd wake up to the "first girl President" in our nation's history.
She was wrong.
So I left her this note: "Alexandra, Hillary did not win. I am sorry. And we can all be sad. But we also should be happy—we live in a country where we can be. America is great because we can disagree. I love you and Austin, and we can talk more when I get back. The sun will rise, and we will figure things out. Love, Mommy."
The sun did rise. We talked it through. I answered her questions, and she understands, in the matter-of-fact way that elementary school students process things, that we have to try again.
Who knows? Maybe my daughter will wind up giving orders from the Oval Office. Heaven knows she's already got plenty of experience bossing around her little brother.
But the more I thought about it, the more I wish I'd added a few things to my note:
Dearest Alexandra — and little girls everywhere who believed that Secretary Clinton was going to shatter the presidential glass ceiling—sometimes you work hard, dig deep, give it your all and come up short.
Do not let this discourage you. Let it motivate you instead.
As women, if we ever get to the point where we take a huge, scary leap into something, we sometimes second-guess our failures and let them define us. We demur instead of continuing to fight. Otherwise, boys call us names like "calculating" and "nasty."
Make no mistake: This was a loss but not a failure. Secretary Clinton didn't win, but she was on the ballot as the first major-party female presidential candidate in American history.
Girl, that's something.
I said in my original note that it's OK to be sad. It's also OK to be angry, bitter and unabashedly disappointed with the outcome of this election.
But when, at some point, you're ready to move on, let's get together and figure out some tangible, solid goals that we can work toward together.
The fact that Hillary Clinton lost doesn't mean her ideas were bad. Men and women should make the same money for the same work. Working parents should get time off when they bring a new baby home. Quality child care shouldn't break the bank. Kids should have access to a good school regardless of ZIP code.
No matter what you may have heard on TV during the campaign, and believe me, we all heard some pretty ugly stuff, know this: You are beautiful, strong and smart.
Know this, too: I've got your back. We all do. And that's never going to change.
Rest assured, my love, someday there will be a Madam President.
Until then, keep questioning why things are the way they've always been. Stand tall and shatter your own glass ceilings. And if anyone ever tells you that your gender is a liability, just tell them you take after your mother.•
__________
Wagner is a lifelong Indianapolis resident and founding principal of Mass Ave Public Relations, a local public relations and publicity firm. Send comments on this column to ibjedit@ibj.com.
Please enable JavaScript to view this content.