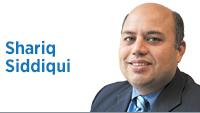 I was woken at 5:30 a.m. on Nov. 9 by my 7-year-old son. His first question: "Who won?" We had allowed him to stay up an extra hour to complete at least a few states on a poster board that includes the U.S. Electoral College. This has been a family tradition every election year. He was excited about his first election contributing to the poster board.
"Donald Trump won."
Stunned, his only response: "Will we have to leave?"
Over the course of the morning, I assured him we would be fine. Elections are important because the voters choose a side. We can't always win but we must always back the winner.
But as a Muslim-American child, his first response was heartbreaking. He was born in a hospital in Danville and has known only Plainfield as his home.
This election will be remembered for many reasons. I believe this was a continuation of the 2008 hope-and-change theme. Trump spoke the language of many who have felt left behind. His coalition was not the same as Barack Obama's, his language was not inspiring, but he promised the same outcome: The American people are the change and must rise up as a social movement to defeat the party elite.
Trump, like President Obama, allowed different segments of American society to define the change they hoped to see.
Trump's rhetoric inspired different people in different ways. For those tired of corruption and political elites, he was the genuine outsider. For those who were left behind in the global economy, he was the job creator and anti-global trader. For those who worry about the influx of people who change the color of our nation, he was the white crusader. For those who saw other faiths as a challenge, he was the Christian crusader. For those tired of war, he was the isolationist. And for those seeking to defeat ISIS, he was the strong leader.
My concern is, how will he manage the expectations of all those who voted for him because they worry about foreign-sounding, brown people with a non-Christian faith?
How does he dampen the voices that have found my children and other Muslim-Americans bullied? How does he assure children like mine that they are exactly where they need to be? This is their country and they have a right to be here and live a good, prosperous life.
The sad thing about this election is that I have many GOP friends tell me they voted for Trump not because of his rhetoric but because Hillary was the corrupt candidate and because they believed in his economic message. But what do you do with the rhetoric when it is an important component of your electoral coalition?
As a man of faith, I am called upon to pray five times a day. Last night during the isha prayer, I asked God a question. Early this morning during fajr, he had an answer.
Be an optimist. Support our elected leaders when they do good and protest when you disagree. Don't pre-judge them for actions they haven't taken, but be prepared to act within the laws of our nation when they do.
If President Trump's policies hurt the poor, bring hope to the poor. If President Trump's policies hurt immigrants and women, bring hope to them.
Hope and change does not come from government. It comes from voluntary action intended for the public good.•
__________
Siddiqui is an attorney, has a doctorate from the Lilly Family School of Philanthropy at IU and leads the Association for Research on Nonprofit Organizations and Voluntary Action. Send comments on this column to ibjedit@ibj.com.
Please enable JavaScript to view this content.