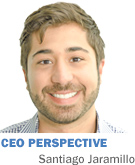 A new decade will be upon us in just three short years. And as anyone who experienced the mobile revolution of the past decade knows, new trends in technology have the power to shape not only our culture, but our workplace as well.  
While no one knows how that workplace will look in 2020, my own research and regular interactions with business leaders tell me at least three key characteristics will continue to be present (and even increase) in the workplace of the future: 
Remote workers. New technology has made us more mobile than ever. In fact, just over 96 million workers now use mobile devices to do their jobs. With that number on the rise, remote work outside the traditional office setting is only slated to increase.
Multiple generations. For the first time in history, four (soon to be five) generations are rubbing elbows in the workplace. Nearly 60 percent of human resources managers at large companies say they've seen office conflicts arise from generational friction. Thanks to medical advancements, the generational gap is only expected to get bigger.
Short tenure. Workers are no longer spending their entire career at the same job. In fact, 44 percent of millennials have said that, given the choice, they would leave their current employers in the next two years. Some workers have even gone so far as to avoid becoming an employee altogether, taking on multiple freelance jobs (or "gigs") in what some are dubbing the new "gig economy."
This is the workplace of the future. So how can you put yourself in the best position to be successful in it?
Winning in these uncharted workplace waters requires a completely different outlook and philosophy than employers and human resources professionals have ever had before. It requires a new approach to employee relationships and engagement that depends on having a real-time pulse on your organization and a well-planned strategy for how to improve overall engagement.
While more business leaders understand the significance of employee engagement on business outcomes, recent reports show many businesses still struggle to achieve their engagement goals.
The key is developing a two-pronged approach of first measuring employee engagement and then using those insights to construct an effective engagement strategy that uncovers challenges, opens lines of communication, and promotes an environment of constant improvement.
Measuring employee engagement. Employers must start by getting an accurate assessment of their engagement reality. If companies analyze and keep metrics on their sales performance, customer service, product development, etc., it should stand to reason that a similar level of diligence be paid to employee engagement metrics.
Luckily, discovering what will motivate and inspire your employees becomes dramatically easier when you regularly survey them about what truly drives their engagement—like finding meaning in their roles, building peer relationships, and contributing to the company vision (to name a few). It's for this very reason that engagement metrics, people analytics, agile engagement techniques and other tools are being developed to help businesses adapt and adjust in the face of constant workforce change. Frankly, it's also the reason Todd Richardson and I just wrote "Agile Engagement," recently named the "No. 1 hottest release" in Amazon's Business and Coaching category.
Building an employee engagement strategy: Once you have the employee insights you need, you must develop a plan for how to address the feedback and challenges surfaced. Where are you falling short? What concerns are your employees posing now that could make or break your culture? An effective strategy not only improves these problem areas, but forges a new way of doing things, accounting for changes in the workplace of the future as they happen.
No one can predict the future. But we can at least prepare by adapting now to the changes happening in the workplace. To be successful, we must be hyper-responsive and in tune with our employees' engagement and how it affects our business outcomes. Those who don't take employee engagement seriously won't last. Research shows that companies with engaged employees outperform those without by a staggering 202 percent.
The only constant is change, and to survive, we must adapt—not ignore—the coming trends that will affect our workforce. Those who start now will have a marked advantage to thrive as we not only head into a new decade, but also encounter workplace revolutions still to come.•
__________
Santiago Jaramillo is the founder and CEO of Emplify and Bluebridge and the co-author of "Agile Engagement," a book to be released Dec. 5.
Please enable JavaScript to view this content.