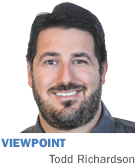 One of life's oldest rules says you should not discuss politics in polite company. And while the people we work with might not always qualify as "polite company," that rule historically has applied to the workplace.
But here's the thing: A hallmark of today's workplace is that employees don't check their personal selves at the door. They are allowed, and encouraged, to bring their personalities, eccentricities and beliefs to the workplace. Sometimes that means they wear their political passions on their sleeves. And this should be celebrated.
So how can an employer allow people to be themselves without having to put up with hostile political exchanges in the break room? By creating a workplace where people know one another so well that no one is shocked by anyone else's political persuasions and where people respect one another enough to neither gloat nor wail over election results.
How do you create this kind of workplace? By promoting a culture in which employees are so personally connected that they can share themselves openly without fearing repercussions. By creating opportunities for people to bond on truly human levels. And by encouraging them to form the kind of rapport that emerges from shared experiences and challenges, both professional and personal.
But here's the thing: This culture will not emerge just because you want it to, and it won't take shape simply because you put couches, cool lighting and snacks in your workplace. You have to intentionally create your workplace culture, promoting the sharing of ideas and lives. Offer team activities and events where people can discover what they have in common. Help them get to know one another so well that they won't want to say or do anything that will hurt one another. Do that, and they might still talk politics—but their discussions will be more civil.
Best of all, if you create this kind of culture, you'll have not only a more peaceful workplace, but also a more productive one. Your people will feel connected to their organization and one another, and, as studies have shown, this means they'll work more efficiently and effectively.
Now, with all that being said, you might still find times when you have to put your foot down—especially after an exhausting and polarizing political season like the one we just endured. People might become so impassioned over a cause that they say or do things that elicit negative emotional responses from others. Lines can be crossed.
In those situations, I remind people that what they think and believe is their business, but when it affects the workplace, it becomes my business. I encourage employees to pursue forums more appropriate for hashing out their emotions and viewpoints, and I challenge them to be sensitive to their coworkers'—or, if you have a healthy workplace, their friends'—emotions.
Our role as business leaders is to en-courage connections while vigilantly upholding a level of workplace decorum. We must stress the need for mutual respect and strictly prohibit harassing or intimidating behavior or speech, political or otherwise.
Finally, as a political science major and fervent believer in our democracy, in times like this I stress the importance of our political process. Whether you agree or disagree with outcomes of political races, the process must be respected, and we must respect our elected leaders, as you would any leadership, political or otherwise.
After all, that's what we do in polite company.•
__________
Richardson is entrepreneur-in-residence at FirstPerson and co-founder of Emplify. He co-authored "Agile Engagement," which is scheduled to be released Dec. 5.
Please enable JavaScript to view this content.