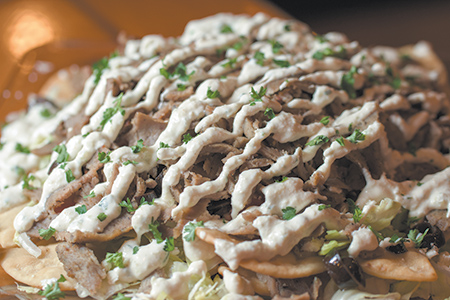 The wall of restaurants fronting The Avenue off-campus apartments along West 10th Street is populated with familiar chains—Stacked Pickle, Moe's Southwest Grill, Yats, Toppers Pizza—that deliver what they promise. And there are more across the street.
But here's one good reason residents and visitors to the IUPUI/University Hospital area shouldn't limit themselves to the familiar: MADD Greeks Mediterranean Grille (910 W. 10th St., 602-8336).
Don't come to this newcomer expecting a dramatic dining experience a la Santorini Greek Kitchen in Fountain Square. The decor here is basic, the staff casual, and there's no risk of being bumped by a belly dancer. It's the kind of place where you can comfortably bring your laptop and clear your email backload while pita-scooping whatever is left on your plate.
We started with "MADD" Greek Nachos ($10.25) and, frankly, could have ended there and left full and happy. A bed of fried triangulated pita chips wasn't enough to accommodate the feta cheese, tomato, onions, lettuce and gyro meat we piled on, but the extra scooping and forking necessary to eat the extra toppings was well worth it. And for one member of our party, the generous supply of quality olives was a big plus.
Want the tried and true? You can have traditional gyro, chicken or pork souvlaki, chicken shawarma, falafel, or beef or pork kabob packed into any of a trio of pitas. There's "Walking" Pita Wraps ($7.65), open-faced Taverna Style Pitas ($8.95) or "MADD Loaded" Pitas ($9.95)—double-layered and including mozzarella cheese and fries along with the usual tomato, onions and sauce. Or you can go bigger.
The same guest who scarfed up all the olives was a bit overwhelmed by the Traditional Gyro entree ($14.95), which offered a heaping pile of gyro meat and warm, soft puffy triangles of pita. It was served with a delicious helping of extra-fluffy, flavored rice and thin strips of grilled red pepper. 
The Pork Kabob entree ($14.95), too, was a meal and a half. Rather than the familiar skewered cubes, MADD Greeks' version presented a quartet of finger-length tubes with the texture of sausage without the casing. It was good at the restaurant, and even better warmed up the next day.
Wherever you eat it, the dish benefits from the Tzatziki sauce—more creamy than cucumber—and the aforementioned pita.
Both entrees came with a Greek Salad that was a big step up from the usual side offering, thanks to thinly sliced onion, a zippy Greek dressing, and vast quantities of feta cheese. As an entree, the third party at our table went with the "MADD" Grouper Salad ($13.95), which topped those ingredients with a substantial piece of olive-oiled fish.
Next time, we might leave room for Baklava Ice Cream ($2.95) or Kataifi Ekmek ($4.25), a Greek bread pudding variant.
But dessert was impossible after such a substantial lunch.
The menu announces that beer and wine are coming soon.•
—Lou Harry
Please enable JavaScript to view this content.