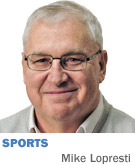 And now, a rendition of that familiar holiday song, "The Eight Days of Thanksgiving."
OK, maybe it's not that familiar, but this year it fits, considering the parade of games about to go by. Eight days, four Pacers home games, two Colts home games, six state football championship games, one Old Oaken Bucket game, one historic Indiana University basketball trip to Fort Wayne, one likely NAIA playoff game. And a partridge in a pear tree.
So let's hear it, starting with Nov. 20.
■ On the first day of Thanksgiving week, the schedule gives to us …
The Tennessee Titans in town with an offense that scored 47, 35 and 36 points the previous three games, to face an Indianapolis defense ranked 29th in the league in scoring allowed. There could be trouble faster than you can say Marcus Mariota. It's crunch time for the Colts playoff hopes. "We want to control what we can control," Mike Adams said. "Our own destiny." Pre-game guess: The loudest applause would be at halftime—with the introduction of the Super Bowl XLI champions.
■ On the second day of Thanksgiving week, the schedule gives to us …
The Pacers hosting Golden State. You've seen the Indiana defense. Would you want your roof that leaky? Now you'll see the Warriors offense. Golden State went four consecutive games hitting 50 percent with at least 30 assists, and the Warriors hadn't done that in 24 years.
■ On the third day of Thanksgiving week, the schedule gives to us …
The Kansas-conquering IU Hoosiers on the road to play the Fort Wayne Mastodons— you might know them as IPFW—for the first time ever. Indiana once scheduled Notre Dame games in Fort Wayne, but that was 50 years ago, so this is a very big deal in northeastern Indiana. Tickets for the 12,000-seat Memorial Coliseum went on sale Sept. 1 and were gone in 45 minutes.
"I was on the way to work about 7:30 and I went by the Coliseum just to check it out, and there were about 4,000 people already in line," Fort Wayne Coach Jon Coffman said. "I spent the next two hours shaking hands and trying to recruit some of the IU fans to wear some Mastodon blue."
It will be no Hoosier gimme. Coffman's team is picked to win the Summit League this season, as Fort Wayne tries for its first NCAA Tournament berth, in its 16th year in Division I.
"It's another step forward in building our brand in our city and in the state of Indiana," Coffman said. "We're still a young Division I basketball program. We've had a lot of success lately, but there's still a lot of people out in the community and in the state that still have their misconceptions of who and what IPFW is.
"This opportunity is unique in college basketball. You don't see it. The high-major schools will not go on the road to play mid-majors. Coach [Tom] Crean, who is committed to our state, says, 'You know what? Fort Wayne's the second-largest city in the state of Indiana, we have a huge IU fan base in the area, it's a storied venue, let's go up there and challenge our guys on the road against a solid mid-major team.' Although there's not a lot beyond that as far as value to him. They're clearly one of the top teams in the country, so I'm not sure they're necessarily worried about us."
■ On the fourth day of Thanksgiving week, the schedule gives to us …
Atlanta at Bankers Life Fieldhouse. Another productive offense—the Hawks were second in the NBA scoring at last count—to vex Indiana.
■ On the fifth day of Thanksgiving week, the schedule gives to us …
The first Thanksgiving home game in Indianapolis Colts history, an 8:30 p.m. kickoff against Pittsburgh. Yeah, it means holiday-night duty for the players, but what about the folks who have to show up to run the place? Nearly 3,000 workers are needed at Lucas Oil Stadium for a home game. So dinner will have to come early.
"I've already told my family, 'Don't change your plans, but I'll be throwing down some calories and heading out the door,'" Stadium Director Mike Fox said.
■ On the sixth day of Thanksgiving week, the schedule gives to us …
Class 2A, 4A and 6A state football championship games at Lucas Oil, the first one kicking off at noon, about 12 hours after the Colts and Steelers are due to be finished.
You think shoppers will be busy on Black Friday? Consider the Lucas Oil crews.
"That in and of itself is an event," Fox said. "As soon as the Colts schedule came out in April, we circled that date. Over the last six to eight weeks, we've been planning toward that 12-hour period.
"If things go well, I will get out of there in the middle of the night. But right now, I'm planning on spending the night."
They'll need every minute overnight for the turnaround. So, please, no Colts overtime.
"We would like to see a Colts win," Fox said. "In regulation."
The Brooklyn Nets are also at Bankers Life that night.
■ On the seventh day of Thanksgiving week, the schedule gives to us …
One last Purdue chance to soothe its pain. If Indiana's trip to Michigan does not end well, the Hoosiers' postseason chances will be on the table in the Old Oaken Bucket game in Bloomington. Nothing could make the beleaguered Boilermakers feel better quicker than knocking Indiana out of a bowl game. Just like the 3-8 1989 team did. For a bonus, Purdue could avoid its first four-game Bucket losing streak since 1947. But nothing on paper says it should happen.
There's more. Three additional high school state championship games at Lucas Oil. And barring a first-round upset, Marian will be at home for an NAIA quarterfinal, as it tries to defend its national title. The 10-0 Knights treated their regular-season opponents this season like you'll treat your turkey on Thursday, winning by an average score of 54-12. They gave up 119 points this season. They scored 117 just in the first quarter. Ten different players had either a run or catch go for 42 or more yards. We could go on, but you get the idea.
■ On the eighth day of Thanksgiving week, the schedule gives to us …
Another Pacers opportunity to slow down an early-season juggernaut. The Los Angeles Clippers blasted off with a 10-1 start, and a 16.6-point average margin of victory.
And on the ninth day, everyone will rest. By then, we'll know if the Pacers have been revived, if the Colts still have a playoff prayer, if Indiana is going to a bowl game, and if the Fort Wayne Mastodons were ready for their close-up. Big week.•
__________
Lopresti is a lifelong resident of Richmond and a graduate of Ball State University. He was a columnist for USA Today and Gannett newspapers for 31 years; he covered 34 Final Fours, 30 Super Bowls, 32 World Series and 16 Olympics. His column appears weekly. He can be reached at mlopresti@ibj.com.
Please enable JavaScript to view this content.