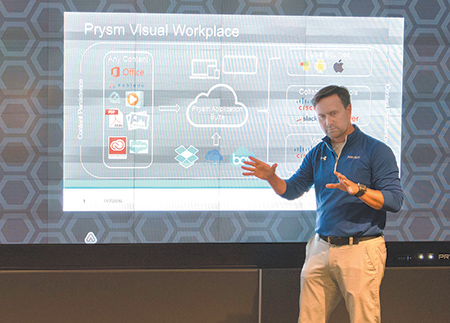 Before 2014, California-based Prysm Inc. only manufactured display screens for businesses, the kind often found in conference rooms.
But the Silicon Valley company felt that hardware wasn't enough, that it needed software to embed in those screens. It realized businesses were increasingly seeking interactive screens that allowed for collaboration across multiple locations—not just a simple display for laptop projection.
Prysm's quest for a software offering ultimately led it to buy Anacore Inc., a Carmel-based custom-software developer, in May 2014—and that acquisition has fueled its success since. The addition helped Prysm land business from major car manufacturers, banks, technology companies, universities and even federal agencies. Prysm is now a leader in the "immersive team collaboration systems" market, as defined by research firm Gartner.
As a testament to the importance of its Indiana office over the past 2-1/2 years, Prysm has grown head count here from about 10 at the time of acquisition to about 70 today, and it's more than quintupled office space to nearly 20,000 square feet. Growth is expected to continue here, not only because of new strategies aimed at expanding market share but also because all of Prysm's software development takes place in Indiana.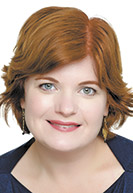 O'Neill
"There's been a resurgence of investment in office space technology," Chief Marketing Officer Paige O'Neill said about interactive displays, adding that trends in virtual collaboration and millennial-employee expectations have been factors in the trend.
"So I think a lot of those things are coming together at the same time to drive rapid growth in the marketplace, and Prysm, with its acquisition of Anacore, happens to be in a really great position based on technology that was developed in Indianapolis."
Prysm has about 400 employees worldwide and serves mostly Fortune 1000 companies, including Burberry, Under Armour, Sprint and more. It specializes in selling multi-point screens—including 190-inch displays that cost about $220,000.
The software that powers its screens has two main features. First, without any wired connections, the screen can display content from a variety of sources—content such as cloud-based documents, live software applications, web pages and more.
Also, people invited to the presentation can manipulate any item on that screen in real time. So members of a sales team in Boston, a marketing team in Houston, and a legal team in Chicago each can create files, enlarge and shrink items, make annotations and more—all at the same time.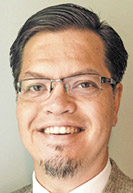 Preset
Gartner analyst Adam Preset said Prysm has targeted larger enterprises with its products, and its competitors include San Francisco-based Bluescape and Los Angeles-based Oblong Industries Inc.
It's getting new competition from a few tech giants, though. Microsoft launched its collaborative whiteboard Surface Hub last year and Google plans to roll out its Jamboard in 2017.
"The space is heating up," Preset said, "because more large and well-known vendors that have a great deal of mind share are delivering solutions [in that area] now."
Even before competition intensified, Prysm began mulling ways to extend the full experience of its software to people who couldn't access its screens. In other words, it wanted to allow users working on a desktop at a co-working space or on a mobile phone in an airport lounge the ability to collaborate in real time.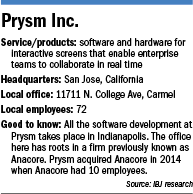 Brandon Fischer, who leads the local office as vice president of research and development, said the company last year considered a downloadable application, but it would have been immensely challenging to create and maintain multiple versions for different operating systems.
So his technology team created a web application, accessible on any device with a web browser, and introduced it this March. It took about a year to develop, but it no longer required users to be tethered to a pricey Prysm screen.
"Everyone can interact simultaneously," Fischer said during a demonstration this month, controlling a presentation on a 190-inch mega screen from the 5-inch screen of his cell phone.
The strategy shift got the company thinking: Why not just sell software by itself? 
Before long, officials did, offering it under a software-as-a-service model that greatly expanded Prysm's ability to sell to small and medium-size businesses.
O'Neill, the CMO, said the company is by no means abandoning its hardware legacy, and that while the web application comes close, it can't fully re-create the big-screen experience.
"We're not de-emphasizing the hardware at all," she said. "We're just expanding the software."
The initiative bodes well for Prysm's Indianapolis location, whose tech team of about 30 includes software developers, user-experience engineers, quality-assurance testers and more. The outpost in an office park near East 116th Street and College Avenue is undergoing a remodeling that will expand its space to above 21,000 square feet early next year.
Preset, the analyst, said companies in Prysm's field have two main challenges. One is making the sales pitch to prospects that might be fine with their current virtual collaboration methods—even if those methods aren't as sophisticated.
The second, he said, is withstanding the newfound competition from tech giants that have substantial name recognition and loyalists.
O'Neill said she's aware of those challenges, and the company plans to deploy ad and education dollars soon to quantify the drawbacks, including productivity loss, of old-school systems.
She also said that, as her industry blossoms, there could be a silver lining in the competition threat.
"When you've got Google and Microsoft coming into a sector … you've obviously got something going on there," she said. "And that's going to drive the marketing and adoption."•
Please enable JavaScript to view this content.