The song says there's no place like home for the holidays.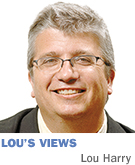 Yet December is also the time when families seem to do their best to get out of the house, taking advantage of Christmas offerings from the Eiteljorg Museum of American Indians and Western Art's "Jingle Rails" to Conner Prairie by Candlelight. Santa and his honorable assistants visit shopping malls and public squares while Scrooge and Drosselmeyer monopolize areas stages (see story, page 1). Yet up until now, the Indianapolis Motor Speedway has remained quiet this time of year.

No more. The IMS, something of a Johnny-Rutherford-come-lately to the holiday attraction game, has launched "Lights at the Brickyard."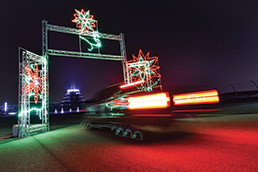 (Photos courtesy of IMS Photo)
Running 6-9 p.m. Sunday through Thursday and until 10 p.m. on Friday and Saturday (weather permitting), "Lights at the Brickyard" is a drive-thru in which visitors by the carload cruise a 1.7-mile course bedecked with more than 2 million lights while holiday tunes play on the car radio. The music is interrupted only briefly by a recorded welcome from IMS President Doug Boles.

The route covers parts of the IMS road course and a stretch of the Speedway oval, including the yard of bricks—although the traffic flow means you can't stop for a kiss.

It starts with a line on 16th Street, which might require some patience as the holidays get closer. Once you're on property, the single-file caravan takes about 20 minutes to get through at a 5-mph crawl, with pauses for photos and traffic backups caused by other visitors taking photos.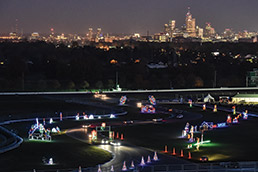 (Photos courtesy of IMS Photo)
The approximately 400 displays cover most of the expected holiday territory, with a few unusual ones worked in. There's a King Kong wannabe next to a Christmas tree, some parachuting reindeer, an animated Frosty the Snowman taking a header, and candy canes being shot into Santa's bag, all of which keep the sights from getting too predictable. Perhaps the most appealing display is a drive-thru corridor of bulbs. In a nod to universality, Kwanzaa and Hanukkah get spots near the end as the trail winds past the garages.

The IMS itself is represented with a few car displays and a nice re-creation of the familiar logo. The Pagoda itself seems underused, although there's a wonderful snowfall element worked into the scoring pylon. A life-size, three-dimensional nativity arrangement, sans lights, is the only display that seems out of place—like an afterthought rather than part of the plan.

A warning to drivers: With radio and parking lights on, it's easy to feel like you are being pulled along by a conveyor belt or by car wash machinery. Be careful not to get too distracted by what you're passing and lose sight of the car in front of you. A fender-bender here would be embarrassing.

Admission will set you back $30 a carload ($20 in November) and for those with more bucks than patience, Speedy passes—which let you cut in line via a separate entrance—can be purchased in advance for $60 ($50 in November).

Is the altogether pleasant drive through this illuminated land worth the money?

That depends on how much of a Clark Griswold-esque holiday-light-lover you are.

And whether you drive a clown car.•