Remember Matthew Graves? The Butler assistant sitting at the right hand of Brad Stevens during the Final Four years. Before that, the Butler team captain and 1998 MVP, and 84.6 percent career free-throw shooter. Before that, one of the four Graves brothers from Switz City, where six hoops of various heights were installed in the family back yard so all the boys could work on their game.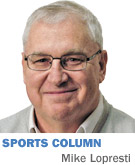 There's a bio that is 99 and 44/100th percent Indiana. But now Graves is deep in Dixie. Mobile, Alabama, to be exact. Yeah, that Matthew Graves.
You'll find him sitting on the bench at South Alabama, where, in his fourth year as head coach, his ship might be coming in. His first three seasons were 11-20, 12-21, 14-19. Guys can get fired for such numbers. But the current Jaguars went into Thanksgiving 5-0, including a win at UNLV, matching the best start in school history, which goes back 36 years. The chemistry is good, the grades are good, and now the basketball is good.
In other words, the South Alabama Way is starting to sound a lot like the Butler Way.
"It's very similar," Graves said over the phone. "We've been able to instill a culture that we're going to treat people the right way, we're going to do our job, we're going to be as good as we can be in the classroom. We've been able to turn the corner in a lot of areas off the court. Now we're starting to see some of the fruits of that labor in the won-loss column."
Just in time, since the first three seasons were not a lot of fun for a man starting his head coaching career.
"The first year, we had a lot of talented older guys and tried to blend them with some younger guys, and it was a disaster," Graves said. "I didn't handle it very well. They didn't respond. It really made me think, 'Is this the right way to do it?' At the end of the day, I got a lot of encouragement from people to stay the course—'You're doing it the right way, and good things will happen.'"
He texts or talks with Stevens "probably two or three times a week." And he remembered how it was at Hinkle Fieldhouse when he showed up as a recruit from White River Valley. How Athletic Director Barry Collier was bringing in young players who would develop into veterans, then pass along the Butler Way.
"Now I've got juniors and seniors that understand what we're trying to do," he said. "They've been through the bad times and now they're embracing the younger guys. It really goes hand-in-hand with what occurred at Butler. We're starting to just get to the tip of the iceberg with that stuff down here and it's really great to see and be a part of."
It's a long way for him from Hinkle to Mobile, not just in career path but also mileage. "What's funny is that—Indianapolis to Mobile—the halfway point is basically the Alabama-Tennessee line," he said. "It amazes me every time I drive back home just how far down you really are.
"Mobile is a very nice place. Unfortunately, it's just hard to get to."
Graves knows he's not in Indiana anymore by the weather. "My golf game has slightly improved. My first year down here … I actually played a round of golf on Christmas Eve in basically khakis and a pullover."
He also knows—as a born-and-bred, ball-dribbling Hoosier—what game is king in Alabama. And it sure ain't basketball. "I do have a greater appreciation now for SEC football, and for tailgating, and for just the aura of Alabama football. It is a machine. But at the end of the day, we have to understand you control what you can. We can prepare how we prepare, we really don't care about all that other noise going on out there."
South Alabama's last NCAA Tournament appearance was 2008. The Jaguars were mashed 81-61 in the first round—by Butler. The Bulldogs' assistant coach who prepared the scouting report that day was Matthew Graves. The guard who scored 18 points for Butler was his kid brother A.J.
"I'm constantly reminded down here that they would like another shot to get in the NCAA Tournament," he said. "And we ruined that opportunity for arguably one of their best teams ever."
He is not the only Butler presence in Mobile. His assistant, Darnell Archey, owns the highest free-throw-shooting percentage in Bulldogs history at 95.1, and once made an NCAA record 85 in a row. Graves is fifth on the career list. Which begs a question: With two coaches like that, why is South Alabama shooting a lousy 55.1 percent from the line? It's like two Picassos coaching finger-painters. 
"Because we are out of eligibility. That's what I've started to tell people," Graves said. "It is so frustrating, especially for Darnell. It's not like we don't work on it."
South Alabama's coaching staff does know how to shoot, and occasionally, the players get an exhibition. "Yesterday, Darnell was messing around and hit 19 straight 3's in a shooting drill," Graves said. "The players just kind of shook their heads and walked out the door."
So life is good for Graves. One more win will give the Jaguars their best start ever.
"We've talked about how we do not want this to be the highlight of our season," he said. "I think this team is capable of competing for a Sun Belt championship. I think, really, the sky's the limit for this team."
He thought that at Butler once, too, and it very nearly was.•
Please enable JavaScript to view this content.