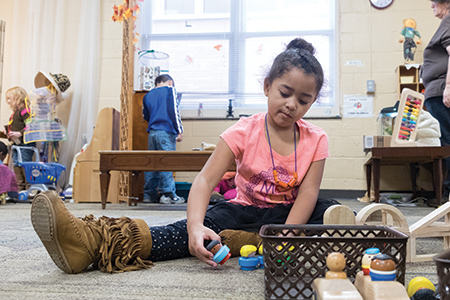 Gov. Mike Pence's picture hangs in the hallway at DayStar Childcare and Infant Learning Center at East Washington and Rural streets, where the governor signed into law Indiana's preschool scholarship pilot program in March 2014.
It was a proud moment for DayStar Director Lisa Bowling, who said she sees the profound academic impact of the On My Way Pre-K program on the needy children who benefit—and the transformations in their families as parents go back to work and school knowing their children are cared for during the day.
"Our children leave here and they are ready for kindergarten," Bowling said. "It's amazing."
But even as preschool advocates in Indiana are hopeful state legislators next year will increase investment in early-childhood education for poor children across the state, challenges to expansion remain.
Most notable: creating or expanding existing highly rated child care programs, recruiting and retaining a well-trained preschool workforce, and funding infrastructure changes where needed.
DayStar, which has earned the second-highest rating on the state's quality rating system, knows these challenges well. Though Bowling sees a dearth of quality early-childhood education spots on the city's near-east side, she said "it would be very difficult for us to expand more" because of space limits and the high cost of setting up and staffing new classrooms.
And her center is experiencing challenges when it comes to recruiting quality staff.
"I would advocate wholeheartedly that the program needs to expand, but there will be some issues and I think addressing staffing is probably the biggest," Bowling said.
Preschool advocates acknowledge those issues—which they've been trying to solve with private investment until now—and say they hope the Indiana General Assembly addresses them.
The state's On My Way Pre-K pilot operates in five counties, serving 1,585 children during the 2015-2016 school year. A scholarship program operating only in Indianapolis and funded by the city and private donors served 715 children in 2015-2016. The two programs received 6,500 applications last year.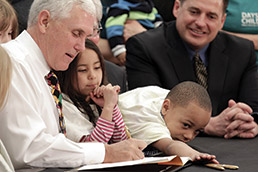 Gov. Mike Pence, above, signed the pre-K program into law in 2012 at DayStar, where kids (below) benefit from a program ranked highly by the state. (Photo courtesy of TheStatehouseFile.com)
All IN 4 Pre-K, an alliance led by United Way of Central Indiana, wants the Legislature to expand the program to serve 6,500 kids annually. That could cost$65 million a year, with part of that investment used to build up infrastructure and the rest going directly to scholarships, according to Eli Lilly and Co.'s Michael O'Connor, who is on the United Way executive committee.
United Way President Ann Murtlow said "now is the time" to expand the program and that she is "more optimistic than I ever have been in our state's willingness to do this."
"Let's do it as fast as we can," she said. "We cannot afford not to invest in our children in this way."
Though legislative leaders have all agreed that expanding access to preschool is a worthwhile goal, they are divided on what's possible given lower-than-expected state revenue forecasts.
Senate President Pro Tem David Long, R-Fort Wayne, said at a Nov. 21 event sponsored by the Indiana Chamber that he will support a "cautious" expansion. House Speaker Brian Bosma said he wants to expand the pilot to "more counties and more low-income students," potentially doubling or tripling the size of the current pilot.
5,300 quality seats
Part of the state's problem when it comes to gearing up for preschool is a relative dearth of high-quality seats scattered throughout the state.
The state has about 5,300 open high-quality preschool seats that could serve children immediately, according to the state's advocates.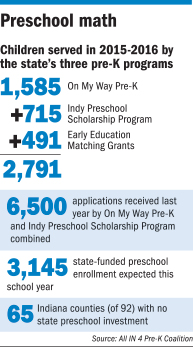 But serving kids beyond that will take time, Murtlow said, because quality matters—and is expensive. A seat is considered high-quality if it meets certain standards on the state's Paths to Quality System, which requires facilities to meet health and safety requirements, provide appropriate learning spaces, and follow other guidelines.
"We know from other states that have rushed to get kids into pre-K but didn't pay attention to quality that they didn't get the lasting benefits they wanted," Murtlow said. "It's very important for us to be balancing the two goals so we are actually putting children into high-quality centers."
It cost about $435,000 to create 586 new high-quality seats in the five counties involved in the On My Way Pre-K pilot—about $750 per seat.
Private actors have been trying to help cover those costs.
Early Learning Indiana, an organization that has advocated for scholarship expansion across the state and also operates its own preschool and day care centers, used a $22.5 million Lilly Endowment grant in 2014 to help at least 400 providers across the state increase their ratings on the Paths to Quality System.
The All IN 4 Pre-K group has also made expanding across the state a priority. It plans to ask the Legislature to eliminate matching requirements for counties to participate in state pre-K programs, because securing philanthropic funding can be much harder in smaller Indiana communities.
Lessons from IPS
But the prospect of matching availability to demand is daunting—even just in Indianapolis.
Ask Indianapolis Public Schools Superintendent Lewis Ferebee, an advocate for increasing access to early-childhood education options.
IPS, which accepts both On My Way Pre-K funding and Indy Preschool Program vouchers, has more than 800 children in its preschool—more than triple the amount it had enrolled in 2012. It still has spots unfilled on the far-east side—but is bursting at the seams elsewhere.
"Where we have space, we've maximized the number of 4-year-olds in that area," Ferebee said. "Where we don't have space is where we have more students that need the experience."
And parents seem to be understandably unwilling to put their 4-year-old on a bus across town to access an available program, Ferebee said.
That's a complicated problem to fix considering IPS can't turn an underutilized middle or high school into a preschool without expensive renovations.
Ferebee said lawmakers should consider that providing more funding for preschool needs to include helping providers pay for those upgrades.
"The playgrounds are different," Ferebee said. "The restrooms are different. There's so much more you have to provide for a high-quality experience … [like] dollars to buy the water table or other manipulatives to use in a preschool program."
To that end, the district has considered opening a preschool near downtown.
"This is the area that's grown," Ferebee said. "Do we take some of the space on some of the storefront properties and create a preschool space for working families? Probably. But the funding that I've seen and heard discussed doesn't deal with converting that space to a preschool classroom. It's just funding the teacher and maybe an assistant."
Teacher pay
Low pay for the preschool workforce—and a sector that's not highly trained—is also a problem lawmakers will have to reckon with.
The maximum state scholarship grant per student currently is $6,800. But providers are raising alarm bells about their ability to recruit and retain enough qualified workers to satisfy demand if the scholarship program were to expand.
Murtlow said it doesn't help that there's a pay disparity between preschool teachers in K-12 districts and at private providers.
The median 2015 annual wages for a preschool teacher at an elementary or secondary school was $42,880 per year, compared with $26,210 for preschool teachers at day care services, according to the U.S. Bureau of Labor Statistics.
"Once a pre-K teacher actually gets the credentials they need to be in a very high-quality center, it is awfully tempting for them to jump to the higher levels just because the pay difference is so significant," Murtlow said.
Bowling said DayStar has experienced this competition.
"We are one of the lower-priced facilities for the quality of care because we want our neighbors to be able to afford to come here," Bowling said. "There's not much left to give raises."
There's also a question about teacher quality. Just one of the three state-funded preschool programs—Early Education Matching Grants—requires lead teachers to hold bachelor's degrees. Many have associate's degrees in child development.
Other players are investing in trying to grow their own talent. Early Learning Indiana President Ted Maple, whose facilities are highly rated, said his Day Early Learning centers struggle with recruiting but are trying to help its associate-degreed employees increase their education.
"We're facing a current and potentially growing gap in the workforce," Maple said. "This is a challenge, but we are thinking about how we can increase compensation and benefits. If and when expansion happens, we would love to see attention to this."•
Please enable JavaScript to view this content.