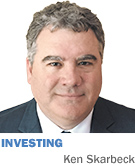 In Berkshire Hathaway's 1988 annual report, Warren Buffett offered a reworded version of a popular proverb by writing: "Give a man a fish and you feed him for a day. Teach him to arbitrage and you feed him forever."
Arbitrage is a French word that originally referred to the simultaneous purchase and sale of an asset to profit from a difference in price. Today, "risk arbitrage" describes pursuing profits from announced corporate events like mergers or liquidations.
Buffett invested in many arbitrage events in his early years. He learned the technique when he worked for Ben Graham in the 1950s. When Buffett started out on his own, it wasn't unusual for him to have one-third of the money he managed in arbitrage activities. Arbitrage contributed significantly to the 24.5 percent annual rate of return Buffett achieved from 1957 to 1969.
Merger offers can take many forms. Acquirers may use their own stock to exchange for the shares of the company they are buying, or the acquisition payment may be part stock and part cash, or all cash. In our own work, we are usually interested only in cash mergers.
The key to analyzing the attractiveness of an arbitrage is to come up with a probability range for successful completion of the deal, including what the risk factors are that could scuttle the deal, and how long it will take to complete and receive your cash.
Currently, Microsoft is in the process of buying LinkedIn for $196 in cash per share and LinkedIn's stock is trading for about $193.50 per share. There are reasons LinkedIn stock still trades below the buyout price. First, Salesforce was beat out by Microsoft in the battle to buy LinkedIn. Salesforce then alerted the European Union antitrust regulators to investigate anticompetitive features of a combined Microsoft/LinkedIn. So, there is some risk the deal could fall apart, and presumably LinkedIn's stock would fall sharply. Also, the price difference in any arbitrage reflects a return associated with the time value of money.
Interestingly, we would never have bought LinkedIn stock as an investment. Yet as an arbitrage, we are solely focused on the probability the deal will get done and the return we expect to achieve.
In this case, most observers see little chance the Microsoft/LinkedIn merger will be denied and that confidence is reflected in the modest $2.50 price spread between the offer price and market price, which equates to a slim 1.3 percent return. Yet, assuming the deal is completed and you get your cash in, say, 2-1/2 months, that works out to almost a 6 percent annualized return—certainly more attractive than short-term money-market returns. Then, take your cash and look for another arbitrage or undervalued investment.
Recently, the potential returns on several arbitrage deals have widened, namely because regulators have increased their scrutiny of mergers for antitrust reasons. In fact, earlier this year, the proposed Office Depot and Staples merger was denied by a federal judge who ruled in favor of the FTC, which had argued the combined company would control too much of the office supply market.
With increased uncertainty, spreads between market price and buyout price have widened. The investor who can correctly analyze successful arbitrage deals can earn very attractive returns today.•
__________
Skarbeck is managing partner of Indianapolis-based Aldebaran Capital LLC, a money-management firm. His column appears every other week. Views expressed are his own. He can be reached at (317) 818-7827 or ken@aldebarancapital.com.
Please enable JavaScript to view this content.