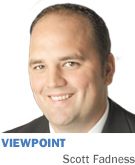 Indiana does three things really well: make things, grow things and move things. We rank among the top five states in all these categories. These sectors have provided generations of Hoosiers opportunity to improve their economic position and provide a better quality of life for their families.
In many ways, these industry pillars have defined the very character of our state.
All three industries—manufacturing, agriculture and distribution—have one important commonality: They are about to be profoundly disrupted by the internet of things. How we, as a state, respond and adapt to this transformation will dictate whether we will continue to have opportunities to improve Indiana families' economic position.
The internet of things is a somewhat simple concept. Imagine most of the common, everyday machines on which we depend being interconnected in a way that eliminates repetitive actions, provides predictive analytics, and allows for total integration of once-independent systems.
Some examples: Case has started testing the first driverless tractors. Amazon has touted the automation of the distribution process to the point of needing only one minute of human contact or interaction before sending a product. All of this is possible due to the advancements in technology surrounding the internet of things. This technology is inserting itself in every facet of life. Recently, I saw a commercial marketing a mobile app that allows you to look inside your refrigerator while at the grocery store. The integration of these technologies and the data associated with it will continue to grow at historic rates.
Why Indiana?
I recently read with great interest about a company's $90 million investment in a manufacturing facility in a smaller Indiana community. Total jobs: 90 to 100. Thirty years ago, a $90 million manufacturing facility might bring 1,000 jobs. Other manufacturing announcements publicize hundreds of millions of dollars in investment, yet job numbers actually shrink.
The same is true in agriculture. The productivity of farming equipment has increased exponentially in the last two decades. Now, imagine automating that equipment and the impact on employment opportunities. In short, it will not serve our residents well if Indiana is filled with empty fields, and automated warehouses and manufacturing plants.
What can Indiana do?
The answer is not to abandon these three cornerstones of our economy; it's to embrace the convergence of technology and these industries. When Indiana manufacturers modernize their products and processes to account for the internet of things, we must demonstrate that we have the companies, people and wherewithal to provide those services.
Indiana should lead the internet-of-things economy.
The customers are here. Now is the time for Indiana to grow the economy by not only further developing existing industries but also by nurturing new industry sectors that can produce higher-paying wages and jobs. Our public policy must reflect this initiative, and our higher education institutions must adapt. Finally, our leaders in manufacturing, agriculture and distribution must pursue the internet-of-things economy.
Too often in politics and public policy, our choices are binary. If you are in support of "this," then you must oppose "that." I don't believe this to be true about this new economy.
I celebrate the successes of our leaders in manufacturing, agriculture and distribution. My hope is that Indiana can seize the opportunity to create an economy that provides economic opportunity and upward mobility for generations to come.•
__________
Fadness is a Republican and the mayor of Fishers.
Please enable JavaScript to view this content.