If you want to live in Noblesville, there's a good chance you'll move into a traditional neighborhood of detached, single-family homes of similar sizes or a multifamily apartment complex.

That's because those two types of housing make up 94 percent of the local market.

New housing stock also trends heavily toward single-family homes. According to 2015 building construction data, 77 percent of the homes built in Noblesville were single-family detached, 6 percent were single-family attached (including condos and townhouses), and 17 percent were multifamily apartments.

But that's not what home buyers—especially millennials—say they want, according to a housing analysis the city recently commissioned.

The study calls the housing gap "the missing middle," which refers to townhomes, condos, cottages and duplexes in more walkable areas with select amenities nearby.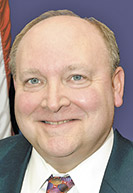 O'Connor
"There appears to be a big hole in the middle of the doughnut, so to speak," Noblesville City Council President Greg O'Connor said. "We don't have a lot of that mid-priced product or something that's a little bit different than your standard single-family subdivision."

As a result of the study, Noblesville officials are now trying to diversify the local housing market—by size, type and price point—but it will be years before the results are apparent.

Nearly 3,900 detached single-family housing units have already been approved but not yet constructed, and more than 800 multifamily units are under construction. Another 900 apartment units have been approved, but are not under construction yet.

Only 622 attached, single-family units have been recently approved and are awaiting construction.

If the city doesn't start to fill that housing gap with more walkable communities and easy access to amenities, officials say, they could lose baby boomers looking for retirement homes and millennials searching for their first homes. Both age groups, which make up a majority of the population nationally and locally, prefer smaller housing options with less maintenance, according to the study.

"The developers I've talked to and the builders we interact with, I think they're open to having discussions about what's going to make the most sense for the community," O'Connor said. "I think the builders overall, they're certainly aware things are changing. They're trying to change their product set."

Indianapolis-based Greenstreet Ltd. conducted the analysis for Noblesville and incorporated multiple national, state and local studies and resources to provide a snapshot of the city's existing housing market, what types of housing are in demand, and what the city could do to diversify its housing options.

The three-month study cost the city $35,500.

"This gives us data and a road map, and hopefully this makes it a more collaborative effort with the developers and the housing community," O'Connor said. "If you set the road markers now, I think that will help us make better decisions going forward."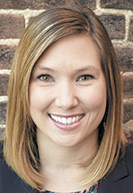 Reed
The city isn't aiming for a specific target mix, but Noblesville Planning Director Sarah Reed said the short-term goal is to flip from a building mix of 70 percent detached/30 percent attached to 40 percent detached/60 percent attached.

The city also wants to diversify the prices in each housing category by adding more high-end, attached single-family housing and more affordable detached, single-family housing.

Nearly all—92 percent—of the attached homes built in 2015 in Noblesville were priced less than $150,000, while 75 percent of the new homes constructed within the last 12 months would require a household income higher than the median for local residents.

"Really, what the goal is, is to just switch up the way that we're kind of thinking and what we're approving," Reed said.

The dominance of detached, single-family housing isn't unique to Noblesville. It makes up about 90 percent of U.S. housing built today and local officials say it has been strong as well in central Indiana.

The reason? Those homes have traditionally sold.

"In Indiana and in the Midwest, I think [developers] are just conditioned to build what they know will sell," Reed said.

Kate Collins, director of government affairs for the Builders Association of Greater Indianapolis, agreed that builders have been responding to the market.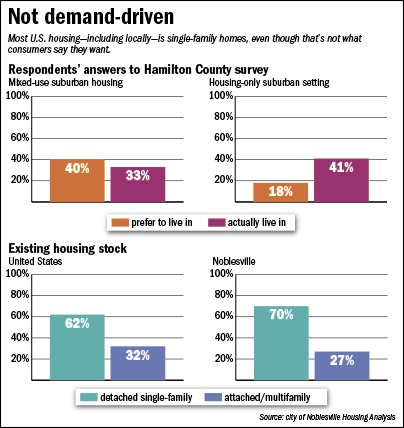 New way of thinking

But the market is starting to change. Other Hamilton County communities, including Fishers and Carmel, have already started attracting projects with townhouses and high densities along with low-maintenance communities for retiring adults.

CalAtlantic Homes, for example, recently broke ground on its Townhomes at Grand and Main community in Carmel. The townhomes vary in size from 2,000 square feet to 2,300 square feet and range in price from $235,000 to $330,000.

"We have a lot of neighboring communities that have high-end townhouses, and we don't really have any of that product in Noblesville," City Council member Mark Boice said.

Greg Cooper, a real estate agent with Berkshire Hathaway HomeServices, said he thinks Noblesville needs to determine its brand—as Fishers did with its focus on being an entrepreneurial city or Carmel did with its Arts & Design District—before it can determine what kind of housing it needs.

"I think that they're right for wanting diverse housing, but I think there needs to be a reason for people to live in that diverse housing," Cooper said. "They're in an unbelievably competitive county. … You can't just build developments and expect them to come."

Collins said part of the reason builders are reluctant to introduce projects with different housing types is because it doesn't match the existing zoning regulations, which can make the path to approval difficult.

Reed acknowledged that the approval process and guidelines can be discouraging, especially when city council members request significant changes after a developer has put months of work into a proposal.

"The processes that we have here in place don't really make it easy for creativity," she said.

It's her goal to streamline the process to make it easier for developers to know the city's preferences upfront.

Already, the council has started reviewing projects even before they are reviewed by the Noblesville Plan Commission as a way to allow the developer to address council members' concerns earlier in the process.

"Just knowing the rules of the game is super helpful to us," Collins said. "If the council is saying, 'We really want this product' … I think our members will be more willing to bring that product in."

Collins also said builders have shied away from higher-density projects because city officials tend to view those proposals negatively.

Reed said she expects that attitude to change as a result of the study, which emphasizes the benefits of higher-density projects.

"One thing we had struggled with at the council and plan commission is, they see density as a negative, and what we are trying to do is show them that, if you have the right standards in place, it can be a positive," Reed said.

One of the biggest benefits is the increase in tax revenue. According to the study, national trends show that municipalities collect up to 10 times more tax revenue per acre with compact development than suburban development.

In Noblesville, about 2,700 acres remain undeveloped and could be used for housing. With traditional suburban development, the city could see a $15.5 million annual net fiscal impact. But compact development—a mix of housing types and higher densities—could boost the annual net fiscal impact to $117.7 million.

Baby steps

The city is starting to see at least a slight shift in housing.

The Timbers development, which Drees Premier Homes Inc. introduced to the City Council earlier this month, would include a variety of home sizes and styles ranging from low-maintenance, one-story residences to traditional one- and two-story homes to large estate-style, two-story houses.

The community would have more than 300 homes within a 195-acre property near the northeast corner of State Road 38 and Little Chicago Road.

It is all detached housing, but more than 35 percent of the neighborhood would remain open green space, and a majority of the homes would have private views of trees, ponds or open space. The community would also include a playground, clubhouse with a pool and walking trail.

"They've made an effort to try to incorporate in that development a variety of different housing types," O'Connor said.

It's the first development of this kind in the Indianapolis region for Drees, said Land Acquisition Manager Amanda Deardorff.

"I think we're trying to offer the marketplace something different, something new," Deardorff said. "Drees in this market is really known as a custom-home builder with the larger product."

The neighborhood also includes 24 acres for commercial development that would be heavily buffered from the homes by a thick wooded area, Deardorff said.

An already-approved project led by CalAtlantic will bring duplex housing options to Noblesville. The Chapel Villas neighborhood near the northeast corner of Greenfield Avenue and Union Chapel Road will include more than 60 units ranging in size from 1,600 square feet to 2,200 square feet and in price from $217,500 to $270,000.

Only 3 percent of the existing housing stock in Noblesville is considered two-family, attached homes like the Chapel Villas.

Reed said she expects to see more diverse projects soon based on the feedback she's received from the results of the analysis.

"If you can get in on the front end of a new shift, you're going to have a little bit of a competitive advantage because you're going to be the first person offering this type of product," Reed said.•