Why is Shelbyville Mayor Tom DeBaun's business card printed in both English and Japanese?

Because Shelby County is home to about a dozen companies based in Japan.

That fact might surprise outsiders—the largely rural county southeast of Indianapolis never has been known as an economic-development hot spot, even though downtown Shelbyville is only 32 miles from downtown Indianapolis.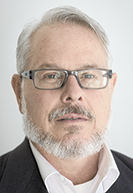 DeBaun
"We know that we're a quick commute, but people don't know about us," DeBaun said.

Shelby County has recently racked up a string of successes—a couple of big manufacturing expansions, some new companies, and two big health-related projects that are set for completion early next year.

In March, the Germany-based parent of agricultural equipment company Krone North America announced it would move the firm's headquarters from Memphis, Tennessee, to Shelbyville—a project that's expected to bring 101 jobs by 2021.

In June, Japanese manufacturer Nippon Steel & Sumitomo Metal Corp. announced plans to build a $50 million Shelby County plant employing 70 that will process steel wire used for fastener applications in the auto industry. Construction is under way, and hiring is expected to begin in the second half of next year.

In July, Japan-based Ryobi Die Casting USA said it will spend $97.5 million to expand its Shelbyville auto-parts plant, boosting employment from 860 to 1,050 by 2018.

Another big project is the $89 million MHP Medical Center, a 56-bed hospital in the final stages of completion in the Intelliplex business park along Interstate 74. The facility, which will be fully operational in January, will replace Shelbyville's existing Major Hospital, which is on a land-locked site in downtown Shelbyville.

And early next year, the Centaur Equine Specialty Hospital is set to open. The $8.8 million, 17,000-square-foot project, a satellite facility of the Purdue University College of Veterinary Medicine, will offer a range of imaging, medical and surgical services for horses.

It's all pretty big stuff for a county whose entire population is just over 44,000. Its largest city is Shelbyville, whose population is just shy of 20,000.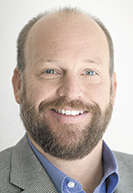 Asher
"We've had some great announcements this year," said Brian Asher, executive director of the Shelby County Development Corp.

Asher has been in the job since the organization's previous director retired last year. He's also served as an at-large member of Shelbyville's city council for more than a decade.

Working together

Local officials and others say a spirit of cooperation among Shelby County government and economic development officials has helped the county achieve these recent wins.

DeBaun took office in January 2012. Before becoming mayor, he was Shelbyville's plan commission director—a post he had held since 1993.
Until just a few years ago, DeBaun said, city and county officials didn't work together especially well.

A community fiscal crisis changed that.

In May 2012, an arsonist destroyed the grandstands at the Shelby County Fairgrounds. The 133-year-old wooden structure was a total loss. And, to make matters worse, the insurance settlement would pay for only a basic, bleachers-style replacement structure.

DeBaun convened city and county leaders, fair board members and local residents. Their mission: Find a way to build something better.

They succeeded in patching together funding for the $2.3 million grandstands that opened in 2014.

That year, the Indiana Association of Cities and Towns presented Shelby County officials with a Local Government Cooperation Award, in part because of their success with the grandstands.

The effort, DeBaun said, set the tone for future cooperation.

One example: This fall, officials launched a scholarship program called Advantage Shelby County. Any Shelby County high school graduate with at least a 2.0 grade-point average can apply to have his or her tuition and fees paid for if the student enrolls in certain programs at Ivy Tech Community College.

City and county officials are jointly funding the cost—about $8,000 per student, said Tina Jobe-Gross, president of Ivy Tech's Shelby County campus.

Fifty-one students—10 percent of the county's 2016 high-school graduates—are enrolled in the program. Officials expect that to grow next year.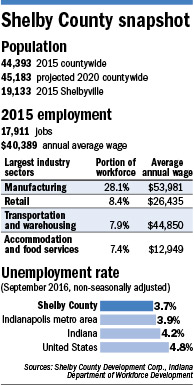 Learning process

City and county leaders also teamed up during Shelbyville's application for Indiana's Stellar Communities program, which is administered by Indiana's Office of Community and Rural Affairs.

The program, which launched in 2011, provides two winning communities each year with several million dollars of grants for community improvements and economic development projects.

The program requires that communities form partnerships and that they supplement the grants with funding from a variety of public and private sources.

Shelbyville was a finalist in 2011 and again this year, when Rushville and Corydon prevailed.

But DeBaun said the process of applying—and making major changes to the application for this year's go-round—provided the city with a solid plan and insights.

In its application, Shelbyville identified $55 million in projects, including a major redesign of its downtown traffic patterns to make streets more pedestrian-friendly, a multi-generational community center, downtown housing and a greenway.

About $13.8 million was to come from a combination of city and county funding.

"The things we talked about when we applied in 2016—we're moving forward on those," DeBaun said.

Just this month, the Shelbyville City Council authorized up to $2 million in bonds to help fund the trail project.

City and county officials also teamed up on a business loan to help a restaurant get off the ground.

Riverfront Taproom is downtown near the banks of the Blue River. The establishment, which is set to open within weeks, will include a restaurant and brewery plus an outdoor patio cantilevered over the riverbank.

The city and county each contributed $50,000, offering a $100,000 loan that will be forgiven over five years if Riverfront Taproom meets agreed-upon employment goals.

Ron Kelsay, one of the restaurant's investors, said he gives local officials high marks for their economic development efforts, and for being easy to work with.

"They've really done a lot of work to attract business and to grow Shelbyville and Shelby County," said Kelsay, a Shelbyville native who now lives in Franklin.

Compared with years past, he said, "It seems to be much more of a team atmosphere. We've got really good leadership, especially in the mayor."

David Terrell, director of economic development policy at the Ball State University Indianapolis Center, advised Shelby County officials in 2013 on strategies that could bolster their Stellar Communities applications.

"They have the right spirit and they appear to be going pretty much in the same direction. You celebrate when you see that," Terrell said.

He also praised the community's focus on quality-of-life issues, including adding housing, improving downtown and building a trail system.

If communities position themselves as places people want to live, he said, growth will follow. "They're doing the right things, and I think it's just a matter of time before something clicks."•