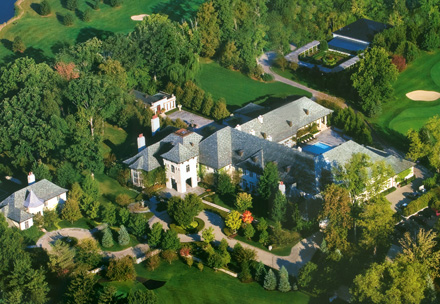 Local homebuilder Paul Estridge Jr. has agreed to buy the sprawling Simon estate on Ditch Road known as Asherwood and is proposing the development of 100 custom homes and an inn on the 107-acre property.
Estridge, who is partnering on the project with longtime developer Michael Browning, announced the plans Tuesday morning after filing them Monday with the Carmel Plan Commission.
The site on Ditch Road, between 96th and 106th streets, would retain the Asherwood name.
IBJ reported in July that Estridge was in negotiations to buy the property.
"Our intent is to honor the culture and heritage of Carmel with an exceptional community unlike anything this area has ever seen," Estridge said in a written statement.  
Bren Simon, the widow of billionaire real estate developer Mel Simon, officially placed the estate on the market in 2014 with an asking price of $25 million. Estridge declined to reveal the sale price for the property, but said the project itself would take an investment of about $50 million.
The sale of the property hinges on the development receiving approval from the city of Carmel.
The redevelopment of the property would be divided into three housing areas, comprising a total of 100 homes priced between $800,000 and $2 million. The 70,000-square-foot Simon residence will serve as the centerpiece, Estridge said, and will be known as the Residence Club and Inn after it is redeveloped.
The inn will be available for overnight accommodations, dining and meetings. A 9,000-square-foot chateau and surrounding bungalows will also be available for rent.
Asherwood will also operate a private "members only" club that is available for residents, corporate members and a limited number of non-resident members.
The main house consists of 36 rooms, including seven bedrooms and 24 full or partial baths. The property also includes a 6,000-square-foot guest house, a 7,000-square-foot clubhouse, and three maintenance buildings for the golf course totaling 20,000 square feet.
Accommodations will include "five-star" short-term and extended-stay options, including suites in the mansion.
"Asherwood will be a landmark and amenity to residents and corporations in Carmel and Indianapolis," Estridge said. "In addition to being an ultra-luxury experience for the residents and club members of Asherwood, it will be just one of the many attributes of what makes living, working, and visiting Carmel and central Indiana truly unique."
Estridge expects the property will host corporate meetings, retreats, events and weddings.
He said the developers drew inspiration from Blackberry Farm near Knoxville, Tennessee, when they planned the project.
Please enable JavaScript to view this content.