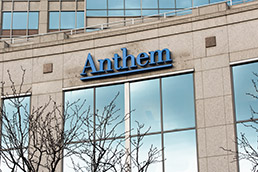 Anthem Inc. could face a penalty of about $3 billion from the national Blue Cross Blue Shield Association if it fails to derive the bulk of its nationwide revenue from Blue-branded products after acquiring Cigna Corp., according to testimony from an Anthem executive during a U.S. antitrust trial in Washington.
Twenty-three percent of Cigna's domestic revenue would need to be rebranded to comply with rules of the BCBS association, said Steve Schlegel, Anthem's vice president for corporate development, under questioning Wednesday by a Justice Department lawyer.
The U.S. is challenging Anthem's $48 billion takeover of Cigna, saying it will reduce competition in the national market for insurance plans sold to large companies and lead to higher prices.
Anthem has taken the position that it will keep Cigna as a stand-alone entity to compete with other BCBS association members outside of Anthem's exclusive territories. Anthem's former chief financial officer, Wayne Deveydt, underscored that in his testimony later Wednesday. When asked by Anthem's lawyer Christopher Curran whether the intent of the merger was to let Cigna "wither away," he said "absolutely not."
Falling short
Should the deal close, revenues of Anthem and Cigna would immediately fall short of the BCBS association's two-thirds Blues requirement. That would leave the merged company with 120 days to propose a plan to return it to compliance, Schlegel testified. If approved, the insurer would have two years to implement the program.
"No one, to date, has fallen below the threshold" for compliance with the BCBS Association's so-called best efforts rule, Schlegel said.
While conversion of Cigna to Anthem in each of the 14 states where it enjoys BCBS exclusivity would satisfy the requirement, Schlegel denied that was the plan.
The goal, he said, was to encourage customers to move voluntarily. "We don't need to rebrand everything that's available to reach the threshold," Schlegel testified.
The non-jury trial before U.S. District Judge Amy Berman Jackson started on Nov. 21. Anthem and Cigna began their defense Tuesday after the Justice Department rested its case.
A second federal suit aimed at halting the union of health insurers Aetna Inc. and Humana Inc. before a different judge is scheduled to start in the same courthouse on Dec. 5.
Please enable JavaScript to view this content.