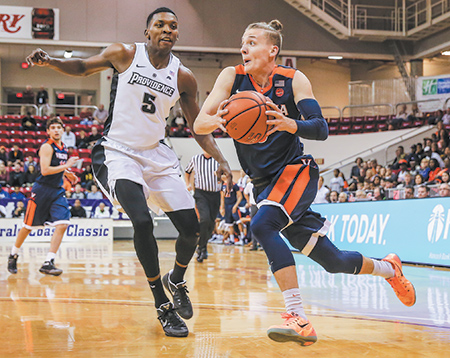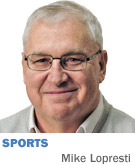 This is where you'll find Stacy Meyer a lot of nights, now that the college basketball season is afoot: sitting in front of his television with a remote control in hand, searching for the Indiana All-Stars he coached not so long ago.
They have gone off to college as freshmen, but they are not hard to find. Not with so many doing so well. A lot of careers born in Indiana have had promising college starts, from Virginia to Florida to Texas.
Click. Look, there are the highly ranked Virginia Cavaliers. And Mr. Basketball Kyle Guy of Lawrence Central, scoring 20 points against Grambling State.
Click. There's Texas Christian, and Desmond Bane of Seton Catholic winning the Global Sports Classic MVP for the unbeaten Horned Frogs.
Click. Northern Illinois now. And isn't that Eugene German—the 6-foot bolt of lightning from Gary 21st Century Charter School—coming off the bench for 17 points against the University of Illinois at Chicago?
Click. Over to Florida State. And C.J. Walker, the former Indianapolis Arsenal Tech guard, with 13 points against Illinois.
Click. Out to New Mexico, where East Chicago Central's Damien Jefferson is having a big first half off the bench.
Meyer, whose day job is coach and athletic director at Greensburg High School, keeps clicking—and smiling. He had these guys last summer for the briefest and most exhilarating interlude, beat Kentucky twice, then patted them on their heads and sent them on their way.
"It was an experience I'll never forget," he said over the phone. And now he's keeping track of what they're up to in college, somewhat dazzled at how well things are going so quickly.
"It's kind of a shock, but it's not, getting to know the kids," he said. "There are reasons why they're having the success they're having early on, and it's not only athletically—they're gifted basketball players, obviously—but you could tell they were good kids. They were raised right, their priorities are right, and I think they prepared themselves mentally for that freshman grind.
"It's just kind of neat to see them on TV and to see how much they've improved from the summer to now as freshmen. It's almost like they turned into men over a few months."
Take Guy. As Virginia climbs up the rankings, he has become a main offensive force off the bench, averaging more than eight points in his 17 minutes a game, while shooting nearly 59 percent. Welcome to the ACC.
Cavaliers Coach Tony Bennett said the other day, "He has a really quick release and is lively on the floor. And that's a threat—it opens things up. I think that, as he keeps improving in all parts of his game, his shot will be a weapon and teams are going to have to account for it."
Which is no surprise to Meyer.
"I know it's a cliche, but he makes people around him better. He is such an unselfish player, but when needed to score, he will score. The one question I might have had is just the physical play … but obviously he's handled that very well."
Then there's Bane, somewhat unheralded last year from Class 1A Seton in Richmond. The 6-5 guard has started every game for 6-0 TCU, is averaging 10.3 points and shooting 56 percent, and was named MVP of the Horned Frogs' recent tournament, even though he didn't score a point in the championship game. Maybe he warmed up well.
Meyer: "You could just tell his body was ready. He was physically put together. Such a great kid, very coachable. He was a sponge."
He also averaged 30 points a game for Seton last year, second in the state behind … German, who is averaging five points and 10 minutes for Northern Illinois, and has shown his incendiary talents. "He gave us an unbelievable lift," Coach Mark Montgomery said of the UIC game, when German scored 17 points in 19 minutes.
Meyer: "Interesting story with Eugene. If Eugene had not come to the top-60 workout, he would not have been on the All-Star team. But he came to the top-60 and, my goodness, I've never seen a kid be able to score the basketball one-on-one like he's able to do. Probably because of the size of the school, he wasn't publicized."
Meanwhile, guard Walker is adding seven points a game to the cause for 6-1 Florida State. Which means, sooner or later, he will be facing Guy on the ACC trail. "The one thing that sticks out with C.J. is his ability to lead," Meyer said. "He's a natural leader and he's doing that as a freshman at Florida State."
Jefferson is averaging nearly five points and 11 minutes for New Mexico. Dru Smith, who traveled down the street from Evansville Reitz to the University of Evansville, is tied for second on the team in assists. Fort Wayne Carroll's Kyle Mallers is averaging nearly five points in a relief role for Ball State. Southport's Joey Brunk, 4.4 points for Butler. Crown Point's Grant Gelon has seen spot play for Indiana; same for Cathedral's Eron Gordon at Seton Hall and Columbia City's Brachen Hazen at Arkansas. Bloomington South's Tucker Blackwell is playing for a prep school at West Point.
And the one All-Star Meyer hasn't been able to see on TV is putting up the gaudiest numbers of all. Griffith forward Tremell Murphy has been a junior-college sensation at Florida Southwestern State, averaging 20 points and nearly 10 rebounds a game. At last check, his team was 8-0 and he had been named national NJCAA Division I player of the week.
Matter of fact, it appears the All-Stars of 2016 went with winners in their college choices. The combined record of all their teams is 59-16.
"You never know when you get a collection of talent like that really what to expect, but I couldn't have asked for a better group of kids," Meyer said. "They played very unselfish and played together, which is probably a rarity with an all-star team. Those are memories I'll take away forever."•
__________
Lopresti is a lifelong resident of Richmond and a graduate of Ball State University. He was a columnist for USA Today and Gannett newspapers for 31 years; he covered 34 Final Fours, 30 Super Bowls, 32 World Series and 16 Olympics. His column appears weekly. He can be reached at mlopresti@ibj.com.
Please enable JavaScript to view this content.