The Indianapolis Indians are always looking for prospects.

And often, their most valuable finds never take the field.

Randy Lewandowski is one such gem.

In his 22 years with the franchise, he's worked on almost every facet of the team's business—from ticket and sponsorship sales to marketing and promotions and venue operations.

If his relatively speedy ascent—he was put in charge of Victory Field operations at age 27—looks easy, that misconception is as illusory as a nasty curve ball.

Lewandowski has scaled the Indians' corporate ladder while dealing with personal hardships and unexpected business challenges—including a mad rush in 1995 when it was thought Michael Jordan would play at Victory Field.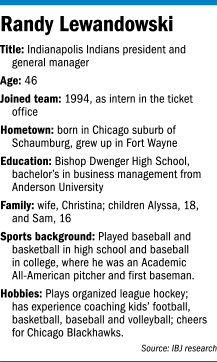 Watching two young relatives, including his daughter, battle cancer changed Lewandowski—for the better, said his co-workers and supervisors. Overcoming those challenges, Lewandowski said, along with lessons learned during his playing days, helped make him the manager he is today.

Shortly after hiring Lewandowski in 1994 as an intern in the AAA minor-league team's ticket office, Indians Chairman and CEO Max Schumacher and his son, Bruce—at the time director of special projects—knew they had a winner.

"Back then, ticket sales were still all manual. It was a lot of hard work. And my first impression of Randy was that he was a hard worker," Bruce Schumacher said. "Not only that, he had really good people skills and was obviously very smart. We were very impressed."

Still, the Schumachers had no inkling Lewandowski would become a key piece—along with Bruce—in replacing Max after six decades as the face of the franchise. But last month, the Indians named Lewandowski president and general manager.

With a soft-spoken manner that belies his intensity, Lewandowski isn't and might never be as well-known as Max Schumacher, who has a road near the ballpark named after him. But his fingerprints are all over the team's business.

Lewandowski was the lead negotiator in getting a new Victory Field lease last year with the city's Capital Improvement Board; he secured funding for capital projects, including a new ribbon board being installed this off-season.

He spearheaded the development and construction in 2011 of The Cove, a premium seating area just outside left field, new modern digital scoreboards and many of the team's game-night promotions, and implementation of better Wi-Fi capabilities within the 20-year-old ballpark.

He's also led the effort to diversify events at Victory Field, such as hosting "The Dan Patrick Show" and a massive beach party during the 2012 Super Bowl and bringing in high school football and college baseball.

Lewandowski said there's plenty of room to grow attendance at Indians games, too. He plans to push for increased group sales and to charge after millennials and the growing number of downtown residents.

He's been a key part of the team's recent attendance tear. Ticket sales have grown from 550,000 in 2009 to a record 663,000 in 2015. Despite a slight dip to 637,000 during a wet 2016 season, the Indians still led all Minor League Baseball teams in attendance.

The team's board members said Lewandowski also has led the effort to bring more diversity to the front office and the Indians' fan base.

Career change

Lewandowski started as an Indians intern after an unfulfilling year managing a Fort Wayne liquor store owned by his brother-in-law.

Though the Indians' seven-person, full-time staff was stretched thin and the team worked out of a makeshift front office at the decrepit Bush Stadium when he arrived, he felt right at home.

And why not? He was a star basketball and baseball player at Bishop Dwenger High School in Fort Wayne before becoming an Academic All-American pitcher and first baseman at Anderson University.

"There was no email, no voice mail and we ran all the credit cards by hand. It was all manual, hard work," he said. "I loved it."

There was another part of the job that enamored Lewandowski.

"You have to enjoy that sensation of when the lights come on," he said. "We're not playing, but when those lights come on, we have to perform. You have to do everything you can so the ballpark feels welcoming and inviting and the atmosphere is entertaining."

Big break

In 1994, Lewandowski jumped all over a proposal Max Schumacher made to the team's six interns.

The Indians were getting ready to move from Bush Stadium on 16th Street about a mile west of downtown to the new Victory Field across West Street from the Indiana Convention Center. Schumacher knew he'd need a bigger staff to run the larger ballpark. So he promised all six interns if they worked another year as a low-paid intern, he'd guarantee them a better-paying, full-time job when the new park opened in 1996.

Of those six, three—including Lewandowski—remain with the team today. Brad Morris is director of business operations and Mark Schumacher, Bruce's younger brother, is director of merchandising.

Lewandowski scaled the ranks quickly, serving as assistant ticket manager, director of operations and assistant general manager, then in 2014 becoming general manager. He took over some of the duties of Max Schumacher and longtime Indians executive Cal Burleson.

Then in November, what was once considered unthinkable happened. Max Schumacher announced that, after 60 years working full time for the team, he was scaling back, stepping down as chairman and president.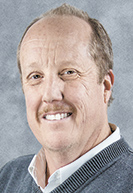 Bruce Schumacher
Lewandowski, 46, was named president and general manager. Bruce Schumacher, 57, was named chairman and CEO. Lewandowski will handle day-to-day operations while Schumacher will handle big-picture strategies for the growing franchise, which now has 45 full-time staffers.

Filling the void left by Max Schumacher won't be easy. The 84-year-old is still chairman emeritus and will remain a resource for the new leadership, but his day-to-day presence will certainly be missed.

"We're all aware of what [Max] has meant to baseball in Indianapolis," Bruce Schumacher said. "He is Mr. Baseball in this town. But Randy and I work well together and are in a good position to pick up the torch."

Burleson, who has transitioned to senior vice president of community affairs, also remains as a resource for the younger leaders.

Valuable lessons

Lewandowski doesn't go in much for heroes, calling that "a strong and overused word." But he learned some valuable lessons about hard work, integrity and honesty from his dad, Ray, who worked in the soft drink industry, and his mom, Kathy, who worked as a library clerk and crossing guard at the local elementary school before becoming an administrative assistant at Ivy Tech State College.

Legendary coach Don Brandon, who was named to the Anderson University Hall of Fame in 2010, was another important mentor.

"What I learned most in college sports was the leadership part of it, leading by example," Lewandowski said.

And while he said he isn't now and wasn't then "a rah-rah guy," he also learned to "step up and say something and to be forceful when the situation called for it."

During his senior year at Anderson, Lewandowski was co-captain of a team that made the NCAA Division III World Series and finished fifth nationally.

But the most important lessons went beyond wins and losses.

"Coach Brandon always emphasized, if it's on the schedule, you're going to play the game," Lewandowski said. "We were out there once in March, chipping ice off the tarp covering the field. I was thinking, 'What are we doing?'"

Brandon "talked about the integrity of the schedule and respect for the fans who planned to attend, bought tickets and showed up. That resonated with me," Lewandowski added. "It still does today. You give everything you have every game. You do it for the fans."

Cancer hits home

But if you press Lewandowski about his biggest heroes, he points to his children: 18-year-old Alyssa and 16-year-old Sam, both students at Guerin Catholic High School.

Alyssa's battle with leukemia 14 years ago changed his and his wife Christina's lives. He saw his daughter fight cancer with courage and grow in maturity beyond her years. Sam, too, he said, was amazing through the tough situation.

Lewandowski said he learned that "kids are more resilient than adults, that cancer sucks, [and] that modern medicine is amazing."

"A hardship like that is very difficult on your entire family," he added. "We learned that there is no right way to handle tough situations … that normal becomes a different normal and, most importantly, that Alyssa is a gift from God and is a very special daughter and teenager. Her maturity and responsibility levels are off the charts and the relationship she has with her brother is amazing."

Lewandowski also learned another unfortunate lesson: Not everyone beats cancer. In 2010, his niece died from leukemia.

"As much as I could say about the job he's done, the thing that jumps out at me about Randy is that he's just a great human being," said Milt Thompson, a local attorney, sports marketer and longtime Indians board member. "I think a lot of that has had to do with some of the unique life experiences he's faced."

Lewandowski has become heavily involved in community work, logging hours for local leukemia prevention and education organizations and causes and not-for-profits such as Play Ball Indiana, an organization aimed at helping inner-city children through baseball.

"He's very community-minded, and he's brought that to his job with the Indians," Thompson said.

Lewandowski also has learned to make time for hobbies. He plays hockey—a sport he didn't pick up until after college—in a local adult league and has coached youth baseball, basketball, football and volleyball. He's a rabid Chicago Blackhawks fan and, though he grew up a Chicago White Sox fan, he now cheers for the Pittsburgh Pirates, whom the Indians have an affiliate contract with through 2020.

Lewandowski said his job comes with an unmistakable fulfillment.

"What I like best about the job is that we're a release for people," he said. "People need that. We get to see a lot of smiles on people's faces. That's our job, to make sure people are smiling. And we work really hard at it."•