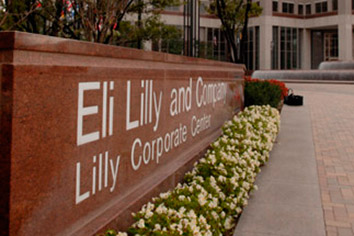 In a few days, a new type of knockoff medicine will upend a $10 billion diabetes-drug market and exacerbate a brutal price war between some of its biggest players.
Eli Lilly and Co., which first brought the life-saving hormone insulin to the masses almost a century ago, is the catalyst. It will start selling a cheaper version of the world's best-selling insulin, Sanofi's Lantus, across the United States on Dec. 15, bringing home the threat that this new generation of copycats pose to pharma giants.
The move may help Lilly, the oldest player, outflank two of its three largest rivals, reshuffling the order of dominance in the diabetes industry. Lilly's upstart insulin has already forced Sanofi to cut the price of Lantus — its No. 1 product — and pushed it off two crucial insurance lists, limiting its use.
Lilly's drug, dubbed Basaglar, is part of a wave of treatments called biosimilars. Like generics, they are usually cheaper than the biological medicines they compete against, giving insurers new power to negotiate discounts from all medicines in a class by threatening to give the knockoff favored status. Some of the industry's top sellers, such as the arthritis blockbusters Humira and Remicade, are facing biosimilar competition or will soon.
"Lilly has come back strongly, helped by the decision on having a biosimilar Lantus," says Rudi Van den Eynde, who helps oversee about $1 billion in assets at Candriam Investors Group, including shares of market leader Novo Nordisk A/S and Sanofi.
Sugar flush
One of the largest U.S. managers of prescription-drug benefits, Express Scripts Holding Co., wrested a price cut of at least 10 percent from Sanofi to keep Lantus on its formulary alongside Basaglar next year. CVS Health Corp. and UnitedHealth Group Inc.'s UnitedHealthcare unit, two other groups that control which medicines Americans can get through their insurance plans, simply dropped Lantus.
"We are very optimistic we are going to see substantial price reductions over time," Steve Miller, the chief medical officer at Express Scripts, said in a telephone interview. "If either product doesn't want to be competitive, we will make other choices."
Copying the top seller isn't the only way Lilly is disrupting the market. Having learned the lesson from the narrow focus on insulin that caused it to stumble at the turn of the century, it's also pumped out innovation — the kind that commands higher prices — for the swelling ranks of diabetics: there's a pill that can flush sugar out of the body and protect the heart as well as a once-weekly injection with a camouflaged needle intended to spur natural insulin production.
Luring patients
Though it ranked fourth in diabetes sales last year, Lilly is expected to surpass both France's Sanofi and Merck & Co. in the next two years and draw closer to Novo, according to Michael Shah, an analyst at Bloomberg Intelligence. It's also on track to record the fastest sales growth among the major diabetes companies in the next three years, according to data compiled by Bloomberg.
"We want to be the top company in diabetes, and we want to do it by bringing innovation to the market," said Enrique Conterno, who leads Lilly's diabetes unit, which launched seven drugs in the past two years. "We have the most comprehensive diabetes portfolio in the industry today."
Developed with German drugmaker  Boehringer Ingelheim GmbH, Basaglar will allow Lilly to offer its own brand of every type of diabetes drug when it's introduced in the U.S. The Indianapolis-based company plans to exploit that breadth and its decades of experience to make it simple for patients to start using the injected medication, with educational materials, an easy-to-use pen injector and digital tools to track treatment.
"We plan on competing very aggressively in physicians offices and with consumers by providing a better experience," said Mike Mason, vice president of Lilly's U.S. diabetes business.
The diversification effort hasn't paid off just yet. Lilly's third-quarter earnings missed analysts' estimates as diabetes drugs — and particularly its biggest seller, the aging insulin Humalog — lagged expectations. In an added twist, Sanofi is seeking regulatory approval to sell a biosimilar version of Humalog in Europe.
Delay injections
Basaglar went on sale in Europe, a far less lucrative market for diabetes treatments, a little more than a year ago. Lantus's revenue has dropped every quarter since. The drug garners more than 60 percent of its sales in the U.S. and its global revenue will likely plunge to 3 billion euros ($3.2 billion) by 2020, down from 6.3 billion euros in 2014, according to data compiled by Bloomberg.
Sanofi says Basaglar didn't hurt its market share much in Europe. While the Paris-based drugmaker is disappointed some insurance plans opted to no longer cover Lantus next year, it's "working with payers to provide Lantus with an affordable out-of-pocket cost to patients" and it continues to innovate with products like Toujeo, a more recent long-acting insulin that allows patients to better avert nightly drops in blood-sugar levels, the company said in an e-mail.
Diabetes remains a top priority for Merck, said Doris Li, a spokeswoman for the Kenilworth, New Jersey-based company. It is placing greater emphasis on early pipeline products, including combination therapies and novel forms of insulin, and will continue to strengthen its position through internal research efforts and strategic collaborations, she said.
Crucial Time
It's a critical time for Lilly after an experimental treatment for Alzheimer's disease failed in a final-stage study last month. The medication, known as solanezumab, was expected to generate $1.5 billion by 2020 and more thereafter. Now the company is banking on diabetes, its biggest division and one that got a boost last week when Jardiance became the first diabetes treatment allowed to claim that it helps reduce the risk of dying from heart disease.
There's no shortage of patients. By 2040, more than 640 million people worldwide are forecast to have the chronic condition, which occurs when the body doesn't properly produce enough insulin to convert blood sugar to energy. A majority suffer from a form of the disease that takes root later in life as a result of sedentary lifestyles and poor nutrition.
At first, those diabetics don't require insulin injections. To delay the need for those, Lilly has the industry's fastest growing GLP-1 medication — a class of drugs that stimulate the pancreas to produce more of the hormone. The product, Trulicity, is predicted to hit $2.5 billion in sales by 2020, according to estimates compiled by Bloomberg.
Novo, the biggest player in the $39 billion diabetes industry, is taking notice. The very price war Lilly is working to exploit with Basaglar has dented the Danish company's earnings, prompting it to slash its long-term profit growth target at the end of October.
"Lilly will definitely be our most formidable competitor" in coming years, Chief Science Officer Mads Krogsgaard Thomsen said in an interview in September, describing the U.S. drugmaker as the industry's "comeback company."
Please enable JavaScript to view this content.