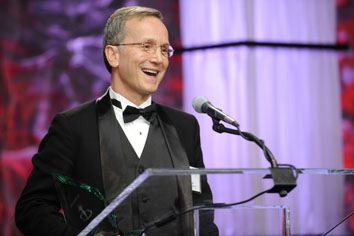 Indianapolis-based tech entrepreneur Don Brown just ended his 22-year tenure with Interactive Intelligence Group, the company he sold for $1.4 billion only a week ago, but he's already heavily involved in another venture.
Brown confirmed to IBJ this week that he's working on a new company called LifeOmic Inc.
LifeOmic, according to its website, plans to provide medical professionals and health care systems with a "secure cloud-based solution for long-term storage, analysis, and clinical use of genomic and other digital information increasingly central to patient care."
Headquartered in Indianapolis, LifeOmic also will have offices in Silicon Slopes, Utah, and Research Triangle Park, North Carolina.
The company, which quietly launched Nov. 17, already has $20 million in funding behind it and five employees, the website says.
Its flagship product, the LifeOmic Precision Medicine Portal, is a cloud-based health care service engineered to store and manage medical information, including whole genome sequences and large-scale data sets for proteomics, metabolomics and transcriptomics. The service is supposed to work easily with existing health care networks.  
The company says it is preparing to hire employees versed in bioinformatics, front-end and back-end development, cloud architecture, software quality assurance and IT product management.
Brown is one of Indiana's most prominent serial entrepreneurs, having started and sold Software Artistry two decades ago and reaching a deal in August to sell Interactive Intelligence to California-based Genesys Telecommunications Laboratories.
The Interactive deal closed Dec. 1, ending Brown's time with the company.
Brown told IBJ in September that he had several possible ventures in the works and was particularly interested in biotechnology.
Please enable JavaScript to view this content.