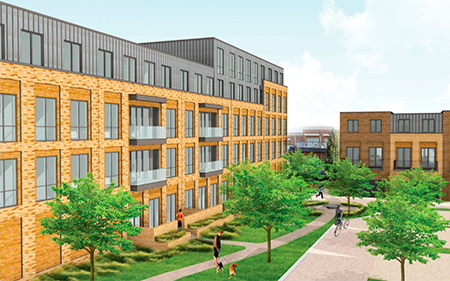 Residents of Chatham Arch will need to wait at least another month before they know whether a controversial residential development will get built in their historic downtown neighborhood.
The developer of the project, Paul Vezolles of Charlotte, North Carolina, on Wednesday appeared before the Indianapolis Historic Preservation Commission to present plans updated from the originals that he introduced last month at a preliminary review.
Vezolles wants to demolish the one-story structure at 855 N. East St. to make way for a mix of condominiums, town houses and single-family homes. Leaders of the Chatham Arch Neighborhood Association think the project is too dense for the neighborhood and would prefer a smaller development be built on the property.
IHPC members weren't satisfied that all of the changes and additions to the site plan they requested had been made, prompting them to call for a continuance.
"Given the materials that we have received, it is my opinion that we'll be having the same discussion that we did in the preliminary hearing, which is a bit tiresome," commissioner Susan Williams said.
Vezolles countered, however, that he thought he had addressed their concerns and said he was "disappointed that we fell short in addressing what you want."
IHPC now is set to consider the project's design plans on Jan. 4.
In addition, commissioners agreed to continue until next month discussion on another high-profile downtown project—a proposal to build a 15-story hotel and seven-level parking garage on a surface parking lot across from Bankers Life Fieldhouse.
New Orleans-based HRI Lodging LLC is in the process of purchasing the property from owner Greg Allen, whose attempt to sell it in 2014 to another hotel developer fell through.
HRI requested the continuance with no explanation.
Please enable JavaScript to view this content.