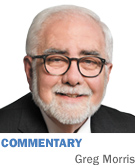 I've worked downtown for most of my 38-year career. There have been a lot of changes in that time, but one constant has been the Milano Inn. The number of business-related meals I've had there are too numerous to count.

So, when I got IBJ reporter Scott Olson's breaking-news email announcing the closing of the restaurant at the end of the year, I paused and took some time to reflect. I wondered, how could this be? I knew for a fact that business has remained strong there for many years. But as I read the article, I began to understand. The two entrepreneurial women who run it deserve a break.

Sisters Tina and Gina LaGrotte are ready to move on. Tina is newly married and about to become a grandmother. And Gina said she might pursue something involving her passion for animals and children. They've been involved with the restaurant since their father, Leo LaGrotte, bought the business in 1980. That's 36 years. And since their father's death in 2007, the LaGrotte sisters have taken the helm and have operated the business. That's a lot of hard work, seven days a week.

Mary and Joe Modaffari opened The Milano Inn in 1934 at its current location in the 200 block of South College Avenue. It had a long, successful run until the passing of Mary and Joe in the late 1970s. Family members tried to keep it going, but by 1980 things weren't looking good. That's when Leo LaGrotte, who owned local groceries and a railroad equipment salvage business, bought the property, intending to tear down the building to expand parking space.

However, loyal Milano Inn customers convinced LaGrotte the restaurant could be saved and operated successfully again with the right plan in place. A skilled chef and some tasteful remodeling were all that was needed to revive the Milano Inn tradition. Lucky for all of us who have frequented this fine establishment over the past 36 years, Leo LaGrotte took that advice.

Probably Leo's most notable move was hiring veteran chef Vickie Dragoo to bring northern Italian influences to the restaurant. Dragoo arrived with a boxful of recipes and helped LaGrotte revive the Milano Inn tradition. Dragoo died in 1997, but her legacy and recipes live on to this day.

Yes, I understand that Tina and Gina LaGrotte want to move on to what's next in their lives. But the Milano Inn will be missed as a local institution—unless someone steps in to keep it going.

The sisters say they are in negotiations to sell the property and hope it will reopen under a new owner. From the IBJ story that broke the news: "'We are working with a group that is interested in maintaining the heritage,' Tina LaGrotte said. 'If what we're thinking comes to fruition, it will be a tribute to our father.'" No other details are being shared by the LaGrotte sisters at this time.

Other than the great food, I remember that every time I dined at Milano Inn I ran into people I knew. It made going there feel a bit like a family reunion. Most of my Milano Inn experiences took place over lunch. But dinners there have been important to many prominent Indianapolis folks.

In fact, just a few months ago, IBJ Managing Editor Lesley Weidenbener penned a story with the headline, "Seven execs tell us where they take clients to dinner." Leading off was frequent IBJ contributor and Republican operative Robert Vane, who touted the virtues of the Milano Inn. Vane, a U.S. Army veteran who has worked for numerous elected Republican officials, including Indianapolis Mayor Greg Ballard, said: "The Milano Inn is vastly underrated as a business-dinner destination. It has an engaging staff, great food choices, convenient parking, and is owned by a terrific family. Quiet, yet not boring, it offers a comfortable setting for any business discussion."

But the end—at least in its current incarnation—is near. The last customers to be served will be New Year's Eve patrons. I'm hopeful that, between now and then, many locals will wish Tina and Gina LaGrotte and the entire staff a fond farewell and savor at least one more meal at this iconic eatery. And I know Milano Inn regulars will be anxiously awaiting details of whatever plans a new owner might have to continue the Milano Inn as a tribute to Leo LaGrotte's legacy.•

__________

Morris is publisher of IBJ. His column appears every other week. To comment on this column, send email to gmorris@ibj.com.