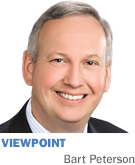 Dear Gov.-elect Holcomb:
Congratulations on your victory. My party was pretty well shellacked on Nov. 8. But as a lifelong Hoosier, and having given a good portion of my adult life to trying to make our state better, I want you to succeed!
If I may presume to offer some advice: The key to success as a governor or mayor is to have a plan. I know that sounds obvious. You spoke at endless campaign events about your plan for Indiana, but there is an enormous difference between having a set of issues you campaigned on and having a detailed plan. Most people take office without the latter. (If you already have a detailed, written plan, please read on, anyway; some of this might be interesting.)
I have been present at the start of two administrations. The first was Gov. Evan Bayh's in 1989 and the second was my own as mayor of Indianapolis in 2000. Believe me, if you don't create a clear plan with consensus among your team and specific responsibilities before you start, you might look back and wonder what the heck happened to your agenda.
Taking office without a plan is like trying to cross the Atlantic in a small boat without navigation equipment. Just head east and you'll be fine for a few days, but then the first storm will hit you. When you recover your senses, you won't know which way is up, let alone which way is east. And the storms are pretty much incessant.
Just a few of the things that happened in my time as mayor that we didn't expect: United Airlines declared bankruptcy and vacated its maintenance hub, which had 1,500 workers and $158 million in bonds funded by Indianapolis taxpayers. We had to negotiate a new deal to keep the Colts in Indianapolis. A federal judge declared the sheriff in contempt of court and mandated that we end decades of jail overcrowding right away.
The problem was not these crises. It was preventing them from wiping out the agenda that caused me to run for mayor in the first place: fighting crime, enhancing neighborhoods, reforming public education. Our detailed plan kept some of our team members focused on those big goals while others helped put out the fires.
So let me really step out on thin ice and make three suggestions about your plan:
• Be inclusive and be bold. Make your plan a vision in which all Hoosiers can see themselves—yet which is also aggressive and aspirational. Give them a reason to care that you are successful, and I guarantee they will!
• Don't slow down on improving education. Quality schools and higher educational attainment are the things that can most improve the lives of Hoosiers and attract others to move here.
• Don't forget the small stuff. The best way to reduce the number of storms that can throw you off course is to make sure government does the basics well: short BMV lines, well-maintained highways, quick responses to businesses looking to grow. If you hire and empower good people for those tasks, they will free you up to accomplish the big goals you ran on.
Almost certainly, folks in my party will disagree with parts of your plan. That's OK. Opposition is a healthy part of our political system. But the easiest elected official to thwart is one who looks lost. You obviously don't want that and our state cannot afford it.
Sincerely,
Bart Peterson•
__________
Peterson was mayor of Indianapolis from 2000 to 2008 and is now senior vice president of corporate affairs at Eli Lilly and Co.
Please enable JavaScript to view this content.