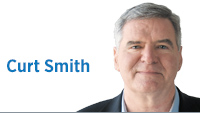 As Indiana's U.S. Sen. Dan Coats enjoys many well-deserved tributes upon his approaching year-end retirement, perhaps his most remarkable achievement has gone unmentioned. Over four decades of public service Coats groomed a team with more influence after leaving his staff than any Hoosier officeholder in recent memory.
This influence begins with Indiana Gov.-elect Eric Holcomb. Some will say Holcomb began his public service career after a stint in the Navy with former U.S. Rep. John Hostettler, R-Evansville. I'm keenly aware of this, because I'm the one who hired Holcomb while serving as the congressman's chief of staff. But Holcomb worked for Coats just prior to becoming Indiana's appointed lieutenant governor earlier this year. Moreover, Coats was deeply involved in the discussions that led to Holcomb dropping out of the U.S. Senate primary to become Gov. Mike Pence's running mate.
Since the crown jewel of state politics is the governor's office, we give Coats the higher marks here. Again, the Daniels team might say they should get credit, too, since Holcomb worked for Daniels far longer than Coats or Hostettler. But as someone with a modicum of inside knowledge, Coats is more responsible for Holcomb's elevation to governor than his previous backers.
Next we note Coats' longtime staffer Mark Souder, R-Fort Wayne, served six terms in the U.S. House before stepping down in 2010. Here again, Hostettler's alum—Indiana state Sen. Jim Banks, R-Fort Wayne—was just elected to Congress. So Hostettler, the six-term Southern Indiana former congressman, is in a close second.
But now the distance widens. Sen. Coats' alums and current staffers serve in the Indiana Senate, on the GOP State Central Committee, and various positions in public life in Indiana, including this author, who was his spokesman, campaign manager and state director before working with Hostettler.
Unlike those of Hostettler, Daniels or even former U.S. Sen. Richard Lugar, Coats' alums serve in key national positions as well. Coats' former top Senate aides now serve as the chiefs of staff to U.S. House Speaker Paul Ryan (Dave Hoppe) and U.S. Senate Majority Leader Mitch McConnell (Sharon Soderstrom).
Former staffer Ziad Ojakli is vice president of public policy for the Ford Motor Co., a position with worldwide responsibilities. Tim Goeglein, a Fort Wayne native based in Washington, is vice president of Focus on the Family. Mike Gerson, a Coats' former speechwriter, was President George W. Bush's top speechwriter and today is a Washington Post columnist, author and DC pundit.
The Coats list goes on and on. Some will say it's because of longevity, but Lugar (1977-2011) and former Vice President, U.S. Senator and U.S. Rep. Dan Quayle (1977-1993) also served long, unbroken stints in national office.
Former Gov. Robert D. Orr comes the closest, I believe, to matching the Coats "coaching tree" impact. Orr was a state senator, lieutenant governor and then a two-term governor, serving 16 years in statewide office (1973-1989).
What typically happens is a popular leader has a key aide or ally who later serves in elected office. Coats worked for Quayle; Gov. Otis Bowen and Orr were a team; Daniels worked for Lugar; former Democrat Gov. and U.S. Sen. Evan Bayh benefited as his father's namesake; U.S. Rep. Peter Visclosky, D-Merrillville, succeeded his boss, Adam Benjamin, after his untimely death.
But the Coats 'coaching tree' is different, with deeper Hoosier roots and taller branches in the nation's capitol. So, senator, my friend and mentor, thanks for serving Indiana as a talent scout, too.•
__________
Curt Smith is president of the Indiana Family Institute and author of "Deicide: Why Eliminating The Deity is Destroying America." Send comments on this column to ibjedit@ibj.com.
Please enable JavaScript to view this content.