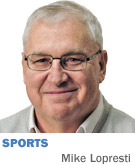 Happy birthday to you, Indiana. You turn 200 on Dec. 11—as a state, anyway. We could mark the occasion by discussing how the constitution was written beneath an elm tree in Corydon or how you had only 63,000 citizens when you became the 19th star on the flag back in 1816. But since this state's history is written with one hand on a basketball and the other holding a checkered flag, why not recall your life via sports?

So here goes.

You were only 66 in 1883, when engineers put up some lights and one of the first night baseball games in history was played in Fort Wayne.

You were 70 when Notre Dame played its first football game, losing 8-0 to Michigan, and you were 71 when Knute Rockne was born.

You were barely 77, back in 1894, when the YMCAs from Lafayette and Crawfordsville put up a couple of metal rings on the second floor of a downtown building in Crawfordsville and played a new game called basket ball. People seemed to like it.

You had not yet turned 86 in 1902 when a baseball franchise called the Indianapolis Indians was born.

You were 91 when an Indianapolis songwriter named Albert Von Tilzer helped create a song called "Take Me Out to the Ball Game." That was 1908. He would not actually go to his first major league game for 20 more years.

When you were 92, a balloon race was held at a former farm on the northwest side of Indianapolis. Two years later, they raced cars there instead, and a winner was declared after 500 miles. That was the same spring high schools got together and decided to have a state basketball championship.

You were 93 when John Wooden was born in a little dot on the map called Hall, and you were 193 when he died. In between, you savored every time the world was told he was from Indiana.

You were 107 when the Four Horsemen rode at Notre Dame, 111 when Hinkle Fieldhouse was built, 114 when Rockne died in a Kansas wheat field in a plane crash, and 123 in 1940 when Indiana University won the second NCAA tournament to ever be played.

In your 129th year, Tony Hulman saved the Indianapolis Motor Speedway. You were 132 when a Fort Wayne piston-maker named Fred Zollner brought together a bunch of professional basketball owners around his kitchen table and brokered a merger between the BAA and the NBL. Thus, the modern NBA was born. So in some ways, the road to LeBron James started in an Allen County pantry.

When you turned 136 in 1952, a golden age of basketball was at hand. Indiana would win its second NCAA championship the next spring. The year after, Bobby Plump hit a jump shot and a state championship for a tiny place called Milan. People tended to remember. And the next two years, Crispus Attucks and Oscar Robertson dominated the state. This, while the NBA Finals came to Fort Wayne with the Zollner Pistons.

By the time you turned 150 in 1966, Notre Dame and Michigan State had just played the Game of the Century in East Lansing, but nobody won. The next year, A.J. Foyt would see his third Indianapolis 500 victory, Purdue would win the Rose Bowl, and Indiana would soon go. And there would be a new professional basketball team in Indianapolis called the Indiana Pacers.

You were 152 when Purdue advanced to its first Final Four, and found UCLA and Lew Alcindor waiting there. The same month, four teams came together in the high school Final Four with a combined record of 110-1. Indianapolis Washington, with its twin towers of George McGinnis and Steve Downing, ended up champion.

The birthdays kept passing, ever quicker. So did the moments.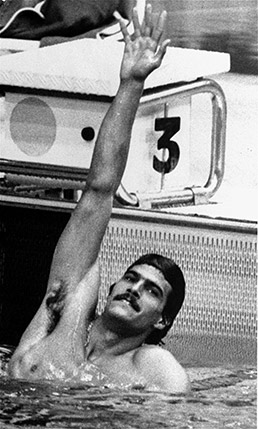 Indiana University-trained swimmer Mark Spitz won seven gold medals at the 1972 Olympic Games in Munich, West Germany. (AP Photo)
You were 155 when IU swimmer Mark Spitz had a record seven-gold-medal haul at the 1972 Munich Olympics, then had to be escorted out of town under heavy security after the terrorist attack, since he was Jewish.

You were 156 when a young and combustible coach named Bob Knight made it to his first Final Four, and 159 three years later when his 1976 team went unbeaten. At 162, you watched Larry Bird carry Indiana State to the cusp of a title before he ran out of magic, and ran into Magic. When you were 163, you saw Indianapolis host its first Final Four—which included Purdue—and at 164, you witnessed another Indiana national championship.

You woke up one 1984 morning when you were 167 to find the Colts suddenly in town. You weren't too old, even at 169, to cheer and cry when you first saw "Hoosiers," and at 170, watched Knight's last Indiana title.

You were astonished at the age of 173 when you found out more than 41,000 people had showed up in the Hoosier Dome for the state high school basketball finals. One year later, you hosted the 1991 Final Four, when Duke stunned UNLV and Mike Krzyzewski took the first of three national championships he would win in Indianapolis.

Just before you turned 180, you saw Victory Field open down the street from the Statehouse. Just after, you watched the end of one-class basketball, and you weren't too old to be ticked off about it. You still aren't.
Peyton Manning was the No. 1 NFL draft pick in 1998, on the verge of an 18-season career, 14 of those with the Indianapolis Colts. (AP Photo)
You were 181 when Peyton Manning came to Indianapolis, and 183 when the Pacers made it to the 2000 NBA Finals.

You were 188 when Danica Patrick became the first woman to lead the Indianapolis 500. Not long after your 190th birthday, the Colts won the Super Bowl, and you were 193 when Butler nearly won the national championship, right there in Lucas Oil Stadium.

You glowed at 195 when the Super Bowl came to Indianapolis, and it didn't snow, sleet or hail.

At the age of 199, here in 2016, you weren't too old to be amazed. Not when the Carmel girls set a national record with their 30th consecutive state championship. Not when an unheralded rookie named Alexander Rossi dropped out of the sky on the last laps to win the 100th Indy 500 on fumes. Not even when the Cubs won the World Series, with the help of an old Indiana Hoosier, Kyle Schwarber.

The sports scene is a little cloudy for your 200th. The Colts have had wobbly moments, and the Pacers just had someone score 60 on them. Football has had its struggles at Indiana and Purdue, though you're long used to seeing that. Indiana hasn't won a bowl game since you were 175, and Purdue is 9-39 the past four seasons. For only the third time since 1921, both will change coaches the same year.

The Old Oaken Bucket used to be a job-saver game, but you know what Lee Corso, Bill Mallory, Cam Cameron, Bill Lynch and Kevin Wilson all have in common? They all won their last Bucket game for Indiana, and were fired. Though Wilson had, uh, extenuating circumstances; IU officials are so mum on the details, not even the NSA knows why for sure.

But, hey, let's not rain on your big day. Butler, Indiana and Purdue all have had promising starts to the basketball season. Something memorable will come along. Something always does. From the Speedway, to Notre Dame Stadium, to Hinkle Fieldhouse, you can claim your share of iconic sport landmarks—and a guy from Richmond built Wrigley Field.

From Bob Knight's flying chair to Malice at the Palace to civil war at the Speedway, you've witnessed inexplicably bizarre moments. You've cheered immortal underdogs in Milan and Butler, and unquestionable giants in Robertson, Bird, Manning and Foyt. All in all, not a bad way to spend 200 years.•

__________

Lopresti is a lifelong resident of Richmond and a graduate of Ball State University. He was a columnist for USA Today and Gannett newspapers for 31 years; he covered 34 Final Fours, 30 Super Bowls, 32 World Series and 16 Olympics. His column appears weekly. He can be reached at mlopresti@ibj.com.