Far from being a one-hit wonder, Dante Alighieri did more than just write his epic "The Divine Comedy" (best known for its "Inferno" section). Among his other creations: "Convivio," a book that uses both prose and poetry to address, among other things, the desire for self-improvement. "… each thing, impelled by a force provided by its own nature, " wrote Dante, "inclines towards its own perfection."

While Convivio (11529 Spring Mill Road, Carmel, 317-564-4670), the new Italian restaurant near Market District, hasn't achieved perfection—what eatery has?— on our visit, it demonstrated an admirable drive toward quality. As authentic and credible as any establishment could aspire to be when built in the middle of a spanking-new shopping mall—and with a prime view of a massive Mormon temple across the street—it even has a bocce court under construction outside.

On a lunch visit, the appetizer Meatballs Al Sugo ($10) consisted of three small to midsize orbs covered with melted provolone cheese and served with grilled ciabatta bread. Pork-intensive, this skillet-served trio came with plenty of red sauce. "Blessed are the few who sit at the table where the bread of the angels is eaten …" wrote Dante in "Convivio." But as far as I know, he never mentioned anything about upgrading bread by dredging it through flavorful sauce.

Gourmet sandwiches are promised as a future addition to the menu but, for now, lunch is primarily salads, pastas and pizzas. With the promise of house-made pasta, we focused there.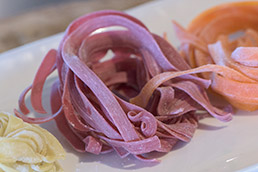 The quality of the housemade pasta is clear. (IBJ photo/Eric Learned)
The entrees are served in gigantic bowl/plates that could easily serve as the feeding dish for a Great Dane. Yet the serving size is surprisingly—and refreshingly—sane. Instead of serving enough pasta to sustain an entire village for a week, this establishment is confident enough to serve a fair but not ridiculous lunchtime repast.

The Rigatoni Funghi Salsiccia ($15.95) offered handmade tubes of starchy goodness far more substantial than the ready-made stuff that's boiled back into edibility at most places. The sausage, mushrooms and white sauce combined to make a creamy yet slightly spicy entree. On the other hand, the menu describes Tagliatelle al Convivio ($14.95) as "Red bell pepper Tagliatelle tossed in a zesty red bell pepper cream sauce, chicken, and topped with fresh Parmiggiano Reggiano," but the sauce offered no outstanding flavors. Pleasant, but nothing revelatory, it included no hint of "zesty." The pasta, on the other hand, was fantastically firm and fresh.

We would be remiss if we left without trying a pizza, and we're glad we did. The Pazza ($13), like other pizza offerings, was based on a crust as thin as a weekday edition of an average daily newspaper. Intensely cheesy, it included small chunks of sausage to accent rather than control. You might be disappointed if you see sauce as a mandatory part of the pizza experience, but those open to variety should be pleased.

When it comes to dessert, too often tiramisu seems like it's been soaking in a vat of rum, or as if it were made in vast quantities and refrigerated until someone orders it. Not at Convivio. Here, Tiramisu ($7.95) was wonderfully creamy with just enough rum and coffee to give it a traditional flavor. It did not have the texture variations some tiramisu has, but I didn't miss it. The Seasonal Crostata ($7.95) was an attractively presented but rather humble tart with blueberries.

Our check was delivered in a copy of Dante's "Convivio." In Italian. A simpatico touch.•

—Lou Harry