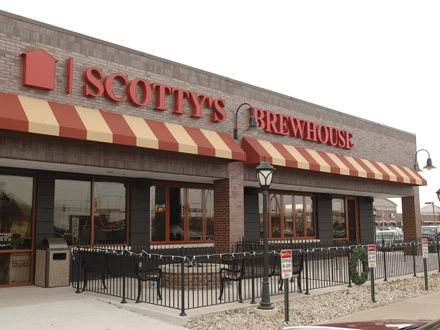 A Scottsdale, Arizona-based company announced Friday that it has closed on its acquisition of Indianapolis-based restaurant chain Scotty's Brewhouse.
Due North Holdings LLC said it made the acquisition through a subsidiary. Financial terms were not disclosed.
IBJ reported Oct. 10 that Scotty's founder Scott Wise was in negotiations to sell his chain for about $20 million to Pacific Restaurant Partners, a subsidiary of Due North.
The acquisition includes 15 Scotty's Brewhouse eateries and two Thr3e Wise Men Brewing Co. brewpubs. Fifteen of the restaurants are in Indiana, and the other two are in Champaign, Illinois, and Punta Gorda, Florida.
Wise opened his first restaurant in Muncie at the age of 22 in 1996, with financial backing from his father, after graduating from Ball State University. He opened the first Thr3e Wise Men, in Broad Ripple, in 2010, and added a location in Muncie last year.
Due North said it plans to grow the Scotty's brand nationally, starting with expansion in the Midwest while debuting the concept in Arizona and in other markets in the Southwestern United States within a year.
"Scott Wise will remain actively involved in the concept as the company grows the restaurant's footprint nationally to new markets," Due North said in a written statement.  
According to documents IBJ obtained about the deal in October, Wise is expected to remain with the new owner for at least five years and would be paid $350,000 annually. He also would receive a 5 percent stake in the venture and have the opportunity to boost his stake if it hits certain performance targets, the documents showed.
"This has been a 20-year dream in the making," Wise said in a written statement. "Due North Holdings shares our values here at Scotty's, and that was a big part of the decision for us. I wanted to know my vision and my team would stay in place as we continued our growth, and Due North Holdings is giving us this exact opportunity."
Scottsdale, Arizona-based franchise developer ZGrowth Capital Fund was also involved in the deal and will help Due North with the expansion plans, the company said.
Due North Holdings was started by Kevin Blackwell, the founder and former CEO of Kahala Corp., the parent a dozen franchise restaurant brands and more 3,000 locations in 26 countries, including Frullati Cafe & Bakery, Great Steak, Cold Stone Creamery and Blimpie.
Blackwell sold his interest in Kahala in 2013. He founded Due North with the goal of having 1,000 restaurant locations by the end of 2020. Scotty's appears to be the first step toward fulfilling that goal.
"The Scotty's Brewhouse culture is truly one of a kind," said Blackwell in a written statement. "The brand has been built on Scott's passion for food, family, sports and community, and it resonates with families everywhere. Every community needs a 'Scotty's' in the neighborhood, and we look forward to working with Scott and his team to make that happen."
Please enable JavaScript to view this content.