Two years ago, Beef & Boards scored an unexpected (for me, at least) season highlight with "Smoke
on the Mountain," a surface-simple collection of old-time gospel tunes, backwoods testifying and
affectionate family comedy.
Last year, it scored a not-unexpected season highlight by bringing back the exact
same cast for "Smoke on the Mountain: Homecoming," which actually was
the third in the "Smoke" series.
Why skip the second? Because, the slot open in the schedule was mid-summer. And
the second show is "Sanders Family Christmas."
This summer, having run out of other smoking options, B&B opted to throw seasonal sensibilities to the wind and
revisit the Sanders family with its holiday show.
"Christmas," it turns out, isn't quite the show the others are. The tunes aren't
as memorably rendered. Uncle Stanley (Jayson Elliott), the outsider of the first play, seems neutered
by the writers this time out. And, overall, there's less urgency to the already thin plotting—odd,
considering the potential gravitas of the World War II time period. The war is acknowledged—and seeing Mom Sanders (Lynne
Perkins) wordlessly watch her enlisted son preach is one of the show's most moving moments—but it takes a backseat,
especially in the second act, to lighthearted singing and clowning.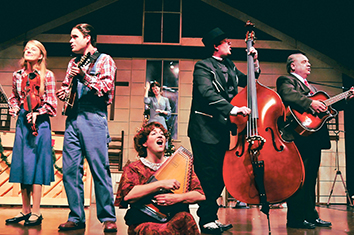 Old home month: Most of the playing-their-own-instruments cast of Beef & Boards' current
show, "A Sanders Family Christmas," played the same roles in its two previous "Smoke
on the Mountain" musicals. (Photo Courtesy Beef & Boards)
The previous shows' cast hasn't all made it back. Laura Goins as star-struck sister Denise
joins Perkins as the newcomers, and, while both are fine, there is some adjustment time needed for those
of us who saw and loved the previous productions. Kind of like getting used to the "new"
Becky on "Roseanne" or, to an earlier generation, dealing with the "Bewitched" Darren
switcheroo.
They, and the rest of the cast, still gamely play their own instruments. Bob Payne once again grounds
the show, in a good way, as father Burl, although his monologue feels incomplete this time. Andrew Ross gets better and better
each year as the awkwardly strong son Dennis. And, at the risk of repeating what I've said in previous years, Sarah
Hund and John Vessels as talent-free sister June and her smitten beau, Rev. Mervin Oglethorpe, are magical. Their play-ending
scene—beautiful, funny and true—is theater to be cherished. They help to prove that even a lesser Sanders-family
production is better than just about anything else out there.
__________
 If I wanted to be as snarkily obnoxious as the sometimes narrator of Nicholas Wardigo's "The
Dos and Don'ts of Time Travel," I might dismiss the Phoenix Theatre's production of
the play with one simple word. Don't.
A grad student allegedly—but never believably—writing a paper on the topic of time-travel
movies, Rachel is a character whose ideas don't get much more academic than "It sucks."
Yet Wardigo's ideas don't get much deeper, either.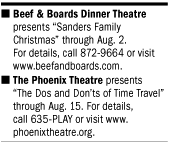 In the barely more than 80-minute piece, Rachel (played with uphill-battle charm by Sara Riemen) has
got a pal, Zoey (Kelli Johnson and Sarah M. Grant—yes, both of them), who, coincidentally, discovers she can travel
through time. A kind of bookend to "Octopus," the previous Phoenix offering, "Dos and Don'ts"
also concerns a homosexual couple wrestling with issues of commitment. Both plays take supernatural turns. Both ultimately
peel away their theatrical devices in an effort to hit core, human truths. In both cases, the heart is in the right place.
While I wasn't enthusiastic about the former play, it's integration of solid design, lighting and special
effects upgraded a wandering script and inconsistent performances. In "Dos and Don'ts," the most compelling
element is Zach Rosing's circular videography, offering a constant distraction from dialogue that rarely rings true
and obfuscation standing in for the enigmatic. The result, on a well-attended Thursday night, felt like a stretched Fringe
Fest entry.
Frankly, I had a much more thought-provoking time watching most of the movies Rachel trashes. "Time
After Time" anyone?•
 __________
Visit ibj.com/arts for additional reviews, previews and arts discussion. Twitter: IBJarts
Please enable JavaScript to view this content.