I love sushi. I admit it. I love the raw fish, the cooked fish, the veggie rolls. I love the seaweed, the sticky rice,
the fiery wasabi. Heck, I even like the pickled ginger. So when we chose our review theme for August—The "I"s
Have It—well, I jumped at the chance to try I Love Sushi (8603 E. 116th St., Fishers).
Now, I know that
not everyone loves sushi—especially in Indiana, where fresh fish seems like it should be an oxymoron. (Thankfully, it
isn't.) As a result, one of the things I look for when adding a new restaurant to my sushi rotation is the non-sushi
menu. I prefer places where I can get my raw fish fix without having to scare up another aficionado. I found that at this
no-frills eatery in old-town Fishers.
We started with the Tempura appetizer ($6.95), which featured three pieces
of shrimp and vegetables deep-fried in a deceptively light batter. The breading provided the perfect crunch, adding some texture
to the sliced potato and Japanese lettuce but avoiding the extremes we've experienced elsewhere—nothing dry or
greasy about this version. The almost broth-like dipping sauce worked well with the dish. Although we shared the starter,
one person easily could have paired this scaled-down portion of the $14.95 dinner with soup and/or salad to make it a meal.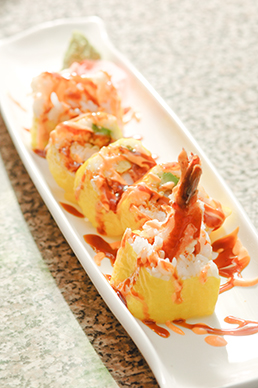 The Wave Roll, an I Love Sushi highlight, features shrimp tempura, tuna and avocado wrapped in soy paper. (IBJ Photo/Robin
Jerstad)
Shrimp not your thing? Chicken and scallop tempura also are available.
As far as entrees
go, the non-sushi menu was pretty standard: assorted teriyakis (beef, chicken, salmon and mixed seafood), neigimayakis, katsus
and the aforementioned tempura. We tried the Chicken Katsu ($11.95), a pair of panko-breaded chicken breasts pounded thin
and deep fried. Served with soup, salad and rice, the chicken was drizzled with a sauce reminiscent of A-1. That wasn't
a bad thing, but we'd have preferred to have the sauce on the side to keep the breading from getting soggy. Next time.
The salad—another notable sushi bar variable—was solid but nothing special. I Love Sushi eschews the
mayonnaise other restaurants use to creamify their ubiquitous ginger dressing, opting for a more vinegar-based concoction.
But there was plenty of it, which is always a plus in my book.
Sushi-wise, we ordered an assortment in hopes
of discovering something to distinguish this restaurant from its competitors. Everyone has a California Roll and Spicy Tuna,
right? We tried the Yellow Tail Sashimi ($4.95 for two pieces of darn good raw fish), the Indy Roll ($5.50), the New York
Roll ($6.95) and the Wave Roll ($7.95).
Our favorite was the Wave, which wrapped cooked shrimp tempura, raw tuna
and avocado inside soy paper and adorned it with spicy mayo and eel sauce. The flavors all but exploded in our mouths. The
Indy Roll—spicy crab, avocado, daikon, cucumber, smelt egg and lettuce inside the standard seaweed-and-rice wrapping—was
another winner, although the shredded lettuce seemed an odd ingredient.
The New York was less successful, in
part because the cooked shrimp that topped the crabmeat-avocado-cucumber-stuffed roll was a tad dry and rubbery. We chalked
it up to our late arrival, but we'll probably try something else on our next visit.
After all, when you
leave a sushi restaurant loving sushi even more than you did going in, there has to be a next time.•

__________
First in our month-long series of reviews of restaurants that start with the letter I.
Please enable JavaScript to view this content.