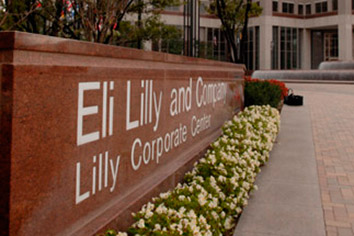 Eli Lilly and Co. is cutting its profit guidance for full-year 2016, saying that special charges associated with the failure of an Alzheimer's drug and an agreement with competitor AstraZeneca to develop another drug will take a bite out of earnings.
The Indianapolis drugmaker said Thursday that it expects to post earnings per share for the year of $2.57 to $2.67. That's lower than the guidance it issued in October of earnings per share of $2.66 to $2.76.
Lilly said it still expects revenue this year of $20.8 billion to $21.2 billion. The company also said it expects 2017 revenue of $21.8 billion to $22.3 billion, representing mid-single-digit-percentage growth, driven by volume increases from recently launched products, including the diabetes treatments Trulicity and Jardiance, the psoriasis treatment Taltz and the gastric cancer medication Cyramza. The company projected earnings per share next year of $3.51 to $3.61.
In addition, the company comfirmed plans to launch at least 20 new products in 10 years from 2014 to 2023, several of which could address needs of large patient populations. To date, the company has launched seven of these products, and one is under regulatory review.
The news is Lilly's attempt to shore up investor support after its devastating announcement last month that its experimental drug for Alzheimer's disease, called solanezumab, had failed in late stage clinical trials. Lilly has taken a $150 million charge in connection with the failure, and also announced plans to lay off several hundred people in its U.S. sales force.
The company said the reduced profit guidance stemmed from that setback as well as from a deal announced this month to team with London-based AstraZeneca on an Alzheimer's drug that's now in first-stage human trials. Under that partnership, Lilly agreed to make an upfront $30 million payment.
"As we move past the negative solanezumab data read-out, Lilly's innovation-based strategy is generating strong momentum in multiple therapeutic areas," Dave Ricks, president of Lilly Bio-Medicines and Lilly's incoming president and CEO, said in a written statement.
The  announcement calmed investors' jitters. In premarket trading Thursday morning, Lilly shares spiked $2.04, or 3 percent, reaching $69.71.
"Because of our confidence in future growth prospects, we are reaffirming our financial commitments through the remainder of the decade," said Derica Rice, Lilly's vice president of global services and chief financial officer.
Please enable JavaScript to view this content.