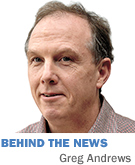 So much for a unified front.

The owner of Fishers-based Mainscape Inc., one of the nation's largest landscaping companies, has agreed to plead guilty to participating in a $16 million overbilling scheme that federal prosecutors allege was carried out by top executives of the state's largest nursing home company, American Senior Communities.

The move by Mainscape founder Dave Mazanowski, disclosed in a federal court filing, is potentially problematic for the four other executives charged this fall—former ASC CEO James Burkhart, former ASC Chief Operating Officer Dan Benson, Burkhart's brother Joshua and Burkhart's friend Steven Ganote.

None of them has admitted wrongdoing. All are set for trial next June—now with the specter of Mazanowski's serving as a witness for the prosecution.

Notably, Mazanowski's change-of-plea hearing and sentencing have been put off until November 2017—a timetable that might allow him to translate his cooperative spirit into leniency. The one felony count of conspiracy to commit mail, wire and health care fraud carries a maximum sentence of 20 years in prison.

Mazanowski's attorney, Jim Voyles of Voyles Zahn & Paul, declined to comment. Assistant U.S. Attorney Cindy Cho and Larry Mackey, a Barnes & Thornburg partner representing James Burkhart, also declined to comment.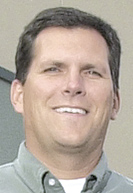 Mainscape founder Dave
Mazanowski, shown here
in 2002, is the only
defendant not fighting
the charges.
The U.S. Attorney's Office in Indianapolis filed its case against Mazanowski on Oct. 12, hours after a judge unsealed a 32-count indictment alleging James Burkhart, Joshua Burkhart, Benson and Ganote used shell companies and inflated invoices to fraudulently enrich themselves from 2009 through the fall of 2015.

The victims of the fraud were ASC, which is owned by the Jackson family of Indianapolis; the Health & Hospital Corporation of Marion County, which hired ASC to operate its nearly 70 nursing homes; and federal health care programs, the indictment alleges.

One of the most-detailed examples in the indictment involved Mainscape, which Mazanowski started as a Ball State University student in 1980 as a way to employ Christian students who otherwise would go home for the summer. It grew steadily over the years and now ranks No. 18 on Landscape Management magazine's list of largest companies in the industry, with more than $71 million in annual revenue.

According to the indictment, at James Burkhart's direction, Mainscape from 2009 to 2014 inflated landscaping invoices 5 percent and sent them to ASC for payment.

ASC then used Health & Hospital funds to pay the inflated amounts. In turn, Mainscape paid the 5 percent overcharges to Joshua Burkhart's shell company Circle Consulting LLC. Investigators allege Joshua Burkhart received about $400,000 in concealed Mainscape overcharges.

According to the indictment, James Burkhart and Mainscape upped the ante in January 2015, increasing the overcharges an additional 45 percent. From that point until the scheme ended last fall, James Burkhart and Mainscape kept the overcharges for themselves, splitting them 50-50, with each receiving about $195,000, the indictment alleges.

Furthermore, according to the indictment, Mainscape, at James Burkhart's direction, submitted false invoices to ASC for "consulting" services that had not been performed. The payments were actually reimbursements to Mainscape's Mazanowski for James Burkhart's use of his plane, to reimburse him for a golf trip Burkhart had asked him to pay for, and to reimburse him for political contributions Burkhart had directed him to make.

In total, according to the indictment, $1.5 million in Health & Hospital funds were used to pay Mainscape for fictitious consulting services.

Mainscape wrote in a letter to customers in late October that Mazanowski voluntarily stepped down as CEO after being charged. The letter, from President Mark Forsythe, said the transactions at issue "were overseen personally by Mr. Mazanowski" and "no allegations of wrongdoing or misconduct" were leveled at anyone else in the company.

"We want to assure you that Mainscape's great service to our customers has not been impacted in any way," Forsythe wrote.

"Our team of over 1,000 dedicated employees continues to provide the outstanding, trustworthy, reliable service our customers expect from us."•