The small cardiology practice in Anderson was in an uproar in the fall of 2010, and that meant big problems for its owner, St. Vincent Health.

One of the clinic's senior cardiologists was dying of cancer. Several other doctors had resigned or transferred to other locations. The office, with just four physicians, was stretched to the limit.

In addition, two female staffers had complained that one of the physicians, Dr. Christopher Hollon, had yelled at them several times and called them "bitches." St. Vincent, alarmed by the unprofessional behavior, put Hollon on zero-tolerance status for any repeated outbursts, and wound up flying a behavioral coach from Florida for six months to help him work on his conduct.

Meanwhile, Hollon was telling his supervisors he was concerned that other doctors in the office were overcoding for medical procedures—a situation that could lead to overbilling of government and private insurers.

Top officials at St. Vincent knew they had to do something.
"The situation, in my opinion, is toxic at all levels and irreconcilable," Brad McNabb, chief operating officer of St. Vincent Medical Group, the physician practice unit of the huge Indianapolis-based hospital system, wrote to himself in an undated memo obtained by IBJ.

The dispute had broken out during an unprecedented wave of acquisitions of physician practices in central Indiana—a buyout spree that included St. Vincent's purchase of Indianapolis-based The Care Group, the largest independent physician practice in central Indiana, which included the Anderson office.

But in that office, things were starting to spin out of control. Over the next few years, three people would lose their jobs, including two office managers and a cardiologist.

The cardiologist, Dr. Rod Sawyer, was fired after hospital officials accused him of overcoding and violating medical standards. Sawyer said the grounds for firing were untrue and unfair, and he fought them in court for more than four years. He sued St. Vincent for breach of contract, saying the hospital system terminated his 10-year employment contract without just grounds just one year after buying the practice.

Sawyer denied, in an interview and trial testimony, that he ever intentionally overcoded medical procedures or presented false claims. He said his coding practices were on par with those of many other cardiologists who were not subject to discipline. His lawyers say St. Vincent Medical Group lacked a written coding compliance plan.

In the end, a jury would award Sawyer a hefty judgment: $1.2 million against St. Vincent for breach of contract, and another $475,000 against the St. Vincent Heart Center in Carmel for lost income caused by his termination. That would allow him to declare victory.

St. Vincent, too, would declare a victory of sorts. In a statement, the health system said it was "satisfied" with the jury's verdict and does not plan to appeal.

"St. Vincent and St. Vincent Medical Group strive to provide all associates with a positive and ethical work environment focused on healing the communities we serve," the statement said. "Whenever there is a complaint, the issue is taken seriously and an investigation occurs."

St. Vincent added that it looked into workplace complaints filed by the two women, but was unable to corroborate their claims. It also said it voluntarily brought the issue of overcoding to federal authorities and agreed to repay more than $100,000 in a statement admitting "false and fraudulent claims."

The trial, which wrapped up earlier this year, lasted two weeks and resulted in a transcript of more than 2,000 pages. IBJ reviewed the entire transcript and interviewed many of those directly involved in the dispute—providing a revealing window into the inner workers of a physician practice group adapting to ownership by a hospital system.

Untangling the turmoil

One of the most revealing documents was the memo McNabb wrote to himself. The memo spelled out the dire situation in the Anderson office, and how McNabb thought he would deal with it.

The five-page, single-spaced note spelled out various options, including:

■ Terminate Hollon, who was already on "zero tolerance status" for his outbursts and other disruptive behavior—both in Anderson, and previously at a sister office in Kokomo.

■ Or, instead, terminate Sawyer, who is described as scoring poorly in an internal audit for coding—the process used to determine bills for medical procedures.

■ Use an upcoming reorganization to terminate the two female office workers who had complained about Hollon's abusive behavior. "Because I believe there is a significant risk of a claim of a hostile work environment, I believe this would be the lowest risk scenario for separating either or both from SVMG," McNabb wrote.

But any of the moves carried risks. For example, McNabb wrote that he feared that, if he fired Hollon, the cardiologist might go to authorities with possible evidence of coding fraud against Sawyer and the network.

"A major concern in this initiative is the exposure … to accusations of 'fraud' by Dr. Sawyer from Dr. Hollon," he wrote. "I feel that termination of Dr. Hollon could result in Dr. Hollon passing along his concerns to appropriate authorities."

It was an unusually fraught moment for St. Vincent, Indiana's second-largest hospital system. The organization was in the early years of forming its medical group—a physician network set up to provide more coordinated care to patients and to get a stronger negotiating hand with health insurers. The network would eventually span more than a dozen specialties, from pediatrics to urology.

Forming a cardiology unit was a priority for St. Vincent, and something other hospital systems already were doing aggressively. Two years earlier, in 2008, rival Community Health Network began buying out and employing cardiologists practicing at its Indiana Heart Hospital, a move that would lead to an operation called Community Heart & Vascular.

A year later, St. Francis Health acquired Indiana Heart Physicians, a cardiology practice on the south side of Indianapolis.

Around the same time, the state's largest hospital system, Indiana University Health (then called Clarian Health) launched a joint venture with the Indiana University School of Medicine and started another program called Clarian Quality Partners, which aimed to recruit physicians to work under employment contracts.

St. Vincent, in response, began shopping around and found what it considered the ideal partner. It decided in July 2010 to acquire The Care Group, one of the largest cardiology physician groups in the nation, with 139 cardiologists and primary care physicians.

Under pressure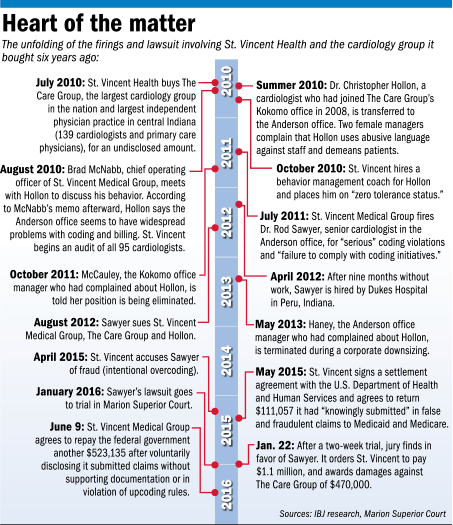 The St. Vincent/Care Group deal came together at a time cardiologists were feeling increased financial pressure. In 2010, the Medicare program ordered a 13 percent cut to cardiologists' reimbursement, making it harder for them to remain independent. The Care Group was the fourth Indianapolis-area cardiology practice in a two-year span to sell out to a hospital.

"The cuts in reimbursement were pretty drastic over time," said David Charles, a partner at the Indianapolis accounting firm Katz Sapper & Miller's health care practice group. "Cardiologists were looking for a way to deal with it, and one way was to sell to a hospital group and become employees."

At the time, buying the large cardiology group was heralded as a decisive move for St. Vincent—a way to fill operating rooms with high-dollar heart procedures, if it could integrate the sprawling offices quickly and smoothly.

But the move would require it to take steps to standardize practices, from coding and electronic record-keeping to hiring and firing practices.

"The whole profession has gone through tremendous transitions, and one of the things a hospital has to do is standardize as much as they possibly can, across all its locations and practices," said Ed Abel, director of the health care practice at Indianapolis-based Blue & Co., an accounting and consulting firm. "Sometimes it's smooth, and sometimes it's not."

In the Anderson office in 2010, things were in an uproar. Market share had been in "constant decline" for years, McNabb wrote in his memo. Recruiting new physicians was a challenge, he added, possibly due to a lack of cooperation from local cardiologists, including some in the Anderson office.

And now, in the summer of 2010, the tension was building, and St. Vincent officials needed to take action.

Seeking solutions

McNabb had reviewed the facts and what he saw as his options in his memo, which he entitled "Confidential Peer Review Document re Anderson Office."

At one meeting, on March 31, 2011, McNabb asked the two female office managers who had accused Hollon of abusive language to smooth the waters.

"We asked that both of them take an active role in the reconciliation process and help us get to an office environment that would be professional and conducive to the culture that SVMG desires," he wrote.

Yet the results were slow in coming. A month later, at another meeting, McNabb noted that he had to reiterate "our urgent need to repair the office environment." Two hours into the meeting, on April 27, 2011, one of the female managers, Stacey McCauley, said she and another worker, Jill Haney, had put up with abuse from Hollon at the office and a nearby hospital.

"These comments [by Dr. Hollon] included accusations of incompetence, 'worthlessness,' 'will have them fired,'" McNabb wrote. "The term 'bitch' was quoted as well. Both Jill and Stacey claimed to have multiple sources in both the office and hospital that were sharing these comments with them."

Hollon denied saying those things, McNabb wrote. Neither McNabb nor Hollon responded to questions about those events, after IBJ put questions in writing to St. Vincent officials.

A hospital spokesman, Ryan Moore, said McNabb's memo was not meant for public consumption and should not be taken out of context. He declined to offer additional background or take other steps to provide the context.

"It was just an internal memo," Moore said. "I don't know that we have the date. It was Brad capturing his thoughts."

The hospital's lawyer, David B. Honig, an attorney with the Indianapolis law firm of Hall Render Killian Heath & Lyman, tried several times to keep the memo out of the trial record, claiming it was a privileged "peer review" document.

But the judge, David Dreyer of Marion Superior Court, overruled his objection and placed the memo into evidence.

Unexpected ouster

Sawyer had just finished a busy Friday morning at his Anderson cardiology office, running tests on patients with chest pains, shortness of breath and other heart ailments.

It was July 22, 2011. Sawyer was the senior cardiologist in the office since his longtime colleague and friend, Dr. Fred Spottsville, had died seven months earlier, losing a two-year battle to cancer.

Sawyer said he had spent countless hours picking up Spottsville's patients in his final months and afterward.

St. Vincent officials, however, were not convinced he was devoting enough hours to patient care. In trial testimony, officials said Sawyer often was booking two patients every 15 minutes, and patients were bouncing in and out of exam rooms like popcorn.

Sawyer, for his part, said he worked more than 50 hours a week at the clinic and nearby St. John's Health Center in Anderson, along with ordering tests and studying results.

Lunchtime was approaching, but Sawyer had another appointment. McNabb had asked him to come to the Indianapolis office to discuss something.

McNabb was about to drop a bomb. Months after writing his internal memo, he had decided to terminate Sawyer. He had studied the results of the several coding audits, and determined the doctor's work was subpar.

In his office, McNabb handed Sawyer a two-page letter, terminating employment, based on his "continued failure to comply with SVMG's policies, guidelines and expectations around appropriate coding services and medical record documentation, despite SVMG's efforts to help you improve."

"Further," the letter continued, "as we have also discussed on several occasions, your office management style and unprofessional behavior has contributed to a dysfunctional work environment."

Sawyer was aghast. As far as he could remember, he had never been warned of any unprofessional behavior, or that his coding practices were sufficiently deficient to threaten his employment.

He recalled only having a "brief, casual hallway conversation" with McNabb about coding. A month after that conversation, in March 2011, a St. Vincent Medical Group coding professional sat down with him for about a half-hour to walk through general coding training, according to his lawsuit. No one followed up afterward, he said.

'Bomb went off'

Later, Sawyer was told that, according to a 2010 audit, where the St. Vincent compliance department pulled codes submitted by each of its 92 cardiologists, Sawyer's numbers seemed high. He had overcoded eight procedures, undercoded one procedure, and correctly coded only one. "Medical decision making not high," the reviewer wrote.

According to a spreadsheet of the audit, Sawyer had one of the lowest scores for appropriate coding. Still, more than half of the cardiologists submitted codes that were too high, a situation that could have patients and insurers overpaying.

"Yes, there was overcoding with The Care Group," Sawyer told IBJ. "Do I think that happens in a lot of practices? I think it does. You have overcoding. You have under-coding. You have it right where you should be."

In lengthy trial testimony, however, McNabb said he became alarmed when he saw Sawyer's numbers.

"We had a report back from our compliance folks that went back and looked at his coding patterns back to 2006 and we had an alarming elevation of level 4 and 5 visits, which is the highest level … escalating in 2008, 2009, 2010."

He said he thought the overcoding was deliberate, amounting to theft, and he had to stop it. He said a "bomb went off" in his face in the spring of 2011, as he studied the results.

McNabb acknowledged that he could not point to any specific coding guideline or policy that Sawyer violated. "I think it was the combination of his coding—overcoding of 4's and 5's in combination with the office schedule," McNabb testified. "That was the concern."

But an expert witness called by Sawyer disputed that any bombs were going off. Patrice Morin-Spatz, a certified medical coder for almost 30 years who had provided expert testimony over the decades to the FBI, private attorneys and insurance companies, testified that the auditors improperly evaluated Sawyer's coding.

"Based on the underlying documents I received, I disagree with the auditors' conclusions that Dr. Sawyer's coding was deficient," she wrote in an affidavit. "I have instead concluded that Dr. Sawyer's coding choices were often correct, and that his coding judgment was, in most ways, better than the auditors at SVMG."

She added that the auditors failed to adopt a clear scoring methodology and failed to correctly apply scoring criteria to all doctors.

McNabb asked Sawyer to clean out his office that weekend. A new cardiologist, whom Sawyer had helped recruit, was starting on Monday.

More fallout

In October 2011, Stacey McCauley, who was a manager at the Kokomo office, where Hollon initially worked as a St. Vincent employee, was told her position was being eliminated. In an interview, McCauley, who had complained about Hollon's outbursts, said she signed a severance agreement and could not speak publicly about her termination. She now works at Community Health Network.

In May 2013, Jill Haney, who was a manager at the Anderson office, was let go during a corporate downsizing. She, too, signed a severance agreement. She could not be reached for comment.

Hollon kept his job, and now works at St. Vincent Medical Group in Indianapolis. In lengthy depositions and trial testimony, McNabb acknowledged that Hollon had behavioral problems but was working with the system to improve.

As part of the case, St. Vincent went to the federal government in 2015 with a startling admission. It said it had submitted "false and fraudulent" claims to the U.S. Department of Health and Human Services from July 2010 to July 2011 for medical services provided by Sawyer.

It agreed to repay $111,000 after voluntarily disclosing the problems to the Office of Inspector General.

But it's unclear what evidence was submitted to support the disclosures of false and fraudulent claims. Neither the federal government nor St. Vincent would provide supporting information.

Sawyer's lawyer, Kevin Betz, said the hospital waited more than three years after firing his client to approach the federal government with information about possible overcoding, and he called it a "CYA" tactic to protect itself.

"That's the most ludicrous part of this whole case," Betz told the jury in closing arguments. "That they throw up a settlement between the federal government and SVMG. … It's sort of too late if you run to Mama after three years and say, 'Mama, I stole cookies from the cookie jar.'"

Under cross-examination, McNabb acknowledged that St. Vincent did not give Sawyer 60 days' notice to repair any shortcomings, as required under his contract.

"I don't believe we gave him any written notice, no," he said.

Jury's verdict

After a two-week trial, the case went to the jury. The jury's job, according to the judge's instructions, was to determine if either side breached the contract.

In the end, the jury ordered St. Vincent Medical Group and the St. Vincent Heart Center in Carmel to pay Sawyer $1.675 million. That would allow him to declare victory.

St. Vincent said it remains convinced it took the proper steps to investigate what it saw as a problem and fix it. It said it was satisfied with the jury's verdict and does not plan to appeal.

"However, we believe the jury awarded Dr. Sawyer some back salary, after subtracting his overbilling, because they felt that it would be fair to give him more progressive discipline prior to termination, even if it was not required in his contract," St. Vincent said in a statement to IBJ.

Sawyer, who was unable to find another job for nine months, now practices at Dukes Hospital in Peru, more than an hour from his home in Fishers. He is the only cardiologist at the small hospital, making about $600,000 a year.

He said that, despite winning a jury award, he is angry that his career was pulled off course. He said he never had any previous discipline or malpractice awards, and has enjoyed high patient satisfaction and physician referring scores.

"This has been four years of intricate, legal wrangling to try to clear my name," Sawyer said. "I just want a clear record."•