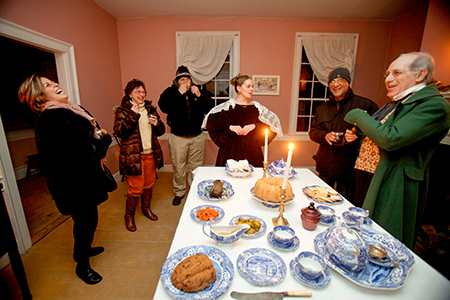 Younger and smaller versions of governing boards for not-for-profits are becoming a strong force at Indianapolis-area not-for-profits, despite having no voting power.
Young professional boards, usually consisting of members ages 21 to 40, vary in size and responsibilities, but the groups are seen as a way to engage millennials—an age group not-for-profit leaders believe they need to attract to stay relevant. The groups also groom future board members and act as a focus group for new ideas.
"What we looked at was kind of long term, bringing some diversity to our donor base and our volunteer base," Goodwill Industries of Central Indiana Inc. President and CEO Kent Kramer said about the Young Leaders group Goodwill established three years ago. "At first I was not sure how this might work, but it's been a real blessing to Goodwill to have the Young Leaders."
Kramer
The trend appears to have started locally around 2006, when the Indianapolis Symphony Orchestra and the Eiteljorg Museum of American Indians and Western Art both created young professional groups.
And the idea continues to spread. The Indiana Region of the American Red Cross just launched its Young Professionals Board earlier this year.
The members serving on these junior boards work for a wide range of Indianapolis businesses, including law firms, banks, startups, breweries and hospitals. Companies as large as Eli Lilly and Co., Anthem Inc. and Angie's List also have representatives in the groups.
Some of the advisory boards host social events, offer discounted tickets to members and organize fundraisers. Others are more hands-on and put a priority on volunteering and being directly involved in the organization's mission.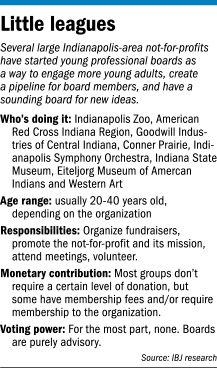 Looking to the future
The Young Leaders group with Goodwill, for example, is involved in fundraising efforts but also dedicates volunteer hours to resume screening, mock interviews and clothing drives. No monetary contribution is required for the 25-member group.
Forte, the young professionals group for the ISO, is geared more toward creating social and networking opportunities for members while promoting work from the ISO. Members pay an annual fee of $50 and receive perks, including half-off tickets for Happy Hour at the Symphony.
Forte, which had about 150 members as of last season, is also responsible for planning for the Haunted Hilbert annual fundraiser in October.
The group has a leadership committee of 18 members, which requires a $750 donation, and an executive committee that is made up of a handful of the leadership committee members.
The chair of Forte's 18-member leadership committee—unlike young professional boards at other not-for-profits—serves on the ISO's board of directors.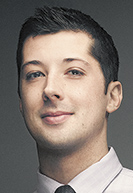 Russell
"The willingness of the ISO and the board of directors to engage with the Forte leadership, as well as the Forte board as a whole, was something I'd never experienced," said Brandon Russell, who will become chairman next year and has been a member since 2010. "They understand we're the future. … Say what you will about millennials, but they really want to get involved if they feel they're being valued."
The Indy Zoo Council with the Indianapolis Zoo also is one of the area's larger young professional boards, with 80 members. It is responsible for organizing an annual fundraiser and regular social events for members.
Members must pay for an annual membership to the zoo, which can vary from $119 to $189, plus a $50 annual fee for the Indy Zoo Council.
The group meets quarterly, plus has regular happy hours and luncheons. Members also get sneak peeks of new exhibits and behind-the-scenes access.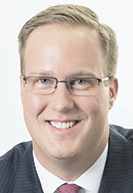 Spilbeler
"The benefit to the zoo is that it raises awareness and gets a different demographic that's probably not focused on going to the zoo," said Indy Zoo Council President Jason Spilbeler.
One of the newest—and smallest—groups is the Young Professionals Board with the Indiana Region of the American Red Cross.
Vince Kovatch, manager of business development and strategic initiatives for KAR Auction Services, helped launch the 10-member group earlier this year with monthly meetings that kicked off in August.
Members are not required to provide a monetary contribution to the Red Cross, but volunteering and having a network of other volunteers is a must. The idea is that each member should be able to activate five additional volunteers at any given moment.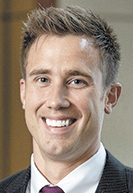 Kovatch
Each member also sits on a committee as a way to be more directly engaged.
But the junior board is actually shying away from fundraising events, Kovatch said, because the Red Cross has a greater need for volunteers than donations.
"I wanted something that was a little less monetary- and social-driven and that was more mission-driven," Kovatch said. "I wanted to create something where you could get your hands dirty."
Worthy investment?
One of the less formal—but significant—contributions these boards make is acting as a sounding board for new ideas.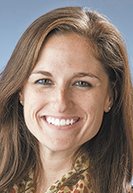 Myer
Sarah Myer, director of marketing for ISO, said leaders there regularly bounce new program suggestions off Forte members.
Russell pointed to ISO's recent programming of "Indiana Jones: Raiders of the Lost Ark: Film & Orchestra" and the Harry Potter Film Concert Series as examples of the group's influence.
"Are there things that would have been on the radar if there wasn't a younger voice?" Russell said.
Some of the organizations struggle to find young professionals with enough time to dedicate to these boards, especially when some are engaged, recently married or have young children.
"People want to be involved, they want to do these things, but they're so over-committed," Kovatch said. "It's hard to engage at the level required."
The boards usually necessitate some level of investment from the not-for-profit. Most of the groups have at least one staff member who serves as a liaison between board members and not-for-profit executives.
"It does take a lot of resources and time from the zoo. It takes personnel and contacts," Spilbeler said. "Some nonprofits maybe underestimate how much of an investment it's going to be on their end."
But many view these smaller, younger boards as a worthwhile investment because they can be a training ground for future board members. Some of the young groups raise thousands of dollars annually for the not-for-profit they represent.
The Horizon Council for Conner Prairie, for example, raises an average of $70,000 annually between two events.
The Indy Zoo Council has raised $180,000 from its annual Zoolala event, a smaller and less expensive version of the zoo's popular Zoobilation event, since 2013. Spilbeler expects to collect at least $40,000 from the event next month.
Several of ISO's former Forte members, including Karen Maina, Salesforce vice president of customer and market insights, have graduated to serving on the actual board of directors.
"The former Forte champions come back and give to ISO over and over again," Myer said.
A couple of Goodwill's Young Leaders also have joined the larger board recently.
"We already know we have a relationship with them and we know they have a commitment to Goodwill," Kramer said. "To have that pipeline being developed is really a positive for Goodwill. … It is something we see the value in investing our time."•
Please enable JavaScript to view this content.