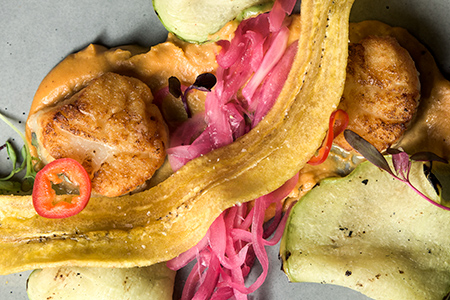 I haven't crunched all the numbers, but by my estimate, by the year 2055, every third restaurant in Indianapolis will be part of the Cunningham Group.
And that's not such a bad future.
The local company that started conservatively with Boulder Creek Dining Company, Stone Creek Dining Company and Charbono's, then ventured into more creative realms with Mesh, Union 50 and Vida with a side trip into comfort food with Bru Burger has added another winner to its lineup.
That's Livery (720 N. College Ave., 317-383-0330) and, no, the name doesn't imply that the menu specializes in the organ meat kids legendarily hate. Livery refers, instead, to the restored 1890s building's former use as a stable for horses. Downstairs has a neighborhood bar feel—and an awkward horse sculpture. Up above, there's rooftop seating, which is unlikely to see any action for months.
We were greeted with a complimentary bowl of Chicharones, the puffed-out and crunchy Mexican snack food whose lesser cousin is the American pork rind. I resisted the temptation to ask for a refill of the addictive treat.
The menu for this Cunningham creation offers a lineup of small plates with Latin flair with a pair of bars that emphasize tequila, rum, whiskey and margaritas. Chicken Empanadas ($9), one of four variations of the traditional stuffed pastry, featured a pair of two-biters with cotija cheese, crema and a bit of salsa verde. Good, but gone too soon. A plate of soft Brussels Sprouts ($5), also with cotija cheese as well as cilantro and truffle, weren't sublime enough to win over those who resist the mini-cabbages, but should please those already initiated.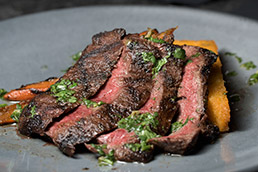 The Skirt Steak at Livery is parked on a wedge of grilled polenta (IBJ photo/Eric Learned)
Don't expect the items in the Segundo section of the menu to be significantly more sizable than those found in the Primero department. Scallop ($12), for example, was wonderful when forked with a bit of pickled onion, chayote squash and mint. (The crisp plantain on top required special handling.) But with only two midsize mollusks, anticipation quickly turned into a pleasant memory. Slightly more substantial, the Skirt Steak ($15) presented thin, medium-rare slices parked on a wedge of grilled polenta, with spicy (but not too spicy) chimichurri and a few charred baby carrots.  
There was plenty of room for dessert, which led us to a pair of meal highlights. The apple and the flan in the Apple Flan ($5) felt like a natural connection rather than a forced marriage. And the vanilla bean ice cream, which Livery makes on premises, combined with a few slices of poached apples and a bit of candied almonds made for a plate as attractive as it was delicious. Meanwhile, Churros ($5) presented a bowl of the sugar-coated stalks with dulce de leche, mint cream, and chocolate turning the county fair staple into high-brow/low-brow pleasure.•
—Lou Harry
Please enable JavaScript to view this content.