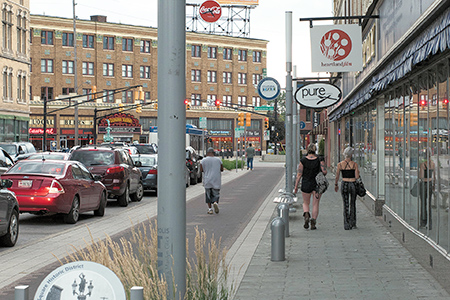 At this time of the year we often look back at the year just passed, but we also look to the future. Driverless cars, smart grids, building materials that scrub the air, deep-green infrastructure, and drones that deliver our dinner are fun to think about and will certainly bring changes to the form of our cities. There is, however, a more fundamental transformation underway, one that could mean great things for the future of Indy if we are able to meet its challenges: the rise of "18-hour" cities.
The most prevalent cities in our imaginations, with their regular appearances in movies, sitcoms and pop culture, are the 24-hour, so-called "big six": Boston, Chicago, Los Angeles, New York, San Francisco and Washington, D.C. While being like them implies success, in reality they are extreme outliers. Most cities in the United States don't share the intensity, magnitude, available resources or the outsized problems of these cities that never sleep.
Eighteen-hour cities—places like Atlanta, Austin, Charlotte, Denver, Minneapolis, Nashville, Raleigh and Indianapolis—are in the Goldilocks zone of cities. They're big enough to have the lifestyle and opportunity that attract us to urban places yet delivered at a scale that is accessible to more people. Emerging as destinations for innovation and investment, they are redefining what it is to be a thriving urban place.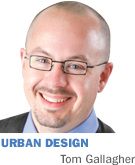 Here are three ways 18-hour cities are breaking the 24-hour city mold:
■ Growing by getting smaller. Trying to compete with global cities over nearly eight decades, most American cities have substituted physical expansion for population growth. This results in low-density, sprawling development that is proving to be an expensive and unsustainable approach to progress.
This is particularly true for Indianapolis. We have the most diffuse populace of the top 18-hour cities. Indy has about twice the population of Minneapolis but nearly seven times the land area, and our infrastructure extends to the far reaches of those 365 square miles.
Yet, because of renewed interest in urban living, 18-hour cities are well-positioned to bring people back to their core and first-ring neighborhoods. Concerted efforts to backfill density where the urban fabric and infrastructure already exist can boost quality of life, providing the critical mass of people necessary to enable public and private investment.
■ Becoming cities for everyone. The highly sought-after demographic of women and men born in the 1990s, so-called millennials, led a resurgence in urban lifestyle. However, as Gil Penalosa, executive director of 8-80 Cities, notes, we currently build cities "as if everyone is 30 years old and athletic." Conventional wisdom suggests that over the next decade, as these folks form families, they will move to the safety, schools and affordability they perceive to be better in suburban areas.
However, rather than begrudgingly leaving behind their beloved urban centers, millennials will demand changes in cities, seeking more family-friendly urban places. Once again, 18-hour cities will have an upper hand, having comparative affordability, approachable scale and a manageable pace. Indy is already a city young professionals return to when they are ready to make a permanent home.
But consciously including children and seniors in the design of cities will require a complex set of new solutions for mobility and access to quality parks, schools and food. In the end, improved character, walkability, concentration of services and housing diversity should enhance vitality and quality of life for everyone.
■ Forming many centers. We can already see that the desire for urban living is being driven more by the opportunity to share a multitude of meaningful, enjoyable and enriching experiences than by retail and trade. The wish for these moments to be authentic has fueled the "love local" movement and, consequently, renewed the legitimacy of a fine-grained public realm.
The 18-hour cities, with no need to fulfill an international brand, are free to be even more relentlessly local. As these cities become more dense, that will be carried out on a district-by-district level, creating a multi-centered city, albeit a more grass-roots, gritty and imperfect one.
Turning a weakness in our favor, Indianapolis stands to benefit more than most from this inclination. Because of our physical size, Indy can grow "clumpy," not as a megalopolis of continuous dense development but in shrewdly organized clusters defined by natural features and genuine centers of identity and commerce.
We shouldn't think of Indianapolis as lacking because it isn't Boston or San Francisco. Our city has a bright future, even more so if we strive to be the best 18-hour city we can be.•
__________
Gallagher is an urban designer with Ratio.
Please enable JavaScript to view this content.