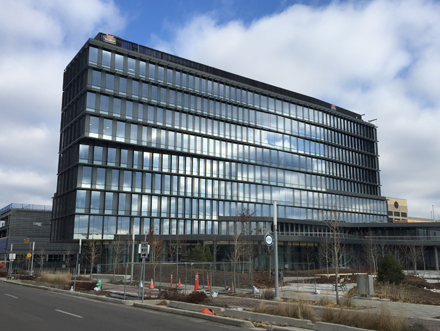 Cummins Inc. will receive a 10-year tax break from the city of Indianapolis on $2.1 million in tech equipment for the firm's soon-to-be-completed downtown office building, where the company plans to employ about 250 workers by next month.
The $30 million, nine-story building at 301 E. Market St. will serve as the headquarters for Columbus-based Cummins' global distribution division. The 4-acre site will also include space for corporate events; a 300-space parking garage; and an acre of public green space. The building also includes first-floor retail space that will open to the public later in 2017.
Cummins says the building will open in January with approximately 250 employees. They will include 90 people who currently work at other Marion County locations.
The "vast majority" of the remainining 160 positions will transfer from the firm's corporate headquarters in Columbus, according to a Cummins spokesman.
The average wage for the retained jobs is $38.46, according to the incentives paperwork filed with the city.
On Wednesday, the city's Metropolitan Development Commission approved a 10-year tax abatement on personal property taxes for the $2.1 million in IT equipment Cummins plans for the new facility. 
Over the 10 years, Cummins stands to save about $155,755. The company will still pay an estimated $66,751 in personal property taxes related to the new equipment. Once the abatement expires, Cummins will pay an estimated $19,072 annually in personal property taxes related to the new equipment.
The city has already approved a 10-year property tax abatement for the building project. Those incentives were approved in 2014, and in that agreement the city pledged to support a personal property tax abatement for the equipment.
Please enable JavaScript to view this content.