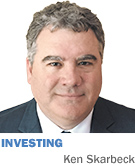 Indiana turned 200 years old this month. Regrettably, the bicentennial celebration was overshadowed by all the attention surrounding the election.
One can argue that 200 years is the blink of an eye in the transcript of history. It's remarkable to observe the progress that has transpired in Indiana since statehood was achieved in 1816.
In 1820, only about 147,000 people lived in Indiana and there were still Indian settlements in northern Indiana. But the founders of our state quickly got down to business. Indiana University was formed in 1820 and Hanover College, my alma mater, was founded in 1827 as the state's first private college.
As an organized state, Hoosiers began to demand improved transportation. Most of the roads were still crudely constructed in the 1830s when a boom in canal construction took hold throughout the state. Per James H. Madison in his excellent book "Hoosiers: A New History of Indiana," the Legislature borrowed $10 million at 5 percent to finance construction, and Indiana canal bonds were sold on financial markets in New York.
It all came to an abrupt halt in 1839 when a financial panic and depression hit. The canal projects were stopped and Indiana was left bankrupt. The state eventually settled its debts in 1847 and the partially constructed canal system proved modestly successful to Indiana commerce through the mid-1850s—until the railroads were built.
The canals episode may explain the conservative fiscal policies that still permeate Indiana today. Fast forward past a few more depressions, a couple of world wars and the turbulent 1970s and 2000s, and here we sit as a financially sound state, competitive not only in the U.S. but worldwide.
Hoosiers were participants in building railroads, automobiles and airplanes. Soon, they will ride in driverless cars and buy tickets for tourist trips into space.
From the early grist mills on the rivers in southern Indiana, new Indiana businesses formed and have thrived. Eli Lilly and Co. traces its roots to 1876 and has a market value of $77 billion. According to IBJ's "Book of Lists," the state has 32 public companies and 25 private companies with annual revenue over $500 million.
Indiana also has remained true to its agricultural roots. Advances in agricultural technology developed at institutions like Purdue University and Dow AgroSciences have enabled higher yields in food production.
Armed with skills obtained from our outstanding educational institutions, young Hoosiers will continue driving forward a diverse Indiana economy in logistics, manufacturing, technology and agriculture. There are certain to be setbacks along the way, but Indiana will move forward with its frontier perseverance.
For investors, the Dow Jones industrial average has 20,000 in its sights. Many Hoosiers alive today will see the Dow cross 100,000. That milestone would be achieved with a 6.65 percent average annual rate of return over the next 25 years.
We all get caught up in our day-to day-routines. Yet with all that has transpired the last 200 years, it should remind us that one of our most precious resources is time. Time to reflect and watch the future unfold. Time needed as an investor to accumulate assets for retirement or for institutions to carry out their missions. Time to spend with your friends and family and the Indiana generations to come.•
__________
Skarbeck is managing partner of Indianapolis-based Aldebaran Capital LLC, a money-management firm. His column appears every other week. Views expressed are his own. He can be reached at (317) 818-7827 or ken@aldebarancapital.com.
Please enable JavaScript to view this content.