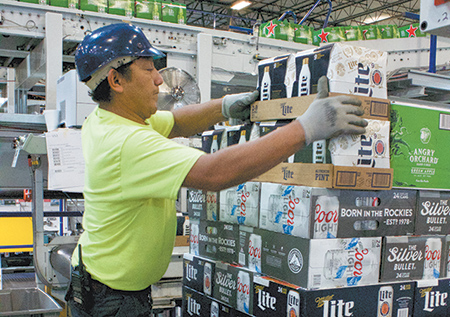 Indianapolis-based Monarch Beverage Co.—the state's largest beer and wine distributor—has for years attempted to sell liquor in Indiana, and until this year has been shot down by the Legislature and in two lawsuits.
But Monarch experienced some good news in 2016, as a court case involving one of its affiliates, Spirited Sales LLC, made its way through the legal system.
A Marion Superior Court judge ruled in August in favor of Spirited Sales in its quest to gain a wholesale liquor permit after a judge found the Indiana Alcohol and Tobacco Commission's decision to deny it a permit "arbitrary and capricious."
And now the Indiana Supreme Court has agreed to hear the case, which could decide whether beer and wine wholesalers can also sell liquor wholesale—changes that could topple the state's Prohibition-era laws.
Monarch's desire to wholesale liquor is about its big client: E&J Gallo Winery. Gallo wines are about 90 percent of the wines Monarch sells, it says; Gallo started making spirits about eight years ago. Monarch CEO Phil Terry says there's "a real risk" that at some point Gallo might switch wholesalers.
But the main entity fighting Monarch is Wine and Spirits Distributors of Indiana, a group that represents Miami-based Southern Glazer's Wine and Spirits and Houston-based Republic National Distributing Co.
The group says Monarch "would have a unique competitive advantage over every other distributor and would have immense strength" if it is allowed to also wholesale liquor.
Making matters more intriguing are the political connections among officials in the Governor's Office and the ATC and Monarch's foes.
Marion Superior Court Special Judge Heather Welch found in her initial ruling on the Spirited Sales case that electronic communications between the Governor's Office, ATC and Monarch opponents were "disturbing and inappropriate," saying they "raise questions about the [ATC's] willingness to serve all citizens of Indiana equally, fairly, and without bias."
Emails released during discovery show aides to former Gov. Mitch Daniels and Gov. Mike Pence were regularly in touch with ATC decision-makers regarding various requests from Monarch over the years, sometimes cheering behind closed doors when the company failed. And Monarch's competitors appeared to have frequent communication with the two entities, calling themselves "the good guys."•
Please enable JavaScript to view this content.