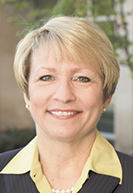 Ellspermann
Former Indiana Lt. Gov. Sue Ellspermann was named president of Ivy Tech Community College in May with high expectations from legislators that she would raise the performance of the two-year school.
Ivy Tech has faced challenges over recent years, including questions about its low graduation rates and whether its programs were adequately aligned to the state's workforce needs.
Previously, Ellspermann served as a state representative, owned a business consulting firm, and was founding director of the University of Southern Indiana's Center for Applied Research. She started at Ivy Tech on July 1.
She said her goal was to raise the skills of Hoosiers and get them into good jobs.
"You name it, there's just a lot of jobs that have high demand that employers are struggling to fill," she told IBJ earlier this year. "The challenge is, if we don't graduate and complete those degrees and credentials, those employers will hire but they'll start importing workers from other [states]. And that's the worry for me—that, if we don't do it, our Hoosiers stay in the entry-level jobs and other people come in to those better-paying jobs."
Her advocacy for the institution is already starting to show signs of success in the political world. Two years ago, lawmakers rebuffed the college's capital construction plans over questions about its future direction and frustration with its students' academic performance.
But now, the very fiscal leader—Senate Appropriations Chairman Luke Kenley of Noblesville—primarily responsible for that construction ban has softened considerably because of his confidence in Ellspermann.
The college will be asking for about $130 million in capital expenses to fund five priority projects at its campuses throughout the state.
"I'm very enthused about Dr. Ellspermann and the performance she's put in so far and I'm looking forward to working with her in this next session," Kenley said.
Ellspermann has also been making inroads at the institution by serving as a guest lecturer at required "student success" classes that focus on career exploration.•
Please enable JavaScript to view this content.