Gold bullion. Casino chips. Vacation homes. Expensive jewelry.
Those aren't usually associated with Indiana nursing homes. But in an explosive federal indictment unsealed in October, those were some of the lavish, over-the-top personal items bought with kickback money in a massive fraud allegedly committed by the former CEO of Indiana's largest nursing home company and three other men.
Federal prosecutors say the men orchestrated a scheme that used kickbacks and shell companies to defraud American Senior Communities which is owned by the Jackson family of Indianapolis; Health & Hospital Corporation of Marion County, which hired ASC to operate its nearly 70 nursing homes; and federal health care programs.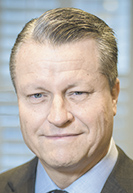 Burkhart
The defendants are former CEO James Burkhart, former Chief Operating Officer Dan Benson, Joshua Burkhart and Steve Ganote.
The men were arrested in October and appeared in federal court in handcuffs, facing a total of 32 charges in a trial that could get under way next year.
A 35-page indictment alleges that the four launched the brazen scheme to enrich themselves in 2009 and continued it until Sept. 15, 2015, the day FBI agents raided the nursing home company's offices.
Neither Joshua Burkhart nor Ganote worked at American Senior, but all four personally profited and set up shell companies that advanced the fraud, the indictment alleged. 
The indictment described Ganote as James Burkhart's "personal friend." Joshua Burkhart, 42, who also goes by Justin Barnes, worked for Bradley Associates, an Indianapolis accounting firm that prepared ASC's and Health & Hospital's cost reports for federal health care programs.
The fraud and kickbacks combined totaled more than $16 million, with the proceeds going to fund the men's lavish lifestyles, which included the gold bullion and casino chips, authorities said.
"The scheme was characterized by unbridled greed," U.S. Attorney Josh Minkler said.
James Burkhart, 52, had been CEO of American Senior since 2002, helping to build it from a money-losing, midsize nursing home company into the state's dominant nursing home operator. It operates nearly 100 nursing homes and assisted-living facilities that generate more than $600 million a year in revenue.•
Please enable JavaScript to view this content.