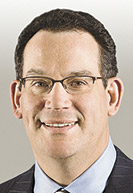 Simon
Luring restaurants and online retailers to shopping malls is becoming more critical to Simon Property Group Inc.'s overall health, as demand for traditional retail space continues to decline, Simon CEO David Simon told investors in July.
Simon, 55, tried to calm fears stirred by the migration to online shopping by telling investors the company has added 200 restaurants to its tenant mix in the past five years, 53 of which were slated to open in 2016 or 2017.
"We're very comfortable and confident, even though retail sales have been anemic this year. … I don't think we are backing off at all our redevelopment and expansion portfolio," he said.
Simon, the nation's largest mall owner, is busy luring restaurants to fill space vacated by traditional retailers victimized by the growth of online shopping. Many retail landlords are seeking unconventional tenants to fill space.
At Circle Centre mall, for instance, restaurants Yard House, Nada and Punch Bowl Social have taken some of the space abandoned by former anchor Nordstrom.
And Craig Huse, the operator of downtown icon St. Elmo Steak House and offshoot Harry & Izzy's, told IBJ in September that he is launching a high-end burger restaurant in the mall.
The new concept, known as Burger Study, is expected to open in May in 5,000 square feet along Georgia Street, between Illinois and South Meridian streets.
Simon's quest to fill vacated mall space is extending beyond restaurants, though. The company is getting more creative and is even attracting online retailers that want a brick-and-mortar presence to bolster internet sales.
Simon recently signed a deal with Untuckit, a New York City-based men's clothing outlet that sells shirts designed to be worn untucked.
Simon continues to pour money into redeveloping and expanding existing properties, such as Jersey Gardens near Newark, New Jersey, and Sawgrass Mills in Fort Lauderdale, Florida, where Simon is investing a total of $600 million to improve the properties.
Overall, 33 redevelopment projects are underway.•
Please enable JavaScript to view this content.