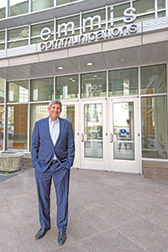 Emmis CEO Jeff Smulyan could not come to terms with board members on the value of the company's shares. (IBJ file photo)
Smulyan tries to take Emmis private but falls short again
Emmis Communications Corp. CEO Jeff Smulyan failed in his latest attempt to take the company private.
Smulyan rolled out his $4.10-per-share offer on Aug. 18. It represented a 25 percent premium to Emmis' average closing price over the previous 90 days.
He extended the deadline for the deal three times—a strong sign he and the independent board committee evaluating the proposal were at odds on price.
After the markets closed Oct. 14, his fourth deadline to come to terms with the board, Smulyan announced he would keep Emmis publicly traded.
"I am sorry we could not reach an agreement on the valuation," Smulyan wrote to the two-person committee of independent directors who evaluated the offer: attorney Susan Bayh and former CBS Television CEO Peter Lund.
The offer valued Emmis at about $50 million. Smulyan, who owns 13 percent of the shares, had rounded up other directors and top brass to join in the buyout, which was being financed by Boston-based Falcon Investment Advisors.
Hoteliers roll out ambitious plans
Developers presented a slew of downtown hotel projects, including three from the same company.
Sun Development & Management Corp. is in discussions to convert the One Jackson Square building adjacent to Union Station into a 110-room boutique hotel—potentially a Canopy by Hilton—and restore the structure to its original lodging use.
Indianapolis-based Sun also bought nearby land at the northwest corner of South Meridian Street and Jackson Place, where it plans to build a Cambria Hotel & Suites.
On the west side of downtown, Sun bought the former Bethel African Methodist Church at 414 W. Vermont St., where it plans two hotels—one in the redeveloped church and another on an adjacent lot.
And New Orleans-based HRI Lodging LLC wants to build a 15-story hotel and seven-level parking garage on a surface parking lot across from Bankers Life Fieldhouse.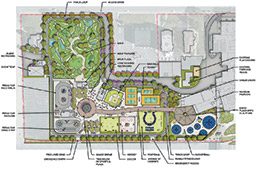 The Children's Museum plans to spend $23 million to build basketball, football, golf, running, tennis, soccer, hockey and motorsports spaces for kids and families. (Rendering courtesy of The Children's Museum of Indianapolis)
Children's Museum launches $23M outdoor attraction
After years of acquiring land, The Children's Museum of Indianapolis started construction on an indoor/outdoor sports attraction on property just north of its location at 30th and Meridian streets.
The Riley Children's Health Sports Legends Experience will cost $23 million to build and will include activities related to basketball, football, golf, running, tennis, soccer, hockey and motorsports. Special sections have been dedicated to the Indianapolis Colts, Indiana Pacers and Indiana Fuel.
The museum is earmarking another $12 million to create an endowment to cover operating costs.
The 7.5-acre attraction is expected to debut in spring 2018. The outdoor section will be open from April through November; the indoor portion will be open year-round.
Indy passed over for ag HQ
Indianapolis was passed over as the new headquarters of the combined agricultural businesses of Dow Chemical and DuPont, but it won the title of one of its "global business centers."
The plan is for the two goliaths to merge, then split into three separately traded companies focused on agriculture, material science and specialty products.
Indianapolis lobbied to become headquarters for the ag division. Dow AgroSciences has $7 billion in sales and employs 9,000—about 1,500 on Indianapolis' northwest side, many of whom are highly paid executives and researchers. DuPont's ag business has $11 billion in annual sales and employs 12,000 workers.
But in February, the companies said Wilmington, Delaware, would become the agricultural headquarters. It wasn't immediately clear how Indianapolis' global-business-center designation would affect operations here.
Although shareholders from both companies approved the deal, it needs a green light from the European Union, which said it would give the acquisition another close review.
Manufacturer joins otherfood processors in Lebanon
Massachusetts-based Ken's Foods Inc. announced in August it would build a $90.5 million manufacturing facility in Lebanon.
The 320,000-square-foot plant will be on 40 acres in Lebanon Business Park, which sits west of Interstate 65 between state roads 32 and 39.
Ken's Foods, a maker of salad dressings and other sauces, will hire 150 employees for the facility that is expected to produce 150 million to 200 million pounds of dressing, sauces and marinades a year.
The investment will help Lebanon further its position as a food processing and manufacturing hub. The business park is already home to Skjodt-Barrett Foods Inc., Maplehurst Bakeries Inc. and Purity Wholesale Grocers Inc.
Creditors buy Vertellus
After Indianapolis-based chemical maker Vertellus Specialties Inc. filed for Chapter 11 bankruptcy protection in May, its creditors agreed to cancel its debts and take ownership of the company.
The agreement called for lenders to buy the company for $454 million. The sale was completed in October, though the bankruptcy case is still making its way through the court system.
The company has cited slowing demand for two of its products—pyridine and picoline—and an increase in production from Chinese competitors as reasons for its financial troubles.
Pyridine is used in herbicides, insecticides, vitamin B3 and even Head & Shoulders shampoo. Picoline is used in agricultural chemicals.
Vertellus' largest facility is its South Tibbs Avenue plant, which employed about 240 workers. In August, the company announced it would shut down a portion of that facility, eliminating 40 to 50 jobs.
NCAA inks new TV deal
With eight years left on their deal to broadcast the NCAA men's basketball tournament, CBS and the Turner Broadcasting System in 2016 tacked on another eight.
The $8.8 billion extension announced in April runs through 2032.
Provisions in the agreement protect CBS and Turner should the tourney change substantially. But network executives hope the deal itself increases the odds that March Madness will march on mostly the same.
"One reason we're confident the tournament will remain the premier event it is, is the financial underpinning that CBS and Turner are providing to the NCAA," CBS Sports Chairman Sean McManus told The Associated Press.
The extension pays an average of $1.1 billion per season, up from more than $770 million on average under the current contract.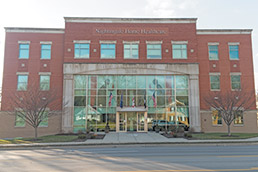 State health officials accused Nightingale of quality problems that eventually led it to close its doors. (IBJ file photo)
Home health firm shuts down
Not long ago, it was one of Indiana's largest home health providers, serving 900 patients and ringing up annual revenue of nearly $15 million.
But Nightingale Home Healthcare Inc. of Carmel had a brutal year that forced it to wind down its operations here.
After investigating complaints, the Indiana State Department of Health charged that the company put patients in harm's way. That prompted the federal Medicare program to terminate its contract with Nightingale, which then filed for bankruptcy protection.
For a while, it seemed the company might survive, saving the 70 full-time, 125 part-time and 19 contract jobs. It struck a tentative deal to sell a big chunk of its operations to a competitor.
But that deal unraveled in a financial dispute, and Nightingale was forced to quickly wrap up its Indiana operations. Its website says it still has a presence in Arizona, California, Florida, Illinois, Massachusetts, Minnesota, Nevada, Ohio, Pennsylvania and Texas.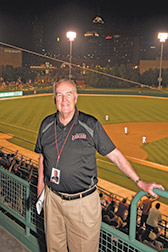 Max Schumacher has served as Indians president and chairman since 1961. His son, Bruce, will take over as CEO. Randy Lewandowski takes over as president. (IBJ file photo)
Elder Schumacher steps aside
The Indianapolis Indians announced in November that baseball legend Max Schumacher was stepping down as team chairman and president, a position he has held since 1961.
The Triple-A affiliate of Major League Baseball's Pittsburgh Pirates replaced him from within the organization—and family. Bruce Schumacher, 57, Max's eldest son, was named chairman and CEO. Randy Lewandowski, 46, became president and general manager.
Max Schumacher will continue as chairman emeritus. He will maintain his position on the franchise's finance committee, serve as host in his suite during games, keep his office at Victory Field, and mentor team officials.
Max Schumacher, 84, owns more than 43 percent of the team's stock. Bruce Schumacher said the plan is to keep that stock in the Schumacher family.
Caito Foods acquired
Indianapolis-based Caito Foods Service, which distributes fresh produce, prepared foods and flowers to customers in 22 states, will soon be under new ownership.
In November, Grand Rapids, Michigan-based grocery distributor SpartanNash announced plans to acquire Caito for $217.5 million in cash.
The deal is expected to close in early January. It will include Caito's new $32 million Indianapolis "Fresh Kitchen" food processing and packaging facility, which is scheduled to begin production in the first quarter of 2017, and Caito's affiliated logistics and distribution business, Blue Ribbon Transport.
Caito was founded in 1965 by brothers Philip J. Caito IV and Joseph A. Caito. The company's annual revenue is more than $600 million. SpartanNash has annual revenue exceeding $7.7 billion.
Baldwin & Lyons execs leave
The three top executives of Baldwin & Lyons Inc. in May abruptly retired from the Carmel-based trucking insurer after clashing for months with the board's executive chairman.
CEO Joseph DeVito, Chief Financial Officer Patrick Corydon and Deputy Chairman and former CEO Gary Miller—who spent a combined 124 years with the company—disclosed in securities filing that they were stepping down.
In an emotional resignation letter that was part of the filing, DeVito blasted Steve Shapiro, 50, a director since 2007 whom the board elevated to executive chairman in October 2015.
"The elevation of Steve Shapiro to the position of executive chairman and subsequent actions and decisions made by Steve have significantly reduced my authority, and thereby my ability, to properly and appropriately run the company," the letter said. "This is not intended to be a criticism of Steve as a person, however, in my opinion, he does not have the necessary background or experience to serve in that capacity."
A company spokesperson declined to comment.
Wise sells chain of 17 eateries
A Scottsdale, Arizona-based company announced Dec. 9 that it has closed on its acquisition of Indianapolis-based restaurant chain Scotty's Brewhouse.
Due North Holdings LLC said it made the acquisition through a subsidiary. Financial terms were not disclosed.
IBJ reported Oct. 10 that Scotty's founder Scott Wise was in negotiations to sell his chain for about $20 million to Pacific Restaurant Partners, a subsidiary of Due North.
The acquisition includes 15 Scotty's Brewhouse eateries and two Thr3e Wise Men Brewing Co. brewpubs. Fifteen of the restaurants are in Indiana, and the other two are in Champaign, Illinois, and Punta Gorda, Florida.
Wise opened his first restaurant in Muncie at the age of 22 in 1996, with financial backing from his father, after graduating from Ball State University. He opened the first Thr3e Wise Men, in Broad Ripple, in 2010, and added a location in Muncie last year.
Due North said it plans to grow the Scotty's brand nationally, starting with expansion in the Midwest while debuting the concept in Arizona and in other markets in the Southwestern United States within a year.
"Scott Wise will remain actively involved in the concept as the company grows the restaurant's footprint nationally to new markets," Due North said.•
Please enable JavaScript to view this content.