Several independent local restaurants—from Ambrosia and Barley Island to Mama Carolla's and Patachou—are cooking up expansion plans at a time when fewer people are dining out.

The moves don't necessarily mean business is improving, just that opportunities are beginning to look too good to pass up. Some well-located spaces are priced to move, and landlords are showing more love to the little guys as many big chains scale back expansion efforts and struggle with debt.

The owners of Mama Carolla's Old Italian, Carol and Howard Leuer, plan to open a breakfast and lunch spot near their restaurant along East 54th Street in Broad Ripple. The new diner will be called Good Morning Mama's.

The owners of the popular Broad Ripple restaurant Ambrosia plan to open Ambrosia Centro on the first floor of the Hampton Inn downtown. Noblesville's Barley Island Brewery is opening a location at College and Broad Ripple avenues. And the Patachou empire is growing by one with a new pizza concept called Napolese next to the existing Patachou at 49th and Pennsylvania streets.

"This is the time to act," said Gino Pizzi, who owns Ambrosia and is finalizing plans to open his second location. "When you have this sort of dormant period in commercial real estate, primarily because of panic, it does keep the chains away."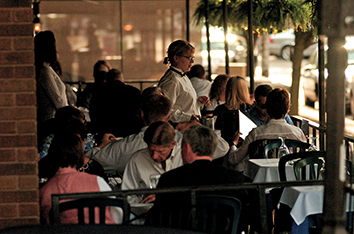 Broad Ripple's Ambrosia plans to bring its Italian specialties to a new location downtown. (IBJ Photo/Robin Jerstad)

Pizzi, a veteran entrepreneur who has owned and sold four other restaurants in Indianapolis and Carmel, said he's confident downtown will support an independent Italian restaurant within walking distance of Circle Centre mall. He jumped at the deal, in part because rent rates are falling and competitors are hurting.

Many chain restaurants are coping with heavy debt loads shouldered during rapid expansions and have put a freeze on new locations, irrespective of opportunities in individual markets.

Private partners have agreed to invest in Pizzi's new restaurant. One big reason: It will follow the formula of a parent restaurant that's lasted 30 years in one of the most cutthroat of industries.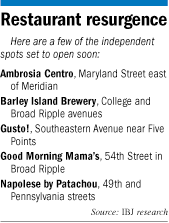 He does plan a few modifications, including a wine list that extends beyond Italian varietals and more lunchtime options. Otherwise, it's the same Ambrosia.

Plenty of restaurants, both chain and independent, are struggling. Many have closed this year, including Café Nora and Ruth's Keystone Café.

Nationwide, about 4,000 restaurants closed in the last year—about 1 percent of the nation's total, according to a study by New York-based NPD Group. Major chains with more than 500 outlets fared best, with a 1 percent increase in the number of outlets, while independents and small chains (3-49 outlets) fell between 1 and 2 percent. But there were bright spots for independent restaurants: The number of independent fine-dining establishments grew by 7 percent, outpacing every other category.

In many ways, it's still pretty tough for independents to take on chains. For one, chains start with a proven concept and usually have easier access to funding. Chains also have the pricing power to offer deeper discounts than independents—the kind of two-for-$20 deals that attract crowds to Applebee's.

"It's really difficult for independents to keep up with something like that," said Tim Lutes, owner of Fountain Square pizza shop Gusto!.

But a series of restaurant closures have upsides for the survivors, including independents. There's less competition, of course. And there are better deals on secondhand equipment. Lutes picked up an antique 16-tap bar tree for just $175—an item that would go for $2,500 new—from an auction at the former Bennigan's restaurant at Interstate 69 and 96th Street. (A second Indianapolis-area Bennigan's location at I-465 and Pendleton Pike remains open.)

Lutes will use his purchase in a new restaurant, also called Gusto!, that he plans to open later this month on Southeastern Avenue between Five Points and Franklin roads. He began planning for the location when new owners bought the Murphy Art Center, where his diner is now.

If Lutes can work out an extension on his month-to-month lease, he may keep both locations. He has no loans and no investors; he buys tables and chairs and just about everything else at auctions and takes over spaces where other restaurants have failed.

"If expansion is what you have in mind, now would be the time to do it," said Lutes, who opened his Fountain Square restaurant two years ago after leaving a career in the mortgage business. "Hopefully, when the economy turns in the other direction, you're well positioned for a strong move out of the gate."

Local operators can be more flexible and quicker to move at times like these, says Martha Hoover, who will have eight Patachou outlets when her new restaurant opens in November.

When business was booming, the big chains demanded the best locations and pushed up rent rates. But many of them can't generate as much traffic as a proven local concept.

"Developers are looking at small restaurants since they bring something that a large chain doesn't bring," Hoover said. "They don't have as much baggage as big-box restaurants, publicly traded with lots of debt."

Todd Davis, the on-premise beer manager for local distributor Monarch Beverage, said he's seeing about the same number of new accounts from chains and independents. He pointed to a couple of new Red Robin locations and the new Olive Garden in Noblesville.

But it's the grocery segment that's really growing for Monarch, as more people drink beer and wine at home instead of at restaurants.

"The on-premise segment is tough for everyone," he said.•