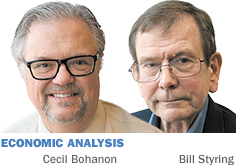 Two New Year's resolutions for President-elect Trump: 1) On the golf course, I will keep my head down and follow through. 2) On the economics course, I will stop talking about the U.S. trade deficit as evidence we are "losing."
The second resolution will be a harder task than breaking par.
Trump has pointed to trade deficits with China, Mexico and others—we buy more from them than they buy from us—as evidence they are "stealing our jobs." He has threatened tariffs (a polite way to say "taxes") of 35 percent to 45 percent on imports from those countries.
Having made shrinking or eliminating those trade deficits a key element in his campaign, it will take some adroit political ju-jitsu to backtrack. Nevertheless, if he wants to succeed in his larger goal of getting the economy on a high-growth trajectory, he will have to jettison trade-deficit reduction as a success indicator.
Here's why: To rev up the economy, Trump has proposed some sound policies that will likely deliver more robust economic growth. Across-the-board tax cuts and tax simplification for businesses and individuals. Reduction in business costs by reducing regulations. Repealing Obamacare. Streamlining permitting, thereby allowing easier access to fossil fuels.
All these policies will make our country an easier place to do business and increase returns on capital invested here. Foreign investors will see the United States as a place to buy financial assets and build factories. But, they can't buy shares of AT&T or build a new plant with their local currencies, so they sell pesos, euros or yuan to buy dollars.
What happens when the demand for something goes up? Price goes up—in this case, the dollar exchange rate. That means U.S. goods and services become more expensive to foreigners, and foreign goods and services become cheaper to Americans. The result is fewer U.S. exports and more U.S. imports.
And that leads to a bigger trade deficit.
Financial markets have already figured this out. Interest rates and the dollar are up dramatically since the election. So please, Mr. Trump, the voters don't give a rip about some abstraction called "trade deficit." Get the economy humming and all else will be forgiven. Don't try putting a square peg in a round hole, thereby igniting a trade war. You're savvy enough to know if you try to fight Madame Markets, even as president, you'll lose.•
__________
Bohanon is a professor of economics at Ball State University. Styring is an economist and independent researcher. Both also blog at INforefront.com. Send comments to ibjedit@ibj.com.
Please enable JavaScript to view this content.