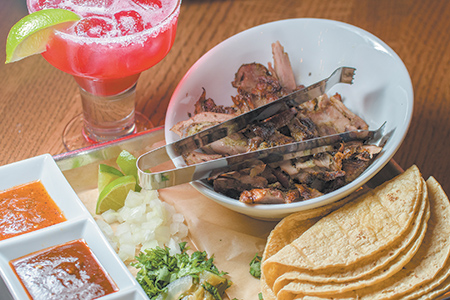 "Peter George—once one of the city's most prominent restaurateurs—is returning to the local culinary scene following a roughly 10-year absence."
That was the lead of a news story published in IBJ in 2014 as George and business partner Thomas Main (perhaps best known for Puccini's Smiling Teeth) were in the process of renovating a tiny East 16th Street property that would soon become one of the most-talked-about restaurants in town—Tinker Street.
Now, not only is Tinker Street thriving, but George and Main have opened another neighborhood-pioneering eatery, Festiva (1217 E. 16th St., 317-635-4444), and it's every bit as appetizing as its predecessor. This time, the emphasis is on casual-but-creative Mexican food.
The meal starts with complimentary Chichireynas, fried wheat pasta mixed with fried garbanzo beans, tajin spice, lime juice and some Valentina hot sauce. Our waitress encouraged us to treat the pebble-size bits as finger food, but the sauce wasn't conducive to that approach. However delivered, though, they were a tongue-brightening introduction to the meal.
Pomegranate seeds and a cool jicama base add character to outstanding Guacamole ($8). It's so flavorful that I recommend not overloading. A taste on each chip is enough, even if you have to flag down your server for extra chips.
A smoky, charred pepper partnered beautifully with chorizo and cheese in the Poblano Fundido ($8) while the Pollo Alambre ($15) proved that Festiva excels even with what could be the simplest dish on the menu—wood-grilled half-chicken. A safe choice for a picky eater, perhaps, but without concessions in the flavor department thanks in part to a subtly good citrus marinade.
Pozole ($14) might be a bit salty for some, but I appreciated the mix in this traditional hominy stew populated with pulled chicken and radish. Tacos Al Pastor ($16), served with tortillas and a trio of salsas, offered slow-spit-roasted pork and pineapple for DIY pleasure. Sharing is encouraged for all, but make sure to stake your claim because you are unlikely to have leftovers.
In addition to other bar offerings, all can be washed down by pitchers of margaritas, michelada, sangria or wine ($29). Five desserts are featured and the two we tried, Arroz con Leche ($6) and Pound Cake ($6), were both exceptional. The former features just enough cinnamon to avoid overpowering the rice pudding while the latter seemed remarkably lighter than expected with mangos and pineapple adding a touch of the tropics.
In the aforementioned 2014 story, George was quoted as saying, "We're not just putting our toes in the water."
I, for one, am glad George has gone all in.•
Please enable JavaScript to view this content.