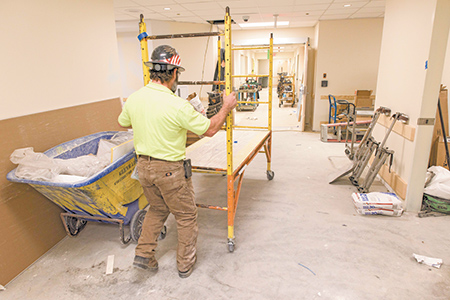 For years, Riley Hospital for Children's emergency department might have been the last place you took your child to treat a broken arm or a nagging cough.
Riley had built a reputation as a hospital serving children with serious illnesses, such as heart problems, cancer and severe allergies.
The emergency department functioned, in many ways, as a waiting room for those children to get admitted to the hospital when problems flared up and they needed to see a specialist.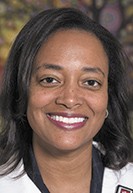 Stigdon
Broken arms could go to other hospitals.
"The emergency department had been here for years, but had never really been open to the community to walk in and get the care they needed," said Terry Stigdon, a registered nurse and clinical director for Riley's emergency, trauma and behavioral health departments.
But these days, Riley is spending millions of dollars and beefing up its emergency staff to expand into traditional emergency services.
The goal: Treat children with all kinds of emergencies, from raging fevers to sports injuries, whether or not they have chronic medical conditions.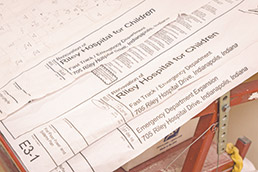 Riley is customizing its ER space with a private area for sexually abused patients, a section for psychiatric evaluations, and "fast-track rooms" for patients whose conditions require less treatment time.
(IBJ photo/Eric Learned)
It marks a push for Riley into a crowded and competitive area. Central Indiana is already served by dozens of emergency rooms and departments—including the Level 1 trauma center at Eskenazi Health just blocks away and another at Methodist Hospital just two miles away.
Both Riley and Methodist are owned by Indiana University Health, the state's largest hospital system.
In the meantime, urgent care centers, micro-hospitals and other non-traditional, lower-cost providers are popping up throughout the area.
"It will be interesting to see how Riley markets it and gets the word out about this shift in their emergency model," said Ed Abel, director of the health care practice at Indianapolis-based Blue & Co., an accounting and consulting firm.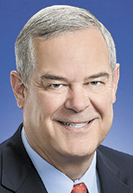 Abel
The shift comes as Riley is also trying to build its brand statewide, to keep patients in the southeast or northwest corners of Indiana from going to Cincinnati or Chicago for children's medical services. It has built a huge physician network to get referrals across the state to help it fill its 385 beds.
Now some observers wonder if the emergency department initiative is another move in that direction. At some hospitals, up to 40 percent of inpatient admissions come through the emergency room.
"You throw in all the additional services you provide to those patients, it's probably very profitable," Abel said. "It's kind of like a gatekeeper to profitable services."
Others agree.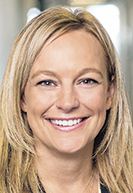 Walker
"Typically, emergency rooms are not money-makers all by themselves," said Elizabeth Walker, an Indianapolis hospital consultant and chief strategy officer with Quorum Health Resources. "But as a referral stream for more significant care—such as heart attacks, trauma care and so forth—they certainly do make a profit."
Riley, however, says it is not engaging in a conflict with other hospitals with years of experience in traditional emergency services.
"No, I don't think it's open warfare," said Dr. Cory Showalter, medical director of Riley's emergency department. "I think we continue to provide excellent care to kids, and people recognize that and keep coming in."
Whatever the reason, Riley is pulling out lots of stops in the transformation. It has bulked up its emergency physician staff from 12 in 2012 to 26 now and is planning to add five more positions. It has reconfigured work stations so nurses can monitor more patients. Around the emergency department, construction workers are building a private area for sexually abused patients and a four-bed behavioral health area for patients who need psychiatric evaluation.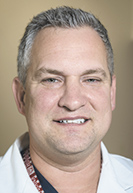 Showalter
And patient volumes are growing dramatically. Last year, 40,000 people visited Riley's emergency department—up 37 percent from 2011.
That's a much higher clip than the 8 percent growth at hospital emergency rooms across the state during the same period, according to figures provided by the Indiana State Department of Health.
To deal with the increase in business, Riley has rolled out lean techniques to streamline processes and created "fast-track rooms" for patients whose conditions don't require hours in the ER.
As a result, the average time a patient spends hanging around the emergency room has been cut 27 percent since 2011. The time spent waiting to see a doctor has dropped 45 percent during the same period, to about 29 minutes.
Even so, it's not the fastest time in the state, according to ProPublica's "ER Wait Watcher." Some Indiana hospitals keep patients waiting in the ER for less than 15 minutes before they see the doctor (Terre Haute Regional, 13 minutes; Johnson Memorial, 11 minutes; Union Hospital, 10 minutes), according to the ProPublica data.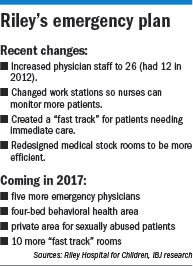 Meanwhile, some other Indianapolis hospitals also say they have seen emergency volumes climb and patient waiting times fall.
At Franciscan Health Indianapolis, patient visits have increased about 8 percent over the last year, and door-to-discharge time has decreased 13 percent.
A spokeswoman for Peyton Manning Children's Hospital at St. Vincent, the other major children's hospital in Indianapolis, said emergency visits are up "significantly" over last year—but did not provide figures.
At Riley, the move to expand emergency services represents a complete shift in thinking. Traditionally, Riley prided itself on serving children with serious medical conditions. As part of that, it obtained a Level 1 trauma certification in 1995—the highest level awarded to hospitals—and remains the state's only Level 1 pediatric trauma center.
But in 2011, senior officials were feeling pressure to expand services.

"There was a push from the community for Riley to serve more children," Stigdon said.
So armed with data and years of experience, Riley began planning for a new emergency department. Within two years, it tripled the size of its floor space. It hired more physicians and nurses.
It also began breaking down its medical services into small parts it could analyze, much as a manufacturing plant might study how to streamline the assembly of a car. It looked at the smallest issues, such as how to position work stations and store medical supplies, in an effort to speed up the medical process and reduce patients' waiting time.
"What we didn't want is to continue to have wait times that we did, because we knew we wouldn't be able to manage the growing volumes," Stigdon said.
The latest phase—expanding the private area for sexually abused patients and building an area for psychiatric evaluations—is due to be completed in the spring at a cost of $2.2 million.
But despite all the planning, there's an old saying in emergency rooms that you can't control who walks in the door. It can be five people from an auto accident or a full room of toddlers with the flu.
"We can design the perfect process to see 120 patients a day," said Showalter, the ER medical director. "But if 60 of them come through in the same two hours, it's a challenge."•
Please enable JavaScript to view this content.